Gilberto Q. Conchas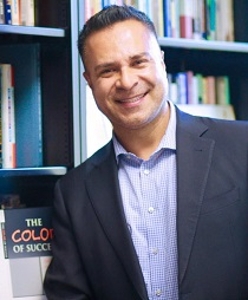 Professor
School of Education
Educational Policy& Social Context
Director, Community Engagement & Student Success
B.A., UC Berkeley, 1993, Sociology
Ph.D., University of Michigan, Ann Arbor, 1999, Sociology

University of California, Irvine
3008A Education
Mail Code: 5500
Irvine, CA 92697

Research Interests
Urban Education, Sociology of Education, and Comparative Race and Ethnicity
Academic Distinctions
From 1999 to 2004, Gil Conchas was a school-wide Assistant Professor at the Harvard Graduate School of Education. At Harvard he was awarded a prominent National Academy of Education/Spencer Foundation Postdoctoral Fellowship and was an Associate with the notable National Center for Public Policy in Higher Education and Faculty Fellow in the Cesar Chavez Institute as San Francisco State University. At UC Irvine he was named Chancellor's Fellow to recognize how his achievements in "scholarship evidence extraordinary promise for world-class contributions to knowledge, and whose patterns of contributions evidences strong trajectory to distinction."

For three years, Professor Conchas was the UC Irvine Center Director of the College Career Academy Support Network (CCASN) that supports the dual mission of research and practice on secondary improvement efforts. He has been Visiting Professor at the University California-Santa Barbara, University of Southern California, , University of Washington, the University Autonoma of Barcelona, and the University of California, Berkeley.
Appointments
National Academy of Education/Spencer Foundation
National Center for Public Policy in Higher Education
Faculty Fellow in the Cesar Chavez Institute
Research Abstract
Gil Conchas' research unearths the triumphs of urban high school youth of color—African American, Vietnamese, and Mexican American— despite unequal public school processes. He challenges the stereotypes of students of color as under-performers and highlights successes. His research agenda, in schools and communities, has profound impact on the university and larger society. First, his research increases awareness of the experiences of underrepresented minorities in secondary schools. Second, his research provides content knowledge of the institutional factors that lead to school success instead of failure. Third, his research provides a better understanding of the steps necessary to diversify higher education institutions—and make sure that students are well equipped to graduate. In general, Gil's research provides a better understanding of the complexity and nuance of how low-income populations navigate US society and culture.

Professor Conchas' collective work over the years seeks not to be reactive when dealing with efforts to deal with social inequality impacting communities of color. Instead, he looks to solutions that eradicate the roots of the social problems facing the urban poor. Such research efforts are not accomplished in isolation—they require scholarship that has influence in the academy and beyond. In partnership with community entities, he addresses the challenges of low-income communities and the populations they serve. He seeks solutions within various social contexts—in and out of the school setting. At the same time, Gil has been instrumental in mentoring the next generation of scholars addressing the social context of education, from early childhood to higher education. He has been invited to many speaking engagements where he highlights his perspectives on the factors and influences that structure success instead of failure.

Numerous peer-reviewed scholarly journals have published Dr. Conchas' research on social inequality and education. He has authored and co-authored three books: The Color of Success: Race and High- Achieving Urban Youth, Small Schools and Urban Youth: Using the Power of Culture to Engage Students, and Streetsmart Schoolsmart: Urban Poverty and the Education of Adolescent Boys. Gil also published a widely-cited article in the Harvard Educational Review, "Structuring School Failure and Success: Understanding the Variability in Latino School Engagement."

In addition to the aforementioned published work, Conchas recently co-authored an edited book with Routledge. Inequality, Power, and School Success: Case Studies on Racial Disparity and Opportunity in Education is a timely book that addresses one of the most important issues in modern social theory and policy: social inequality and educational opportunity. More poignantly, how education, and in particular schools, are contested spaces of power and resistance. The book interrogates popular discourse of educational success—cultural explanations—as a hegemonic device pitting ethnic groups against one another and how grass root counter spaces resist power relations and the status-quo.

This book is a collection of original case studies in education that interrogate inequality and opportunity. Each case study highlights issues of power, inequality, and resistance in distinct US and international contexts. The chapters in this volume range from in-school high school processes for Latino and African Americans, Latino and African American males in the inner-city neighborhoods, Latina teachers in southern California, single mothers in Riverside, undocumented youth from Mexico and El Salvador, immigrant Moroccan youth in Spain, and immigrant Afro-Caribbean and Indian teenagers in New York and in London. This volume fundamentally argues that education—despite inequality— remains the best hope to achieve the American dream.

A second edited sole-authored book—Cracks in the Schoolyard: Narratives of Inequality, Power, and School Success—was published in 2015 with Teachers College Press. This edited book provides an understanding of the complexity and diversity of case studies as a method to investigate sensitive and important phenomenon in American everyday life. In this powerful volume, twelve original case studies explore the role of case study methods in illuminating power, inequality, and success in education. The book fundamentally interrogates prominent case studies that employ distinct strategies of collecting, analyzing and reporting educational issues.

However, this volume goes beyond presenting critical case studies of social inequality and education, and, 1) takes a rare look at in school and out-of-school school success stories on a comparative level (race, gender, geography, etc.), instead of those depicting only failure; 2) explores the social and cultural processes that enable racial minority youth and young adults to escape the unequal structures of public schooling to perform well in school; 3) illuminates how educators and schools can address these issues by becoming increasingly attuned to the socio-cultural worlds in which their students live; and 4) paves the way for the challenges needed for historically disadvantaged groups to receive equitable, high-quality educations.

A third co-edited book, WHEN SCHOOL POLICIES BACKFIRE, was published in 2016 with Harvard Education Press. The book focuses on cases of policy backfire - that is, policies that were set out to reduce schooling gaps for a disenfranchised group and yet had the reverse effect of 'making things worse.' The book will focus on these cases-understanding how the policy backfire occurred and what we can learn to better develop educational policymaking.

What differentiates this book and makes it unique is that we are examining backfire and not simply failure. Failure indicates an ineffective, faltering policy – similar to a 'null effect' in experiments. Failure indicates that student outcomes may not have improved. Backfire, on the other hand, is more dramatic and potentially more harmful. Backfire indicates a reverse effect – a deterioration of outcomes for those students whose outcomes were intended to improve. Our contributing authors represent a multitude of disciplines and methodological approaches, are located across the US, and have each studied a different instance of backfire in a different geographic region and for different disenfranchised group in the schooling population. We divide these chapters into two overarching themes, which serve as the explanations for the backfire: lack of addressing local circumstance and lack of addressing agency support systems. In doing so, our book provides a first critical and national look at the consequences of unintended policy backfire and what we can learn.
Publications
The Color of Success (2006). Teachers College Press of Columbia University.
Small Schools and Urban Youth. (2007). Corwin Press.
Streetsmart SchoolSmart. (2012). Teachers College Press of Columbia University.
Inequality, Power and School Success. (2015). Routledge.
Cracks in the Schoolyard--Confronting Latino Educational Inequality. (2015). Teachers College Press of Columbia University.
When School Policies Backfire: How Well-Intended Measures Can Harm Our Most Vulnerable Students (2016). Harvard Education Press.
Superstar or Scholar: African American Youth's Perceptions of Opportunity in a Time of Change
Engaging Urban Youth through Community-based Action: How the 'School Success' Truancy Prevention Program Motivates Middle Graders
Structuring Failure and Success: Understanding the Variability in Latino School Engagement
The Race Is Not Even: Minority Education in a Post-Affirmative Action Era
Career Academies and Urban Minority Schooling: Forging Optimism Despite Limited Opportunity
Schooling And Social Capital In Diverse Cultures
Surfing the "model minority" wave of success: How the school context shapes distinct experiences among Vietnamese youth
How Context Mediates Policy: The Implementation of Single Gender Public Schooling in California
Other Experience
Senior Program Officer
The Bill & Melinda Gates Foundation 2008

Founding Director of the UC Irvine College and Career Academy Support Network (CCASN)
UC Irvine & UC Berkeley 2011—2014

Executive Board Member
UC ACCORD 2004

Interim chair of the Department of Chicana/o Studies & Acting Associate Dean of Social Sciences
University of California, Santa Barbara 2015—2016

DECADE Faculty Mentor
UC Irvine 2013—2015

Board of Advisors
ASA Minority Fellowship Program 2014—Pres

Chair Editorial Book Board
AERA 2012—2015

Faculty Equity Advisor
UC Irvine 2006—2008

Director, Community Engagement & Student Success
UC Irvine 2016—Pres

Research Centers
College and Career Academy Support Network (CCASN)--UC Berkeley and UC Irvine