David H. Colmenares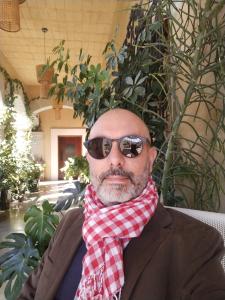 Assistant Professor, Comparative Literature
School of Humanities
Ph.D., Columbia University, 2019, Latin American and Iberian Cultures
M.A., KU Leuven, 2009, Philosophy

University of California, Irvine
4000 Humanities Gateway Irvine
Irvine, CA 92697

Research Interests
Colonial Mexico, Mesoamerican Studies, Visual Culture, Antiquarianism, Early Modern Iberia
Websites

Academic Distinctions
Moorman-Simon Early Career Professorship at Boston University (2020-2022)
Research Abstract
My research focuses on the intersections of early modern European antiquarianism, Spanish humanism and native traditions in colonial Mexico. More broadly, I'm interested in the circulation of knowledge, visual culture, and hermeneutical practices between New Spain and other Iberian territories, and the role of Mexican indigenous elites in the interpretation of the pre-Columbian past. Recently, I have also turned my attention to the survival and adaptations of viceregal scribal traditions in nineteenth-century Mexico, and particularly the role of little-studied Nahua intellectuals.
I'm currently a member of the international research project "Itineraries Around an Artifact: the Vatican Codex 3738 and the Intellectual Spheres of the Sixteenth Century" (UNAM/La Sapienza), devoted to the interdisciplinary study of a unique Mexican sixteenth-century pictorial manuscript annotated in Italian.
My research has led to two book projects: "Taming Teotl," an hermeneutical history of the Aztec gods in the sixteenth-century; and "A New String for the Mexican Lyre," a study of the literary discovery of Aztec poetry in the nineteenth-century, under contract with Vanderbilt University Press.
My articles have appeared in the Colonial Latin American Review and the Hispanic American Historical Review.
Short Biography
I grew up in the city of Oaxaca, Mexico, and completed my undergraduate studies in Puebla, Mexico. I hold degrees in Philosophy (MA, KU Leuven) and Latin American and Iberian Studies (PhD, Columbia). During 2015-16, I was a fellow at the Kunsthistorisches Institut in Florenz - Max Planck Institute and the Staatliche Museen zu Berlin. Prior to coming to UCI, I was the Moorman-Simon assistant professor of Spanish and Latin American Studies at Boston University. My research has also been supported by the John Carter Brown Library in Providence, RI, and Dumbarton Oaks in Washington DC.
Publications
"'Biblias de solas figuras': el Códice Vaticano A y el anticuarismo vernáculo novohispano," in Codex Vaticanus 3738: edición facsimilar, Biblioteca Apostólica Vaticana y Universidad Nacional de México, forthcoming.
David Horacio Colmenares (2021) "'Su herencia fue el llanto.' Pathos, memoria y condensación temporal en los Cantares mexicanos." Colonial Latin American Review, 30: 1, 3-24
David Horacio Colmenares, "The Bibliographic Muse: Mexican Literature and the Colonial Archive" in a A History of the Mexican Novel (ed. by I. Sánchez Prado, A. M. Nogar and J. R. Ruisánchez), Cambridge University Press, forthcoming
David Horacio Colmenares, "'Postreros acentos de la lira indiana': the Protracted Literary Discovery of the Cantares Mexicanos in the 19th Century,"Hispanic American Historical Review (2022) 102 (3): 415–448.
Professional Societies
LASA
RSA