Christofer Rodelo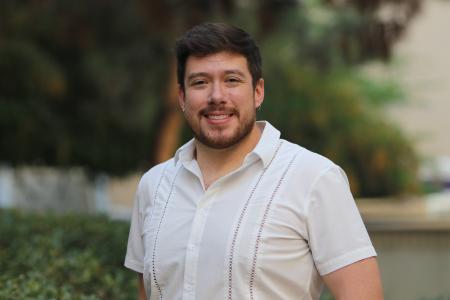 Assistant Professor, Chicano/Latino Studies
School of Social Sciences
B.A., Yale University, 2015, American Studies
B.A., Yale University, 2015, Ethnicity, Race & Migration
M.A., Harvard University, 2017, English
Ph.D., Harvard University, 2022, American Studies

University of California, Irvine
359 Social Science Tower
Mail Code: 5100
Irvine, CA 92697

Research Interests
Theater and Performance History; Latinx and Black Latinx Literary and Cultural Studies; 19th Century American Literary and Cultural History; Relational Studies of Race and Ethnicity; Disability Studies; Feminist and Queer Theory
Research Abstract
I am a performance and literary historian who examines Latinx and Black Latinx expressive cultures in the nineteenth and twentieth century. My research focuses on the role of the spectacular body—as represented in literature, drama, popular culture, and historical memory— in shaping U.S. formations of race, gender, nation, and migration. Trained in American Studies, I use interdisciplinary methods, including archival research, performance analysis and close literary reading, to reconstruct aesthetic genealogies and situate them within racial formations at national and transnational levels. While rooted in the past, I highlight the influence of historical performance on contemporary cultural practices and political actions. My work charts new directions for critical race studies scholarship at the intersection of Latinx & Black Latinx Studies, Theater & Performance Studies, and U.S. Literary & Cultural History.

My current book project, Latinx Spectacle, illuminates a genealogy and critique of Latinx racialization based on spectacular displays of the body within U.S. performance culture from the 1840s to the early 1900s. It historically indexes 19th century minoritarian aesthetic practices, theorizes the affective and material contours of whiteness, blackness and indigeneity, and rubs together the methodological tenets of literary and performance studies for an archivally-grounded reading of textual, performative, and visual ephemera.
Awards and Honors
Honorable Mention, Outstanding Dissertation Award, Latinx Studies Section, Latin American Studies Association, 2023
Short Biography
Christofer A. Rodelo is an assistant professor of Chicano/Latino Studies at the University of California, Irvine. A proud first-generation college student and queer Latinx scholar, he hails from the Inland Empire region of Southern California. He earned his Ph.D. in American Studies at Harvard University in 2022 and his BA in American Studies and Ethnicity, Race, & Migration from Yale College in 2015. His research and teaching interests include Latinx and Black Latinx Studies, theater and performance studies, pre-1900 literary and cultural history, and relational race and ethnic studies. His book project, Latinx Spectacle, offers an alternative genealogy and critique of Latinx racialization based on spectacular displays of the body in U.S. performance and literature during the second half of the nineteenth century. His writing appears in TDR/The Drama Review, ESQ: A Journal of Nineteenth-Century American Literature and Culture, and Journal of Homosexuality. His work has received funding from the Ford Foundation, Mellon Foundation, Institute for Citizens and Scholars, Social Science Research Council, Huntington Library, Harry Ransom Center, Newberry Library, and various sources at Harvard and UC Irvine. He received Honorable Mention for the 2023 Outstanding Dissertation Award from the Latinx Studies Section of the Latin American Studies Association. At UCI, he is the co-founder of the Latinx Humanities Research Workshop, a university-wide hub for scholars working in the Latinx humanities broadly defined. He is a faculty collaborator with "The Latinx Past: Archive, Memory, Speculation" Working Group, funded by the Crossing Latinidades Humanities Research Initiative at the University of Illinois, Chicago. He is also at work on a digital humanities project that uses digital tools to map and reimagine Latinx performance histories of the past.