Kevan Antonio Aguilar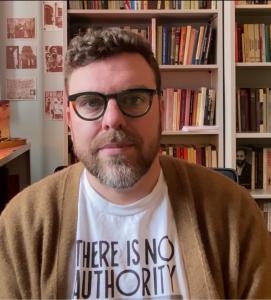 Assistant Professor, History
School of Humanities
Ph.D., University of California, San Diego, 2021, History

University of California, Irvine
200 Krieger Hall
Mail Code: 3275
Irvine, CA 92697

Research Interests
Transnational Mexican History; the Spanish Civil War; Racial Formations; Indigeneity; Immigration/Exile; Revolution and Radicalism
Research Abstract
My research focuses on transnational histories of race formation, migration, and working-class culture in twentieth-century Mexico and Mexican America.

I am currently working on first book manuscript, "Revolutionary Encounters: Race, Ideology, and Exile in Mexico and Spain," which examines the perceptions and receptions of Mexicans toward political refugees fleeing the Spanish Civil War. The study examines the radical imaginaries of Mexico's laboring classes and Spanish political refugees to demonstrate the impact of internationalist and postcolonial thought on both societies. Drawing on documentary materials and oral testimony transcripts collected from seventeen archives in Mexico, Spain, the United States, and the Netherlands, I demonstrate how solidarities between Indigenous, Mexican, and Spanish peoples proposed new revolutionary demands that challenged the Mexican state's racial and economic modernization initiatives.

I am also working on a second research project that follows the trajectories of Mexican and Mexican American anarchists between the 1920s and 1970s. Beginning with the deportation of Mexican anarchist Enrique Flores Magón, this work will delve into the profound impact of Borderland Internationalism on anti-authoritarian movements and the ways in which it informed a transnational critique of U.S. racial and economic inequalities, the Mexican state, and the cultural nationalism of the burgeoning Chicanx Movement.
Awards and Honors
- Andrew W. Mellon Foundation Integrated Internship Initiative Fellowship (2020)
- Ford Foundation Dissertation Fellowship (2019)
- Visiting Fellow, Center for U.S.-Mexican Studies, UC San Diego (2018)
- Visiting Fellow, Center for Comparative Immigration Studies, UC San Diego (2018)
- Fulbright-Hays, Doctoral Dissertation Research Abroad Fellowship (2017)
- Social Science Research Council (SSRC), International Dissertation Research Fellowship (2017)
- UC San Diego Frontiers of Innovation Scholars Program Fellowship (2017)
- Ford Foundation Predoctoral Fellowship, Alternate (2016)
- San Diego Fellowship (2014-2016, 2018-2019)
Short Biography
Dr. Kevan Antonio Aguilar is a first-generation college graduate from San Bernardino, California. He received his B.A. in History from California State University Long Beach; M.A. in Latin American Studies from UC San Diego; and his Ph.D. in History from UC San Diego. Dr. Aguilar joins the UCI Department of History from the University of Maryland, College Park, where he served as a Presidential Postdoctoral Fellow in the Department of History.
Publications
Journal Articles:
- "From Comrades to Subversives: Mexican Secret Police and 'Undesirable' Spanish Exiles, 1939-60," Journal of Latin American Studies 53, no. 1 (February 2021), 1-24. https://doi.org/10.1017/S0022216X20001017

- "Ricardo Flores Magón and the Ongoing Revolution," Oxford Encyclopedia of Mexican History and Culture, edited by William H. Beezley. New York: Oxford University Press, 2019. http://doi.org/10.1093/acrefore/9780199366439.013.445

Edited Volume Chapters:
- "The IWW in Tampico: Anarchism, Internationalism, and Solidarity Unionism in a Mexican Port," in Wobblies of the World: A Global History, edited by Peter Cole, David Struthers, and Kenyon Zimmer. London: Pluto Press, 2017. https://doi.org/10.2307/j.ctt1vz4973.11

Other Publications:
- "The Many Legacies of Regeneración," KCET Artbound. November 26, 2018. http://www.kcet.org/shows/artbound/the-many-legacies-of-regeneracion

- "San Bernardino: Prospects for Community Building in Times of Crisis." Op-Ed Article, KCET Departures. December 8, 2015. https://www.kcet.org/shows/departures/san-bernardino-prospects-for-community-building-in-times-of-crisis