Benjamin R. Morehouse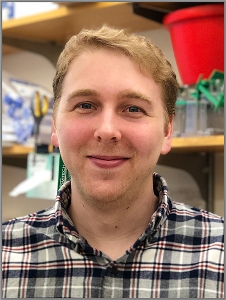 Assistant Professor, Molecular Biology and Biochemistry
School of Biological Sciences
Department of Pharmaceutical Sciences
School of Pharmacy & Pharmaceutical Sciences
Ph.D., Brandeis University, 2017, Biochemistry and Biophysics
B.S., Worcester Polytechnic Institute (WPI), 2012, Biochemistry (Chemistry Minor)

University of California, Irvine
Steinhaus Hall
,

Research Interests
Cyclic nucleotide signaling molecules, innate immunity, bacterial antiphage defense, enzymology, structural biology, natural products biosynthesis
Websites

Appointments
2017-2022 Ruth L. Kirschstein NRSA Postdoctoral Research Fellow- Kranzusch Lab
Harvard Medical School Department of Microbiology
Dana-Farber Cancer Institute Department of Cancer Immunology and Virology
Research Abstract
Our lab explores the innate immune response pathways that organisms use to defend themselves against viral pathogens. We answer fundamental mechanistic questions regarding the enzymatic synthesis, specific recognition, and multi-level regulation of nucleotide-based second messengers in diverse immunological settings. Cyclic nucleotide signaling molecules are responsible for relaying and amplifying signals in nearly every biological context and have recently emerged as critical players in specialized antiviral pathways in animals and in microbial antiphage defense systems. To investigate diverse immune systems and their antiviral signaling molecules, we use a combination of recombinant protein expression, biochemical and chemical analysis, enzymology, as well as modern protein structural approaches (X-ray crystallography & cryo-EM).

Our research in this rapidly developing field will identify novel second messengers and reveal uncharacterized antiviral signaling pathways controlled by these compounds. Recently, many surprising mechanistic links between eukaryotic and prokaryotic immune signaling have been found including the discovery that bacterial genomes harbor genes encoding structural and functional homologs of critical protein components of the animal innate immune system. Through exploration of the ancient connections between prokaryotic and eukaryotic immunity we can transform our understanding of our own immune system and reveal new avenues for exploitation of these pathways for medicinal purposes and as foundation to develop new biotechnological tools.
Awards and Honors
2022 Young Investigator Award- 10th International Conference on cGMP, Augsburg, Germany
2021 Harvard Medical School Outstanding Postdoctoral Fellow Award, Microbiology Department, Boston, MA
2019-2021 NIH F32 Individual Postdoctoral Fellowship GM133063
2015 Sprout Virtual Incubator Innovation Award, Brandeis University Provost's Office and Office of Technology Licensing
Publications
Nabhani A, Morehouse BR. Say YES to single-gene lysis! Cell Host & Microbe. 2023; 31(9):1420-1422. https://doi.org/10.1016/j.chom.2023.08.011.
Li Y, Slavik KM, Toyota HC, Morehouse BR, de Oliveira Mann CC, Elek A, Levy S, Wang Z, Mears K, Liu J, Kashin D, Guo X, Mass T, Sebé-Pedrós A, Schwede F, Kranzusch PJ. cGLRs are a diverse family of pattern recognition receptors in innate immunity. Cell. 2023; 185(15):3261-3276.e20. PMID: 37379839.
Morehouse BR. Phage defense origin of animal immunity. Current Opinion in Microbiology. (Review) 2023; 73:102295 PMID: 37011504.
Leavitt A*, Yirmiya E*, Amitai G*, Lu A*, Garb J, Herbst E, Morehouse BR, Hobbs SJ, Antine SP, Sun ZYJ, Kranzusch PJ†, Sorek R†. Viruses inhibit TIR gcADPR signaling to overcome bacterial defense. Nature. 2022;611:326–331 PMID: 36174646. *contributed equally †co-corresponding
Morehouse BR, Yip MCJ, Keszei AFA, McNamara-Bordewick NK, Shao S†, Kranzusch PJ†. Cryo-EM structure of an active bacterial TIR-STING filament complex. Nature. 2022; 608:803-807 PMID: 35859168. †co-corresponding
Hobbs SJ, Wein T, Lu A, Morehouse BR, Schnabel J, Leavitt A, Yirmiya E, Sorek R, Kranzusch PJ. Phage anti-CBASS and anti-Pycsar nucleases subvert bacterial immunity. Nature. 2022;605:522-526 PMID: 35395152.
Tal N*, Morehouse BR*, Millman A, Stokar-Avihail A, Avraham C, Fedorenko T, Yirmiya E, Herbst E, Brandis A, Mehlman T, Oppenheimer-Shaanan Y, Keszei AFA, Shao S, Amitai G, Kranzusch PJ, Sorek R. Cyclic CMP and cyclic UMP mediate bacterial immunity against phages. Cell. 2021;184:5728–5739 PMID: 34644530. *contributed equally
Slavik KM, Morehouse BR, Ragucci AE, Zhou W, Ai X, Chen Y, Li L, Wei Z, Bähre H, König M, Seifert R, Lee ASY, Cai H, Imler J-L, Kranzusch PJ. cGAS-like receptors sense RNA and control 3'2'-cGAMP signaling in Drosophila. Nature. 2021;597(7874):109–113 PMID: 34261127.
Morehouse BR, Govande AA, Millman A, Keszei AFA, Lowey B, Ofir G, Shao S, Sorek R, Kranzusch PJ. STING cyclic dinucleotide sensing originated in bacteria. Nature. 2020;586(7829):429–433 PMID: 32877915.
Lowey B, Whiteley AT, Keszei AFA, Morehouse BR, Mathews IT, Antine SP, Cabrera VJ, Kashin D, Niemann P, Jain M, Schwede F, Mekalanos JJ, Shao S, Lee ASY, Kranzusch PJ. CBASS Immunity Uses CARF-Related Effectors to Sense 3'–5'- and 2'–5'-Linked Cyclic Oligonucleotide Signals and Protect Bacteria from Phage Infection. Cell. 2020;182(1):38–49.e17. PMID: 32544385.
Morehouse BR*, Kumar RP*, Matos JO, Yu Q, Bannister A, Malik K, Temme JS, Krauss IJ†, Oprian DD†. Direct evidence of an enzyme-generated LPP intermediate in (+)-limonene synthase using a fluorinated GPP substrate analog. ACS Chem Biol. 2019;14(9):2035–2043. PMID: 31433159. *contributed equally †co-corresponding
Whiteley AT, Eaglesham JB, de Oliveira Mann CC, Morehouse BR, Lowey B, Nieminen EA, Danilchanka O, King DS, Lee ASY, Mekalanos JJ†, Kranzusch PJ†. Bacterial cGAS-like enzymes synthesize diverse nucleotide signals. Nature. 2019;567(7747):194–199. PMID: 30787435. †co-corresponding
Zhou W*, Whiteley AT*, de Oliveira Mann, C. C., Morehouse BR, Nowak, RP, Fischer, ES, Gray, NS, Mekalanos JJ, Kranzusch, PJ. Structure of the human cGAS–DNA complex reveals enhanced control of immune surveillance. Cell. 2018;174(2):300–311. PMID: 30007416. *contributed equally
Kumar RP*, Morehouse BR*, Fofana J, Trieu MM, Zhou DH, Lorenz MO, Oprian DD. Structure and monomer/dimer equilibrium for the guanylyl cyclase domain of the optogenetics protein RhoGC. J Biol Chem. 2017;29;292(52):21578–21589. PMID: 29118188. *contributed equally
Kumar RP*, Morehouse BR*, Matos JO, Malik K, Lin H, Krauss IJ, Oprian DD. Structural characterization of early Michaelis complexes in the reaction catalyzed by (+)-limonene synthase from Citrus sinensis using fluorinated substrate analogues. Biochemistry. 2017;56(12):1716–1725. PMID: 28272876. *contributed equally
Morehouse, BR*, Kumar, RP*, Matos, JO, Olsen, SN, Entova, S, Oprian, DD. Functional and structural characterization of a (+)-limonene synthase from Citrus sinensis. Biochemistry. 2017;56(12):1706–1715. PMID: 28272875. *contributed equally
Professional Societies
American Chemical Society
American Association for the Advancement of Science
American Society for Microbiology
Research Centers
Institute for Immunology