E.R. Chulie Ulloa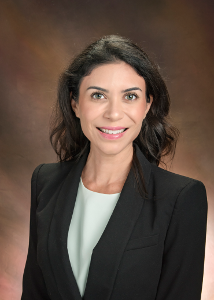 Assistant Professor, Pediatrics
School of Medicine
Joint appointment, Microbiology & Molecular Genetics
School of Medicine
M.D., Stanford University School of Medicine, 2013, Doctor of Medicine
M.S., Stanford University School of Medicine, 2013, Microbiology & Immunology
B.S., University of California San Diego, 2005, Physiology & Neuroscience; Psychology

University of California, Irvine
843 Health Sciences Rd.
Hewitt Hall, RM 1113
Irvine, CA 92617

Research Interests
Pediatrics, Infectious diseases, Antibiotics treatment, Drug repurposing
Websites

Research Abstract
As a physician-scientist and a pediatric infectious diseases specialist, I am committed to maximizing the efficacy of our current antimicrobial options and developing host-directed therapeutics to overcome antimicrobial resistance and improve treatment outcomes for patients. With this framework in mind, my laboratory examines:
(A) Drugs that directly boost the antibacterial killing capacity of host phagocytic cells;
(B) Drug repurposing for difficult to treat bacterial infections;
(C) Novel antimicrobial susceptibility testing paradigms for drug-resistant bacterial pathogens.
Awards and Honors
2020-2024 Harold Amos Medical Faculty Development Program, Robert Wood Johnson Foundation
2020-2025 UC President's Postdoctoral Fellowship, University of California Office of the President
2021 Early Career Investigator, Pediatric Research Society for Pediatric Research, the American Pediatric Society, and the European Society for Paediatric Research
Publications
2022
Gilbertie J, Ulloa ER, Daiker JC, Nguyen K, Smelter D, Rose W, Geriak M, Schnabel LV, Nizet V, Sakoulas G. Potent Activity of Ertapenem Plus Cefazolin Within Staphylococcal Biofilms: A Contributing Factor in the Treatment of Methicillin-Susceptible Staphylococcus aureus Endocarditis. Open Forum Infect Dis. 2022. PMID: 35493130.

Ulloa ER, Sakoulas G. Azithromycin: An Underappreciated Quinolone-Sparing Oral Treatment for Pseudomonas aeruginosa Infections. Antibiotics (Basel). 2022. PMID: 35453266.

Caffrey AR, Appaneal HJ, LaPlante KL, Lopes VV, Ulloa ER, Nizet V, Sakoulas G. Impact of Clopidogrel on Clinical Outcomes in Patients with Staphylococcus aureus Bacteremia: a National Retrospective Cohort Study. Antimicrob Agents Chemother. 2022. PMID: 35416712.

2021
Ulloa ER. Early Career Investigator: Erlinda R. Ulloa. Pediatric Research. 2021. PMID 34545205.

Cooper DM, Zulu MZ, Jankeel A, Coimbra Ibraim I, Ardo J, Kasper K, Stephens D, Meyer A, Stehli A, Condon C, Londoño ME, Schreiber CM, Lopez NV, Camplain RL, Weiss M, Golden C, Aizik S, Boden-Albala B, Chau C, Messaoudi I, Ulloa ER. SARS-CoV-2 Acquisition and Immune Pathogenesis Among School-Aged Learners in Diverse K-12 Schools. Pediatric Research. 2021. PMID 33791712.

Ulloa ER, Uchiyama S, Gillespie R, Nizet V, Sakoulas G. Ticagrelor Increases Platelet-Mediated Staphylococcus aureus Killing, Resulting in Clearance of Bacteremia. Journal of Infectious Diseases . 2021. PMID: 33966075.

Cooper DM, Afghani B, Byington CL, Cunningham CK, Golub S, Lu KD, Ramo-Aizik S, Friedman Ross L, Singh J, Smoyer WE, Taylor Lucas C, Tunney J, Zaldivar F, Ulloa ER. SARS-CoV-2 Vaccine Testing and Trials in the Pediatric Population: Biologic, Ethical, Research and Implementation Challenges. Pediatric Research. 2021. PMID 33627824.

Jusuf S, Dong PT, Hui J, Ulloa ER, Liu G, Cheng JX. Granadaene Photobleaching Reduces the Virulence and Increases Antimicrobial Susceptibility of Streptococcus agalactiae. Photochemical & Photobiological Sciences. 2021. PMID 33502005.

2020
Murphy OC, et al. Acute flaccid myelitis: cause, diagnosis, and management. The Lancet. 2020. PMID 33357469. (Member of the AFM working group).

Ulloa ER, Singh KV, Geriak M, Haddad F, Murray B, Nizet V, Sakoulas G. Cefazolin and Ertapenem Salvage Therapy Rapidly Clears Persistent Methicillin-Susceptible Staphylococcus aureus Bacteremia. Clinical Infectious Diseases. 2020. PMID 31773134.

Ulloa ER, Kousha A, Tsunemoto H, Sakoulas G, Pogliano J, Licitra C, LiPuma J, Nizet V, Kumaraswamy M. Azithromycin Exerts Bactericidal Activity and Enhances Innate Immune Mediated Killing of MDR Achromobacter xylosoxidans. Infectious Microbes & Diseases. 2020.

Hui, J*, Dong PT*, Liang L*, Mandal T, Li J, Ulloa ER, Zhan Y, Jusuf S, Zong C, Seleem M, Liu G, Cui Q, Cheng JX. Photo-Disassembly of Membrane Microdomains Revives Conventional Antibiotics against MRSA. Advanced Science. 2020. PMID 32195102. *Authors contributed equally to this work.

2018-2019
Ulloa ER, Dillon N, Tsunemoto H, Pogliano J, Sakoulas G, Nizet V. Avibactam Sensitizes Carbapenem-Resistant NDM-1-Producing Klebsiella pneumoniae to Innate Immune Clearance. Journal of Infectious Diseases. 2019. PMID 30923801.

Uprety P, Curtis D, Elkan M, Fink J, Rajagopalan R, Zhao C, Bittinger K, Mitchell S, Ulloa ER, Hopkins S, Graf E. Association of Enterovirus D68 with Acute Flaccid Myelitis, Philadelphia, Pennsylvania, USA, 2009-2018. Emerging Infectious Diseases. 2019. PMID 31407660.

Barzaghi F, Hernandez A, Neven B, Ricci S, Kucuk ZY, Bleesing JJ, Nademi Z, Slatter MA, Ulloa ER, et al. Long-term follow-up of IPEX syndrome patients after different therapeutic strategies: An international multicenter retrospective study. The Journal of Allergy and Clinical Immunology. 2018. PMID 29241729.

2007-2014
Emukule GO, McMorrow M, Ulloa C, Khagayi S, Nijuguna HN, Burton D, Montgomery JM, Muthoka P, Katz MA, Breiman RF, Mott JA. Predicting mortality among hospitalized children with respiratory illness in Western Kenya, 2009-2012. PLoS One. 2014. PMID 24667695.

Villareal M, Fridman EA, Amengual A, Falasco G, Gerschcovich ER, Ulloa ER, Leiguarda RC. The neural substrate of gesture recognition. Neuropsychologia. 2008. PMID 18433807.

Ulloa ER, Pineda JA. Recognition of Point-Light Biological Motion: Mu Rhythms and Mirror Neuron Activity. Behavioural Brain Research. 2007. PMID 17658625.
Professional Societies
2013-present American Academy of Pediatrics
2016-present Pediatric Infectious Diseases Society
2016-present Infectious Diseases Society of America
2016-present Society for Pediatric Research, Junior Member
2017-present European Society for Paediatric Infectious Dise