Yulian Khagi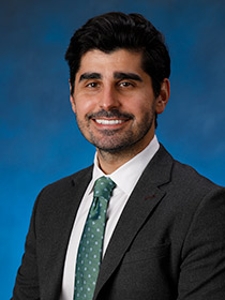 Assistant Clinical Professor, Division of Hematology/Oncology, Medicine
School of Medicine
Medical Director, UCI Health - Laguna Hills Oncology and Infusion Services
M.D., Saint Louis University School of Medicine, 2012, Medicine
B.A., Washington University in St. Louis, 2008, Biology and Biomedical Sciences

University of California, Irvine
23961 Calle de la Magdalena
Suite 217
Laguna Hills, CA 92653

Research Interests
General Hematology/Oncology, Breast Cancer, Lung Cancers, Lymphomas, Benign Hematologic Conditions, Precision Oncology and Personalized Medicine, Patient Education, Tumor Immunology and Immunotherapy
Websites

Awards and Honors
Medical Oncology Academy Award, City of Hope National Medical Center: "for outstanding service and commitment to patient care"- 2021

Top Doctors Los Angeles – 2020

ASCO Post Feature for 2017 manuscript

AACR National Press Release for 2017 manuscript

David E. Rogers Memorial Research Award Finalist, New York Presbyterian Hospital-Cornell – 2015

Morton M. Weber Memorial Award for Outstanding Achievement in Infectious Disease, Saint Louis University – 2012

Goronwy O. Broun Award for Outstanding Achievement in Internal medicine, Saint Louis University – 2012

Medical Doctorate with Distinction in Research, Saint Louis University – 2012

Alpha Epsilon Delta Medical Honors Society, Washington University in St. Louis – 2007
Short Biography
Dr. Khagi is a board-certified UCI Health medical oncologist and hematologist who specializes in general cancer care and the treatment of benign blood disorders. He sees patients with cancers of the breast, lungs, skin, gastrointestinal and genitourinary tracts, as well as leukemia, lymphoma, multiple myeloma and others.

Dr. Khagi earned his medical degree at Saint Louis University School of Medicine in St. Louis, MO. He completed his internal medicine residency at New York-Presbyterian Hospital-Weill Cornell Medical Center in New York City. He completed fellowship in hematology and oncology at the UC San Diego Health Moores Cancer Center.

His research interests include precision oncology and personalized medicine, liquid biopsy to identify predictive biomarkers for treatment response, and tumor immunology and immunotherapy. He is the author or co-author of several peer-reviewed publications and abstracts that have appeared in high-impact journals.

Dr. Khagi is fluent in Russian and conversational in Spanish. He is culturally sensitive and dedicated to improving the outcomes of his patients as well as their quality of life.
Publications
Vu, P; Khagi, Y; Riviere P; Goodman A; Kurzrock, R. Total Number of Alterations in Liquid Biopsies is an Independent Predictor of Survival in Patients with Advanced Cancers. JCO Precision Oncology 2020. PMID 28972084

Khagi, Y; Goodman, A; Daniels, G; Patel, SP; Randall, JM; Sacco, A; Bazhenova, L; Kurzrock, R. Hypermutated blood-derived circulating tumor DNA: Correlation with response to checkpoint inhibitor-based immunotherapy. Clinical Cancer Research 2017. PMID 28972084

Khagi, Y; Kurzrock, R; Patel, SP. Next generation predictive biomarkers for immune checkpoint inhibition. Cancer Metastasis Reviews. 2017 PMID: 27873079. With support of the NIH Frederick F. Becker Cancer Center Support Grant #P30 CA016672

Khagi, Y; Mark, T. Potential role of daratumumab in the treatment of multiple myeloma. OncoTargets and Therapy. 2014. PMID: 24971019

Schuessler, RB; Ishii, Y; Khagi, Y, Boineau, JP, Damiano, RJ. The effects of inflammation on heart rate and rhythm in a canine model of cardiac surgery. Heart Rhythm. 2011 PMID: 21978962
Professional Societies
Association of American Physicians and Surgeons
American Society of Clinical Oncology
American Society of Hematology
American College of Physicians
Medical Oncology Association of Southern California (MOASC)
Other Experience
Internal Medicine Residency Program
New York Presbyterian-Weill Cornell Medical Center 2012—2015

Hematology/Oncology Fellowship
University of California-San Diego Medical Center, Moores Cancer Center 2015—2018