Warren A Chow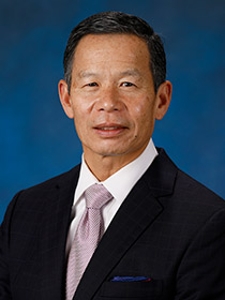 Clinical Professor, Division of Hematology/Oncology, Medicine
School of Medicine
Associate Director for Clinical Sciences, Chao Family Comprehensive Cancer Center
M.D., Chicago Medical School, 1986, Medicine
B.S., University of Southern California, 1981, Psychobiology

University of California, Irvine
101 The City Drive South
Building 23, Room 405
Mail Code: 4061
Orange, CA 92868

Research Interests
Sarcoma, melanoma
Academic Distinctions
Fellow, American College of Physicians
Awards and Honors
Melanoma Research Foundation Anita Ashby Memorial Research Award
The Margaret E. Early Medical Research Trust recipient
Fellow, American College of Physicians
Castle Connolly America's Top Doctors
Castle Connolly America's Top Doctors for Cancer
Short Biography
Dr. Warren A. Chow is a board-certified UCI Health oncologist who specializes in melanoma and sarcomas. He will serve as associate director for cancer clinical sciences at the UCI Health Chao Family Comprehensive Cancer Center.
He received his medical degree from Chicago Medical School at Rosalind Franklin University of Medicine and Science in North Chicago, Ill. He completed an internship and residency in internal medical at Cedars-Sinai Medical Center in Los Angeles. Next he received fellowship training in medical oncology, hematology and bone marrow transplantation at the City of Hope in Duarte, Calif., where he served nearly 30 years as a clinician and research conducting bench-to-bedside research in both bone and soft-tissue sarcomas.
Publications
Chow WA. Chondrosarcoma: biology, genetics, and epigenetics. F1000Res. 2018 Nov 20;7:F1000 Faculty Rev-1826. doi: 10.12688/f1000research.15953.1. PMID: 30519452; PMCID: PMC6248264.

Gupta R, Cristea M, Frankel P, Ruel C, Chen C, Wang Y, Morgan R, Leong L, Chow W, Koczywas M, Koehler S, Lim D, Luu T, Martel C, McNamara M, Somlo G, Twardowski P, Yen Y, Idorenyi A, Raechelle T, Carroll M, Chung V. Randomized trial of oral cyclophosphamide versus oral cyclophosphamide with celecoxib for recurrent epithelial ovarian, fallopian tube, and primary peritoneal cancer. Cancer Treat Res Commun. 2019;21:100155. doi: 10.1016/j.ctarc.2019.100155. Epub 2019 Jul 3. PMID: 31279962.

Chow W, Frankel P, Ruel C, Araujo DM, Milhem M, Okuno S, Hartner L, Undevia S, Staddon A. Results of a prospective phase 2 study of pazopanib in patients with surgically unresectable or metastatic chondrosarcoma. Cancer. 2020 Jan 1;126(1):105-111. doi: 10.1002/cncr.32515. Epub 2019 Sep 11. PMID: 31509242.

Ramachandran I, Lowther DE, Dryer-Minnerly R, Wang R, Fayngerts S, Nunez D, Betts G, Bath N, Tipping AJ, Melchiori L, Navenot JM, Glod J, Mackall CL, D'Angelo SP, Araujo DM, Chow WA, Demetri GD, Druta M, Van Tine BA, Grupp SA, Abdul Razak AR, Wilky B, Iyengar M, Trivedi T, Winkle EV, Chagin K, Amado R, Binder GK, Basu S. Systemic and local immunity following adoptive transfer of NY-ESO-1 SPEAR T cells in synovial sarcoma. J Immunother Cancer. 2019 Oct 24;7(1):276. doi: 10.1186/s40425-019-0762-2. PMID: 31651363; PMCID: PMC6813983.

Blakely A, Chow W, Sampath S, Femino J, Lozano-Calderon S, Heng M, Crawford B. Postoperative Wound Complications in Fungating Extremity Soft Tissue Sarcomas. J Cancer Biol Therap. 2019 Oct 29;5(1):273-279. doi: 10.18314/gjct.v5i1.1937.

Chow WA, Yee JK, Tsark W, Wu X, Qin H, Guan M, Ross JS, Ali SM, Millis SZ. Recurrent secondary genomic alterations in desmoplastic small round cell tumors. BMC Med Genet. 2020 May 11;21(1):101. doi: 10.1186/s12881-020-01034-w. PMID: 32393201; PMCID: PMC7216377.

Chawla SP, Goel S, Chow W, Braiteh F, Singh AS, Olson JEG, Osada A, Bobe I, Riedel RF. A Phase 1b Dose Escalation Trial of NC-6300 (Nanoparticle Epirubicin) in Patients with Advanced Solid Tumors or Advanced, Metastatic, or Unresectable Soft-tissue Sarcoma. Clin Cancer Res. 2020 Aug 15;26(16):4225-4232. doi: 10.1158/1078-0432.CCR-20-0591. Epub 2020 May 7. PMID: 32381487.

Riedel RF, Ballman KV, Lu Y, Attia S, Loggers ET, Ganjoo KN, Livingston MB, Chow W, Wright J, Ward JH, Rushing D, Okuno SH, Reed DR, Liebner DA, Keedy VL, Mascarenhas L, Davis LE, Ryan C, Reinke DK, Maki RG. A Randomized, Double-Blind, Placebo-Controlled, Phase II Study of Regorafenib Versus Placebo in Advanced/Metastatic, Treatment-Refractory Liposarcoma: Results from the SARC024 Study. Oncologist. 2020 Nov;25(11):e1655-e1662. doi: 10.1634/theoncologist.2020-0679. Epub 2020 Aug 20. PMID: 32701199; PMCID: PMC7648334.

Yu C, Huang F, Chow WA, Cook-Wiens G, Cui X. Single Protein Encapsulated Doxorubicin as an Efficacious Anticancer Therapeutic. Adv Ther (Weinh). 2020 Nov;3(11):2000135. doi: 10.1002/adtp.202000135. Epub 2020 Oct 12. PMID: 33709014; PMCID: PMC7941910.
Professional Societies
American Society of Clinical Oncology
American Association for Cancer Research
Connective Tissue Oncology Society
Sarcoma Alliance for Research through Collaboration
Other Experience
Internship, Internal Medicine
Cedars-Sinai Medical Center 1986—1987

Resident, Internal Medicine
Cedars-Sinai Medical Center 1987—1989

Chief Resident, Internal Medicine
Cedars-Sinai Medical Center 1989—1990

Fellow, Medical Oncology
City of Hope 1990—1991

Fellowship, Hematology/Bone Marrow Transplantation
City of Hope 1991—1992

Research Fellow, Molecular Genetics
City of Hope 1992—1994

Research Centers
Chao Family Comprehensive Cancer Center