Mahaliah A. Little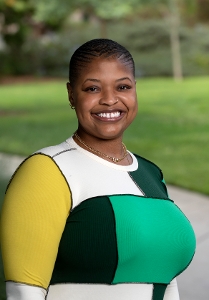 Assistant Professor, Gender and Sexuality Studies
School of Humanities
B.A., Spelman College, 2013, English
M.A., Rutgers University, New Brunswick, 2016, Women's and Gender Studies
Ph.D., The Ohio State University, 2021, Women's, Gender, and Sexuality Studies

University of California, Irvine
The University of California, Irvine
3000 Humanities Gateway
Mail Code: 2655
Irvine, CA 92697

Research Interests
Black Feminist Theory, Literary and Cultural Criticism, Sexual Violence Narratives, Black Women's Literature (Fiction and Memoir), Trauma Narratives, Sexuality Studies
Websites

Appointments
2021-2022 Carter G. Woodson Postdoctoral Fellowship at the University of Virginia
Research Abstract
Dr. Little's research interrogates representations of Black women's identity and sexuality in the aftermath of sexual violence in documentaries, fiction, memoir, and other sites of cultural production. Her current research project intervenes in rape crisis and anti-rape feminist debates by considering Black women's specific cultural relationship to the prevailing linear conceptualization of trauma recovery that delineates a transformation from victim to survivor and discursively prioritizes survivor over victim when addressing people who have experienced sexual violence. Adding to a growing body of Black feminist literary and cultural criticism that theorizes the relationship between violence, autonomy, and Black women's sexuality, Dr. Little's research examines the murky overlap of arousal, trauma, and performative heroism in Black women's articulations of sexuality and identity in the aftermath of sexual violence.

Dr. Little is also intellectually invested in questions and projects around Black feminist aesthetics, sexual violence and art, post-apocalyptic fiction and representations of race, and Southern rap music and aesthetics.
Awards and Honors
2020-21 American Association of University Women Dissertation Fellowship
Publications
Little, Mahaliah A. "Being Toward Trauma: Theorizing Post-Violence Sexuality." Rejoinder: Special Issue – Trauma – An Online Journal Published by the Institute for Research on Women, vol. 7, no. 1, 2022, https://irw.rutgers.edu/rejoinder-webjournal/issue-7-trauma/578-being-toward-trauma-theorizing-post-violence-sexuality.
Fair, Freda L. and Mahaliah A. Little. "Erotic Illegibility and Desire in Representations of Black Sexuality – Erotic Representation in Underground." American Quarterly, vol. 71 no. 1, 2019, p. 151-159.
Little, Mahaliah A. "Christina Sharpe, In the Wake: On Blackness and Being: Review." Spectrum: A Journal on Black Men, vol. 6, no. 1, 2017, pp. 137–140.
Little, Mahaliah A. "Why Don't We Love These Hoes?: Black Women, Popular Culture, and the Contemporary Hoe Archetype." Black Female Sexualities. Ed. Trimiko Melancon and Joanne M. Braxton. New Brunswick: Rutgers New Brunswick, 2015. 89-99.
Grants
2019 SSRC Mellon Mays Predoctoral Research Grant; 2018 SSRC Mellon Mays Graduate Studies Enrichment Grant; 2016-17 The Ohio State University College of Arts and Sciences Graduate Enrichment Fellowship
Professional Societies
National Women's Studies Association
American Studies Association