Christine Luu Cadiz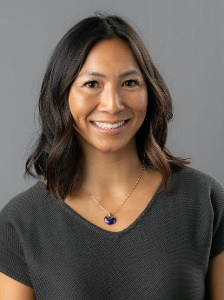 Health Sciences Clinical Associate Professor
School of Pharmacy & Pharmaceutical Sciences
B.S., University of California Santa Barbara, 2003, Aquatic Biology
B.A., University of California Santa Barbara, 2003, Cultural Anthropology
M.A.T., University of California Irvine, 2005
Pharm.D., University of California San Diego, 2012

University of California, Irvine

Mail Code: 3958
Irvine, CA 92697

Research Interests
nephrology, pharmacogenomics, cardiology, teaching and learning
Short Biography
Dr. Cadiz currently practices as a clinical pharmacist in cardiology, with a specialty in advanced heart failure. She is board certified in pharmacotherapy and holds an advanced practice pharmacist license.

Dr. Cadiz has been a pharmacy educator since 2013, having taught students and residents in didactic and experiential coursework, as well as serving as a residency program coordinator and director. She currently teaches in the didactic curriculum in the first year Pharmacy Practice series as well as the second year Cardiology Pharmacotherapy course. Dr. Cadiz also continues to precept students and residents on clinical rotations and is currently serving as the Chair of the PharmD Education Committee charged with oversight of the program's curriculum.
Publications
Knueppel P, Bang SH, Troyer C, Barriga A, Shin J, Cadiz CL, Abdo C, McCart T, Huynh B, Stevens C, Zhou C, Yang NT, Wilson M, Pon T. Evaluation of standard versus reduced dose apixaban for the treatment of venous thromboembolism in patients with severe renal disease (ESRD-VTE). Thromb Res. 2022 Oct 24;220:91-96. doi: 10.1016/j.thromres.2022.10.014. Epub ahead of print. PMID: 36306678.
Ng DQ, Jia S, Wisseh W, Cadiz C, Nguyen M, Lee J, McBane S, Nguyen L, Chan A, Hurley-Kim K. Sociodemographic characteristics differ across routine adult vaccine cohorts: An All of Us descriptive study. Journal of the American Pharmacists Association, 2022. https://doi.org/10.1016/j.japh.2022.11.005
Ng DQ, Jia S, Cadiz C, Wisseh C, Nguyen MH, Lee J, McBane S, Nguyen L, Chan A, Hurley-Kim K. 24. An analysis of the National Institutes of Health All of Us Research Database: Sociodemographic Disparities Among Patients Who Received Vaccinations. Open Forum Infect Dis. 2021 Dec 4;8(Suppl 1):135–6. doi: 10.1093/ofid/ofab466.226. PMCID: PMC8643889.
Mey SV, Patel S, Cordone CN, Lukman G, Sung JH, Wang A, Chan A, Cadiz C, Hurley-Kim K, Wisseh C, Knox E, Lee JYC, Ozaki, A. Pharmacist-Led Interventions for Reducing Health Disparities: A Systematic Review. Value in Health. 2022; 25(7): S497. 10.1016/j.jval.2022.04.1099.
Ozaki AF, Cadiz CL, Hurley-Kim K, et al. Worldwide characteristics and trends of pharmacist interventions contributed to minimize health disparities. J Am Coll Clin Pharm. 2022; 1- 12. doi:10.1002/jac5.1657
Hurley-Kim K, Unonu J, Wisseh C, Cadiz C, Knox E, Ozaki AF, Chan A. Health Disparities in Pharmacy Practice Within the Community: Let's Brainstorm for Solutions. Front Public Health. 2022 Apr 8;10:847696. doi: 10.3389/fpubh.2022.847696. PMID: 35462836; PMCID: PMC9024039.
Ng DQ, Dang E, Chen L, Nguyen MT, Nguyen MKN, Samman S, Nguyen TMT, Cadiz CL, Nguyen L, Chan A. Current and recommended practices for evaluating adverse drug events using electronic health records: a systematic review. Journal of the American College of Clinical Pharmacy. 2021 Sep 21. https://doi.org/10.1002/jac5.1524
Hirsch JD, Kong N, Nguyen KT, Cadiz CL, Zhou C, Bajorek SA, Bounthavong M, Morello CM. Improved patient-reported medication adherence, patient satisfaction, and glycemic control in a collaborative care pharmacist-led diabetes "Tune-Up" clinic. International Journal of Environmental Research and Public Health. 2021 Sep 1; 18(17): 9242.
Cadiz CL, Ha DR. Transplant Pharmacogenomics. In: Lam JT, Gutierrez MA, Shah S. eds. Pharmacogenomics: A Primer for Clinicians, 1st edition. McGraw-Hill, 2021.
Sanchez V, Hasan A, Egusa K, Cadiz C. New Therapies and Pipeline Drugs for Rare Neuromuscular Disorders. Rare Neurological Disease Special Report, supplement to Neurology Reviews. 2020 Mar; 46-48, 52-54.
Hirsch JD, Bounthavong M, Arjmand A, Ha DR, Cadiz CL, Zimmerman A, Ourth H, Morreale A, Edelman SV, Morello CM. Estimated Cost Effectiveness, Cost Benefit and Risk Reduction Associated with a Pharmacist-Led Diabetes Intense Medical Management "Tune Up" Clinic. Journal of Managed Care and Specialty Pharmacy 2017; 23(3): 318-326.
Hill SE, Iqbal R, Cadiz CL, Le J. Foodborne botulism treated with heptavalent botulism antitoxin. Annals of Pharmacotherapy 2013; 47.
Luu C, Morello C. Feeling Low? Take control of hypoglycemia: how to prevent and treat low blood glucose. My Taking Care of Your Diabetes (TCOYD) Newsletter; Aug 2009.
Jennings J, Antrobus KL, Atencio SJ, Glavitch E, Johnson R, Loffler G, Luu C. Drinking beer in a blissful mood: alcohol production, operational chains and feasting in the ancient world. Current Anthropology 2005; 46(2): 275-303.
Grants
All of Us Investigator Grant. Project: Safer medication use for All of Us: developing a clinical prediction model for adverse drug events (SPADE). Funding Source: Genetic Epidemiology Research Institute (GERI) and the UCI All of Us Research Program, in collaboration with the Office of Data and Information Technology. Jan 2021. Award: $2500; Role: Principal Investigator
All of Us Investigator Grant. Project: Describing vaccination-related characteristics in All of Us. Funding Source: Genetic Epidemiology Research Institute (GERI) and the UCI All of Us Research Program, in collaboration with the Office of Data and Information Technology. Jan 2021. Award: $2500; Role: Co-Investigator
Professional Societies
California Society of Health Systems Pharmacists
American College of Clinical Pharmacy
Other Experience
PGY-1 Pharmacy Residency
UCSF Medical Center 2012—2013