Keri Hurley-Kim, PharmD, MPH, BCACP, APh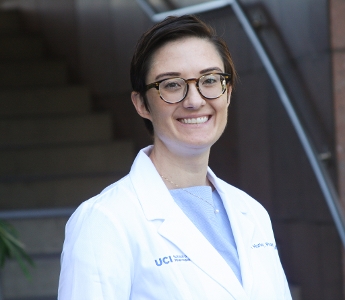 Associate Clinical Professor
School of Pharmacy & Pharmaceutical Sciences
B.S., Sonoma State University, 2009, Cellular and Molecular Biology
Pharm.D., Touro University-California, 2013
M.P.H., Touro University-California, 2013, Community Health

University of California, Irvine

Mail Code: 3958
Irvine, CA 92697

Research Interests
Pharmacy practice, primary care, travel health, immunizations, public health, pharmacy education
Short Biography
Dr Hurley has been a pharmacy educator since 2014 and has worked with PharmD students and residents at all levels of didactic and clinical education. Academic areas of interest are ambulatory care-based topics such as immunizations, asthma/COPD, HIV and self-care. Additionally, Dr. Hurley has taught public health related courses for pharmacy students.

Dr. Hurley practices as a clinical pharmacist in primary care at a Federally Qualified Health Center and serves as steering committee vice chair for the Immunization Coalition of LA County. She is board certified in Ambulatory Care Pharmacy (BCACP) and holds the international certificate of travel health (CTH) from the International Society of Travel Medicine.

Dr. Hurley's research focuses on pharmacist scope of practice and clinical practice issues, as well as public health and primary care/chronic disease-based topics. This includes assessment of pharmacy services and models involving immunizations, diabetes and travel health.
Publications
Ha DR, Hurley-Kim K, Hess KM. Implementing and expanding vaccination services: An updated review for routine vaccinations. America's Pharmacist. 2019;Sept 2019. 49-70.

Hurley-Kim K, Goad J, Seed S, Hess K. Pharmacy-Based Travel Health Services in the United States. Pharmacy. 2019;7,5.

Hurley-Kim K. Tackling vaccine hesitancy unrelated to medical exemptions. Pharmacy Times. 2019.

Hurley-Kim K, Snead R, Hess K. Pharmacists' scope of practice in travel health: a review of state laws and regulations. J Am Pharm Assoc. 2018;58(2), 163-167.

Equils O, Kellogg C, Berger W, Hurley-Kim K, Rubinstein E, Kominisky G; UCLA Center for Health Policy Research. Health Policy Brief: Proposal to Reduce Adult Immunization Barriers in California. http://healthpolicy.ucla.edu/publications/Documents/PDF/2018/immunizationbarriers-brief-aug2018.pdf. Published August 2018.

Hurley-Kim K. Immunization Update. J Contemporary Pharm Prac. 2017;64(2), 24-27.

Gregorian T, Bach A, Hess K, Hurley K, Mirzaian E, Goad J. Implementing Pharmacy Based Travel Health Services: Insight and Guidance from Front Line Practitioners. California Pharmacist. 2017;64(1), 23-29.
Professional Societies
American Pharmacists Association
California Pharmacists Association
International Society of Travel Medicine
American Association of Colleges of Pharmacy
Rho Chi
Phi Lambda Sigma
Other Experience
Community Pharmacy Practice PGY1 Residency
Western University of Health Sciences School of Pharmacy 2013—2014

Board Certified Ambulatory Care Pharmacist (BCACP)


Certificate in Travel Health (CTH)
International Society of Travel Medicine