Roberto Tinoco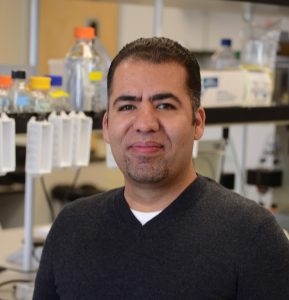 Assistant Professor, Molecular Biology and Biochemistry
School of Biological Sciences
Ph.D., University of California, San Diego, 2010, Biology

University of California, Irvine
3244 McGaugh Hall
Mail Code: 3900
Irvine, CA 92697

Research Interests
T cells, Immune Checkpoint Inhibitors, T cell exhaustion, LCMV, Arenavirus, Melanoma, PSGL-1, PD-1
Websites

Appointments
University of California President's & Chancellor's Postdoctoral Fellow UC San Diego
IRACDA Postdoctoral Fellow, UC San Diego
Research Abstract
Chronic diseases like HIV, Hepatitis B and C, and cancers that evade the immune system continue to impact the lives of millions of patients worldwide causing high morbidity and mortality as well as significant economic burden. It is now evident that in these chronic diseases the development of dysfunctional or exhausted T cells contributes to their disease. It is significant that immune inhibitory pathways in T cells are shared across multiple pathogen types and species including murine, monkey, and humans. Therapeutic success targeting these inhibitory checkpoints using blocking antibodies can reinvigorate T cells and improve pathogen and tumor control in mice and patients.

These drugs are now standard treatment for cancer, but at present are only effective in a subset of patients, highlighting the need to identify additional inhibitory pathways that can be targeted to improve patient outcomes. We identified a new inhibitory checkpoint that promoted T cell exhaustion during chronic viral infection and during melanoma tumor development. Our long-term goal is to understand fundamental cellular and molecular mechanisms of T cell dysfunction. The rationale is that once we fully understanding these inhibitory pathways, we can develop effective therapeutics to reinvigorate the immune system and help more patients suffering from these diseases.
Short Biography
Dr. Tinoco completed his Ph.D. training at UC San Diego, and discovered how transforming growth factor beta (TGF-b) signaling promoted the generation of exhausted T cell during chronic viral infection (Immunity 2009). As a postdoctoral fellow at SBP Discovery and UC San Diego, he discovered a new immune checkpoint function for the adhesion molecule, P-selectin glycoprotein ligand-1 (PSGL-1) that induced T cell exhaustion during chronic viral infection and melanoma tumor development (Immunity 2016). We highlighted our findings and reviewed PSGL-1 biology (Trends Immunology 2017), and provided insight on potential PSGL-1 therapeutics (Immunotherapy 2017).

Dr. Tinoco is also interested in immune responses to respiratory viruses and discovered an important function for fucosyltransferases in supporting memory CD4+ T cell differentiation during influenza viral infection (J Immunology 2018). His laboratory continues efforts to uncover immune regulators that promote T cell dysfunction during viral infections and tumors. He is also collaborating with CVR members to investigate immune responses to the novel coronavirus, SARS-CoV-2.
Publications
Prebiotic-Induced Anti-tumor Immunity Attenuates Tumor Growth.
Li Y, Elmén L, Segota I, Xian Y, Tinoco R, et al. Cell Rep. 2020;30(6):1753-1766.e6. doi:10.1016/j.celrep.2020.01.035
Siah2 control of T-regulatory cells limits anti-tumor immunity.
Scortegagna M, Hockemeyer K, Dolgalev I, Pozniak J, Rambow F, Li Y, Feng Y, Tinoco R, Otero DC, Zhang T, Brown K, Bosenberg M, Bradley LM, Marine JC, Aifantis I, Ronai ZA. Nat Commun. 2020;11(1):99. Published 2020 Jan 7. doi:10.1038/s41467-019-13826-7
Gut microbiota dependent anti-tumor immunity restricts melanoma growth in Rnf5-/- mice.
Li Y, Tinoco R, Elmén L, et al. Nat Commun. 2019;10(1):1492. Published 2019 Apr 2. doi:10.1038/s41467-019-09525-y
Ubiquitin Ligases in Cancer Immunotherapy - Balancing Antitumor and Autoimmunity.
Fujita Y, Tinoco R, Li Y, Senft D, Ronai ZA. Trends Mol Med. 2019;25(5):428-443. doi:10.1016/j.molmed.2019.02.002
Regulation of S100A8 Stability by RNF5 in Intestinal Epithelial Cells Determines Intestinal Inflammation and Severity of Colitis.
Fujita Y, Khateb A, Li Y, Tinoco R, et al.Cell Rep. 2018;24(12):3296-3311.e6. doi:10.1016/j.celrep.2018.08.057
Nuclear pore complex-mediated modulation of TCR signaling is required for naïve CD4+ T cell homeostasis.
Borlido J, Sakuma S, Raices M, Carrette F, Tinoco R, Bradley LM, D'Angelo MA. Nat Immunol. 2018;19(6):594-605. doi:10.1038/s41590-018-0103-5
Fucosyltransferase Induction during Influenza Virus Infection Is Required for the Generation of Functional Memory CD4+ T Cells.
Tinoco R*, Carrette F, Henriquez ML, Fujita Y, Bradley LM*. J Immunol. 2018;200(8):2690-2702. doi:10.4049/jimmunol.1701251
*Co-corresponding authors
Targeting the PSGL-1 pathway for immune modulation.
Tinoco R, Bradley LM. Immunotherapy. 2017;9(10):785-788. doi:10.2217/imt-2017-0078
PSGL-1: A New Player in the Immune Checkpoint Landscape.
Tinoco R, Otero DC, Takahashi AA, Bradley LM. Trends Immunol. 2017;38(5):323-335. doi:10.1016/j.it.2017.02.002
PSGL-1 Is an Immune Checkpoint Regulator that Promotes T Cell Exhaustion.
Tinoco R, Carrette F, Barraza ML, et al. Immunity. 2016;44(5):1190-1203. doi:10.1016/j.immuni.2016.04.015
Regulation of Antigen-Experienced T Cells: Lessons from the Quintessential Memory Marker CD44.
Baaten BJ, Tinoco R, Chen AT, Bradley LM. Front Immunol. 2012;3:23. Published 2012 Feb 27. doi:10.3389/fimmu.2012.00023
Cell-intrinsic transforming growth factor-beta signaling mediates virus-specific CD8+ T cell deletion and viral persistence in vivo.
Tinoco R, Alcalde V, Yang Y, Sauer K, Zuniga EI. Immunity. 2009;31(1):145-157. doi:10.1016/j.immuni.2009.06.015
Foxo1 links homing and survival of naive T cells by regulating L-selectin, CCR7 and interleukin 7 receptor.
Kerdiles YM, Beisner DR, Tinoco R, et al. Nat Immunol. 2009;10(2):176-184. doi:10.1038/ni.1689
Grants
American Cancer Society
Department of Defense
Melanoma Research Alliance
NIH NIAID
Professional Societies
American Association of Immunologists
American Association for Cancer Research
Graduate Programs
Cellular and Molecular Biosciences
Research Centers
Center for Virus Research
Chao Family Comprehensive Cancer Center
Institute for Immunology
Cancer Research Institute