Elizabeth Noelle Tinsley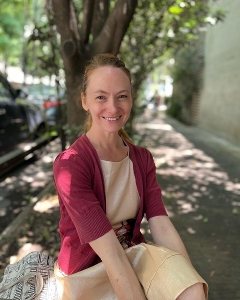 Assistant Professor
School of Humanities
Ph.D., Otani University, 2011 / Columbia University, 2019, Buddhist Culture. Religion
M.A., University of Cambridge/SOAS (University of London)/Otani University (Kyoto)/Columbia University, History of Art/Japanese Studies/Buddhist Culture/Religion

University of California, Irvine

Mail Code: 6000
Irvine, CA 92697

Research Interests
Buddhism, East Asian Religions, Anthropology of Religion, Art History (Asia), Japanese Tantric/Esoteric Buddhism, Ritual practice, Kami worship, Buddhist/religious visual cultures, spirit possession
Research Abstract
Spirit possession, exorcism, oracles, & knowledge/lineage transmission in Japanese Buddhism / eroguro, visual subcultures & modernity / The Anglo-Japanese Alliance & Christianity and Buddhism
Short Biography
Born in Portsmouth, England. History of Art at Cambridge, MAs from SOAS (London) and Otani University (Kyoto), PhDs in Buddhist Culture from Otani and Religion from Columbia University. Ordained in Shingon Buddhism at Koyasan.
Publications
"Kukai and the Development of Shingon Buddhism" in 'Esoteric Buddhism and the Tantras in East Asia' ed. Charles D. Orzech, Henrik H. Sorensen, and Richard K. Payne, Brill, 2010, pp. 691-708.
"Intangible Gifts: Buddhist doctrinal debate as an offering to the kami at medieval Koyasan" in Otani Daigaku Otani Daigaku Daigakuin Kenkyu Kiyo 27, December 2010: pp. 141-172. (In Japanese.)

LINK: https://www.academia.edu/35448669
"The Case of the Henmyoin Oracle: Notes on Koyasan, lineage, and the oracular medium of Buddhist teachings in medieval Japanese esoteric Buddhism" in The Eastern Buddhist, New Series, Vol. 45, Nos. 1&2, 2014, pp.77-112.

LINK: https://www.academia.edu/35448692
"The Composition of Decomposition: Erotic-Grotesque Modernity in Buddhist Kusozu Paintings by Ito Seiu and Matsui Fuyuko" in Journal of Asian Humanities at Kyushu University (JAH-Q), Vol.2, Spring 2017, pp. 15-46.

LINK: https://www.academia.edu/31149514
Upcoming: "Two-Faced: The Standing, Double-Headed Wisdom King Aizen Myoo in Spatial Contexts". Under contract. The Oxford Handbook of Tantric Studies.
"The Catechism of the Gods: Buddhist Doctrinal Debates and Local Deity Worship in Medieval Japan" (Religions journal: https://www.mdpi.com/2077-1444/13/7/586).
Grants
Fellow, Japan Society for the Promotion of Science (JSPS), Yokohama City University 2017-2018
Andrew W. Mellon Fellow, The Metropolitan Museum of Art, Dept. of Asian Art 2016-2017
Fellow, Donald Keene Center / Shincho Foundation for the Promotion of Literature, Yokohama City University 2015-16
Ph.D. Fellow, Weatherhead East Asian Institute, June-August 2012 & 2013
Professional Societies
American Academy of Religion (AAR)
Association for Asian Studies (AAS)
Japan Art History Forum (JAHF)
College Art Association
Other Experience
Research Associate
Medieval Japanese Studies Institute: Center for the Study of Women, Buddhism and Cultural History (Daikankiji Convent, Kyoto)

Presenter of
(Tokyovision, 2018) View (English) trailer here: http://tokyovision.net/blog/portfolio/miyabori-carving-divinity/