Huawei (Katie) Dong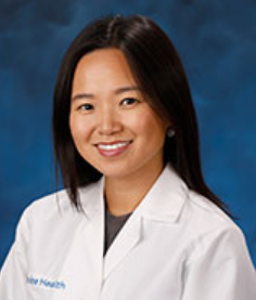 HS Assistant Clinical Professor, Medicine
School of Medicine
B.S., Massachusetts Institute of Technology, 2007, Biology
M.D., Dartmouth Medical School, 2011

University of California, Irvine

Mail Code: 4095
Irvine, CA 92697

Research Interests
Interstitial lung disease, bronchiectasis, genetic pulmonary diseases
Publications
Dong H, Julien PJ, Demoruelle MK, Deane KD, Weisman, MH. Interstitial lung abnormalities in early rheumatoid arthritis: a pilot study evaluating prevalence and progression. Under review for publication.
Dong H, Tatsuno B, Betancourt J, Oh SS. Tracheal epithelial-myoepithelial carcinoma associated with sarcoid-like reaction: a case report. Respiratory Medicine Case Reports. 2014; 14:34-36.
Willis P, Dong H, Eshagian P, Oh S. Pneumonia and cold agglutinins: a case of Mycoplasma pneumonia. Proceedings of UCLA Healthcare. 2012; volume 16.
Cheung A, Dupage M, Dong H, Jacks T. Regulated expression of a tumor-associated antigen reveals multiple levels of T-cell tolerance in a mouse model of lung cancer. Cancer Research. 2008; 68(22): 9459-68.
Professional Societies
American Thoracic Society
American College of Chest Physicians
Other Experience
Internal Medicine Residency
Cedars-Sinai Medical Center 2011—2015

Pulmonary and Critical Care Fellowship
Brigham and Women's Hospital 2015—2018