Greg Everett Gin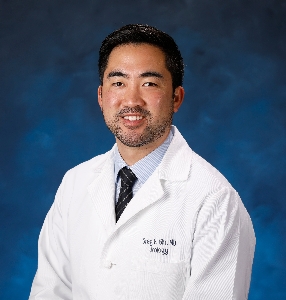 Assistant Clinical Professor, Urology
School of Medicine
M.D., Albany Medical College, 2010
M.S., Columbia University College of Physicians & Surgeons, 2006
B.A., University of California, Berkeley, 2005

University of California, Irvine
333 The City Blvd W
Suite 2100
Orange, CA 92868

Research Interests
Urologic Oncology, Prostate Cancer, Bladder Cancer, Kidney Cancer, Surgical Outcomes, Health Care Disparities
Academic Distinctions
Alpha Omega Alpha
2009
Awards and Honors
Excellence in Teaching Award- UCI Department of Urology 2019
Publications
Bhojani N, Bidair M, Zorn KC, Trainer A, Arther A, Kramolowsky E, Doumanian L, Elterman D, Kaufman RP, Lingeman J, Krambeck A, Eure G, Badlani G, Plante M, Uchio E, Gin G, Goldenberg L, Paterson R, So A, Humphreys M, Kaplan S, Motola J, Desai M, Roehrborn C. Aquablation for Benign Prostatic Hyperplasia in Large Prostates (80-150 cc): 1-Year Results. Urology. 2019 Jul: 129:1-7

Parikh NR, Huiza C, Patel JS, Tsai S, Kalpage N, Thein M, Pitcher S, Lee SP, Inouye WS, Jordan ML, Sanati H, Jafari L, Bennett CJ, Gin GE, Kishan AU, Reiter RE, Lewis M, Sadeghi A, Aronson WJ, Garraway IP, Rettig MB, Nickols NG. Systemic and tumor-directed therapy for oligometastatic prostate cancer: study protocol for a phase II trial for veterans with de novo oligometastatic disease. BMC Cancer. 2019 Apr: 19(1): 291.

Desai M, Bidair M, Zorn KC, Trainer A, Arther A, Kramolowsky E, Doumanian L, Elterman D, Kaufman RP Jr, Lingeman J, Krambeck A, Eure G, Badlani G, Plante M, Uchio E, Gin G, Goldenberg L, Paterson R, So A, Humphreys M, Roehrborn C, Kaplan S, Motola J, Bhojani N. Aquablation for BPH in Large Prostates (80-150cc): 6-Month Results from the WATER II Trial. BJU International. 2019 Aug: 124(2):321-328

Chong JT, Paulucci D, Lubin M, Beksac AT, Gin G, Sfakianos JP, Badani KK. Comparison of overall survival and unplanned hospital readmissions between partial and radical nephrectomy for cT1a and cT1b renal masses. Ther Adv Urol. 2018 Nov: 10(12): 383-391

Audenet F, Sfakianos JP, Waingankar N, Ruel NH, Galsky MD, Yuh BE, Gin GE. A Delay >8 Weeks to Neoadjuvant Chemotherapy Before Radical Cysrtectomy Increases the Risk of Upstaging. Urologic Oncology: Seminars and Original Investigations. 2019 Feb; 37(2): 116-122

Beksac AT, Paulucci D, Gul Z, Reddy B, Sfakianos J, Gin G, Abaza R, Eun D, Bhandari A, Hemal A, Porter J, Badani K. Risk Factors and Prognostic Implications for Pathologic Upstaging to T3a After Partial Nephrectomy. Minerva Urologica e Nefrologica. 2019 Aug; 71(4):395-405.

Desai M, Bidair M, Bhojani N, Trainer A, Arther A, Kramolowsky E, Doumanian L, Elterman D, Kaufman RP Jr, Lingeman J, Krambeck A, Eure G, Badlani G, Plante M, Uchio E, Gin G, Goldenberg L, Paterson R, So A, Humphreys M, Roehrborn C, Kaplan S, Motola J, Zorn KC. WATER II (80-150 mL) Procedural Outcomes. BJU International. 2019 Jan;123(1):106-112
Beksac AT, Palucci DJ, Sfakianos JP, Reddy BN, Gin GE, Lerner SM, Badani KK. Trends in Management of the Small Renal Mass in Renal Transplant Recipient Candidates: A Multi-institutional Survey Analysis. Urologic Oncology: Seminars and Original Investigations. 2017 35(8):529.e17-529.e22.

Gin GE, Ruel NH, Parihar JS, Warner JN, Yuh BE, Yamzon J, Wilson TG, Lau CS, Chan KG. Ureteroenteric Anastomotic Revision as Initial Management of Stricture after Urinary Diversion. International Journal of Urology. 2017: 24(5): 390-395.

Gin GE, Ruel NH, Kardos SV, Sfakianos JP, Uchio E, Lau CS, Yuh BE. Utilization of Perioperative Systemic Chemotherapy in Upper Tract Urothelial Carcinoma. Urologic Oncology: Seminars and Original Investigations. 2017: 35(5):192-200.

Gin GE, Pereira JP, Weinberg AD, Mehrazin R, Lerner SM, Sfakianos JP, Phillips CK. Prostate Specific Antigen Screening and Prostate Cancer Treatment in Renal Transplant Candidates: A Survey of U.S. Transplant Centers. Urologic Oncology: Seminars and Original Investigations. 2016: 34(2):57 e9-13.

Walker A, Gin G, Feustal P, Kogan B. Take a Number? Surgical Waiting Times for Transurethral Bladder and Prostate Surgery in Albany, NY. Urology Practice. 2015: 2(5): 234-8.

Gin GE, Maschino AC, Spaliviero M, Vertosick EA, Bernstein ML, Coleman JA. Comparison of Perioperative Outcomes of Retroperitoneal and Transperitoneal Minimally Invasive Partial Nephrectomy After Adjusting for Tumor Complexity. Urology. 2014; 84(6): 1355-60.

Gin GE, Jayadevan R, Goland-Van Ryn ML, Herron DM, Chin EH, Rocca JP, Ames SA, Florman SS, Palese MA. Robot-Assisted Laparoscopic Donor Nephrectomy in 12 Steps. Journal of Endourology, Part B: Videourology. First published January 2014. doi: 10.1089/vid.2014.0044

Gooch MR, Gin GE, Kenning TJ, German JW. Complications of Cranioplasty Following Decompressive Craniectomy: Analysis of 62 Cases. Neurosurgical Focus 26(6). June 2009.
Professional Societies
American Urologic Association
Society of Urologic Oncology
Other Experience
Urologic Oncology and Robotic Surgery Fellowship
City of Hope National Medical Center —2016

Urology Residency
Icahn School of Medicine at Mount Sinai —2015