David Safani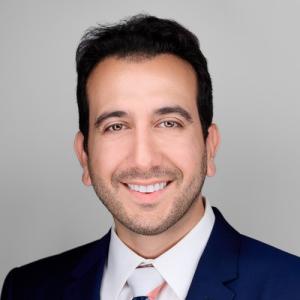 Medical Director, Ambulatory Clinical Operations, Psychiatry & Human Behavior
School of Medicine
Clinical Informaticist, Medical Center
Associate Clinical Professor, Psychiatry & Human Behavior
School of Medicine
Compliance Medical Officer, Medical Center
M.D., UC Irvine School of Medicine, 2010
M.B.A., Paul Merage School of Business, 2010

University of California, Irvine
3800 W Chapman Ave
Suite 500
Mail Code: 1680
Orange, CA 92868

Research Interests
ADHD, Pharmacogenomics
Websites

Academic Distinctions
2016 Faculty of the Year
Department of Psychiatry, University of California, Irvine, Orange County, CA
Awards and Honors
2010 Raymond Chaitin Award for Excellence in Psychiatry
University of California, Irvine School of Medicine, Irvine, CA

2012 Outstanding Resident-Fellow of the Year (Biannual award)
Orange County Psychiatric Society, Orange County, CA

2014 Outstanding Resident-Fellow of the Year (Biannual award)
Orange County Psychiatric Society, Orange County, CA

2015 Fellow of the American Psychiatric Association (F.A.P.A.)
American Psychiatric Association

2020 Southern California Top Doctor
The American Registry

2020 Physician of Excellence
Orange County Medical Association, Newport Beach, CA
Short Biography
Dr. Safani earned his Doctor of Medicine degree at UC Irvine School of Medicine and his Masters in Business administration at the Paul Merage School of Business. He completed his residency in psychiatry and his fellowship in child and adolescent psychiatry at UC Irvine. He is board certified in both adult and child and adolescent psychiatry.

Dr. Safani is an Assistant Professor of Clinical Psychiatry. He serves as Medical Director of Ambulatory Clinical Operations. Additionally, he serves as a clinical informaticist for the UCI Medical Center.

Dr. Safani is Immediate Past President of the Orange County Psychiatric Society and an appointed member of the Membership Committee of the American Psychiatric Association. He has provided several presentations on career development and financial planning for residents and early career psychiatrists across the nation, presenting at the American Psychiatric Association annual meetings and state-wide meetings.
Publications
Khoury D, Nguyen BB, Lai L, Safani D. Use of Prazosin for Post-traumatic Stress Disorder in Adolescents is Associated with Longer Inpatient Psychiatric Hospitalization. JAMPS. 2022 July. 24(5):27-32. DOI: 10.9734/jamps/2022/v24i530301
Tajran J, Musa A, Movahedi R, Wang JC, Safani D, Cooke C, Farah G, Hussain SF, Lynch B, Gucev G. Views of the American Society of Anesthesiologists regarding assessing and reducing preoperative anxiety in the pediatric population. Rom J Anaesth Intensive Care. In press. Accepted 9 May 2022.
Musa A, Wong AK, Tajran J, Chen D, Wang JC, Engel R, Cooke C, Safani D, Movahedi R, Wheaton M, Gucev G. A Survey of Current Preferences of Plastic Surgeons Regarding the Assessment and Reduction of Preoperative Patient Anxiety. Aesthetic Plast Surg. 2021 Aug. Aesthetic Plast Surg. 2021 Aug;45(4):1929-1931.PMID: 33598744
Sorkin DH, Janio EA, Eikey EV, Schneider M, Davis K, Schueller SM, Stadnick NA, Zheng K, Neary M, Safani D, Mukamel DB. Rise in Use of Digital Mental Health Tools and Technologies in the United States During the COVID-19 Pandemic: Survey Study. J Med Internet Res. 2021 Apr 16;23(4):e26994. doi: 10.2196/26994. PMID: 33822737; PMCID: PMC8054774.
Musa A, Valdez AJ, Aguilar JL, Pendi K, Wolitzky-Taylor KB, Lee D, Lee J, Safani D. The Prevalence of Intimate Partner Violence and Association with Depression in University Students: Results of a Cross-sectional Study. J Nerv Ment Dis 2021 Jan;209(1):71-75. PMID: 33141781
Musa A, Movahedi R, Wang JC, Safani D, Cooke C, Hussain SF, Tajran J, Hamid S, Gucev G. Assessing and reducing preoperative anxiety in adult patients: a survey of 3,661 members of the American Society of Anesthesiologists. J Clin Anesth. 2020 Oct;65:109903. PMID: 32473513
Musa A, Wang JC, Acosta FL, Movahedi R, Melkonian A, Shahbazi A, Safani D, Gucev G. Attitudes of Spine Surgeons Regarding Management of Preoperative Anxiety: A Cross-sectional Study. Clinical Spine Surgery. 2019;32(1):E1-E6. PMID: 30148730
Safani, D., Childhood depression: critical issues for the pediatrician. AudioDigest Pediatrics. 65:06(Feb14), 2019.
Raj P., Parker J.A., Safani, D, and Nam K.C. Psychiatric Disorders: Bipolar and Related Disorders in Primary Care Psychiatry. Ed. McCarron R.M., Xiong G.L., Rivelli S., Muskin P.R., Summergrad P., & Suo S. Pub. Wolters Kluwer. Philadelphia, PA 117-129, 2019.
Borders C, Suzuki A, Safani D. Treatment of 22q11.2 deletion syndrome-associated schizophrenia with comorbid anxiety and panic disorder. Ment Illn. 2017 Oct 23;9:54-6. PMID: 29142665
Grants
12/1/18-5/31/23 California Mental Health Services Authority's Innovation Technology-Based Mental Health Solutions Program: Program Evaluation Grant (Agreement No. 417-ITS-UCI-2019) Co-Investigator/ Site Lead CalMHSA $10,200,000 (total funding)
Professional Societies
Orange County Psychiatric Society
California State Association of Psychiatrists
American Psychiatric Association
Orange County Medical Association
California Medical Association
Other Experience
President
Orange County Psychiatric Society 2018—2020

Immediate Past President
Orange County Psychiatric Society 2020—2022

Voting Member, Membership Committee
American Psychiatric Association 2015—2021

Voting Member, Committee on RBRVS, Codes and Reimbursement
American Psychiatric Association 2021