Sangeeta Sakaria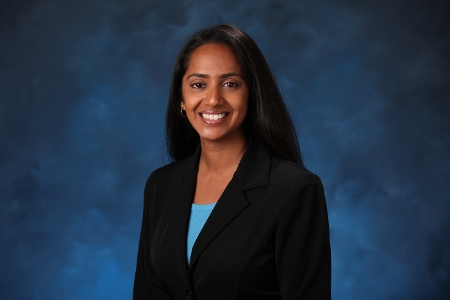 Emergency Medicine
Assistant Professor
B.A., Indiana University, 2005, Human Biology
B.A., Indiana University, 2005, Spanish
MST, PACE University, 2007, Bilingual Elementary Education
M.P.H., Harvard School of Public Health, 2011, Global Health
M.D., Indiana University School of Medicine, 2012

University of California, Irvine
333 City Blvd W
Ste 640
Irvine, CA 92868

Research Interests
medical education, social determinants of health, wilderness medicine, flight medicine, global health, clinical program implementation in developing countries
Academic Distinctions
Diploma in Mountain Medicine
Diploma in Dive & Marine Medicine, Candidate
Awards and Honors
Dean's Scholar, UC Irvine School of Medicine
Short Biography
Dr. Sangeeta Sakaria is an emergency physician at the University of California - Irvine. She was born and raised in Evansville, IN and completed both her undergraduate and medical school training at Indiana University. Between college and medical school, Dr. Sakaria was a 2nd grade bilingual elementary school teacher in the South Bronx and completed her Masters in Teaching at Pace University, with a focal in bilingual elementary education. During medical school, she took time off to complete a Masters in Public Health with a concentration in Global Health at the Harvard School of Public Health. She finished medical school and moved to Chicago, where she completed her Emergency Medicine residency at the University of Chicago. Dr. Sakaria worked there for two years as faculty before moving to California and beginning her career at UC Irvine. At UCI, she holds several roles, including Dean's Scholar at the School of Medicine, PRIME-LC Clinical Foundations Director, Clerkship Director for the Emergency Medicine rotation, Assistant Program Director for the Emergency Medicine residency, and Medical Director of the Emergency Department at Catalina Island Medical Center. Dr. Sakaria has worked on global health projects in a variety of countries, including India, Kenya, Uganda, Honduras, and the Dominican Republic, in addition to pan-Latin America and Caribbean projects. Her focus has been in clinical program implementation and a substantial portion of her work centered on maternal mortality and mother-to-child transmission of infectious disease. Dr. Sakaria loves working and playing in the outdoors; she completed a Diploma in Mountain Medicine and is currently working toward a Diploma in Dive and Marine Medicine. She is also trained as a flight physician and currently volunteers with the San Bernadino Sheriff Department Air Rescue team doing helicopter search and rescue missions in the mountains.
Publications
Sakaria S, Kniepkamp T, Blumen I. "Training Resident Physicians for Air Medical Transport,"Principles and Direction for Air Medical Transport, 2015, April; 32: 1-14.
Pan-American Health Organization. 2010 Situation Analysis: Elimination of Mother-to-Child Transmission of HIV and Congenital Syphilis in the Americas. Washington, D.C.: PAHO, 2011
Demas, G D and S Sakaria. (2005) Leptin regulates energetic tradeoffs between body fat and humoural immunity. Proceedings of the Royal Society of Biological Science 272: 184-185.
Other Experience
2nd Grade Bilingual Teacher
NYC DOE 2005—2007

Graduate Programs
Emergency Medicine