Sergio Armando Villalta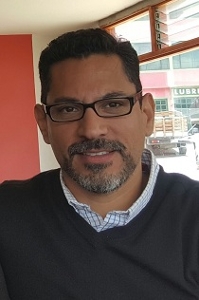 Associate Professor, Physiology & Biophysics
School of Medicine
Ph.D., University of California Los Angeles, 2009, Physiology

University of California, Irvine
3036 Hewitt Hall
Mail Code: 4560
Irvine, CA 92697

Research Interests
Immunology, Muscular Dystrophy, Inflammatory Myopathies, Stem Cell Biology, Muscle Regeneration, Muscle Fibrosis
Websites

Appointments
Postdoctoral Fellow, University of California San Francisco, 2015, Immunology
Research Abstract
The overall goal of the research in the Villalta laboratory is directed towards understanding how immune cells contribute to tissue injury and repair in degenerative and autoimmune diseases. During these pathological conditions immune cells contribute to disease pathogenesis by promoting altered cellular states of chronic stress and inflicting injury on the target tissue through cytolytic mechanisms. Specialized subsets of immune regulatory cells also exist that are critical in orchestrating the resolution of inflammation and tissue repair through the suppression of effector immune cells and direct interactions with the tissue that promote regeneration. Although several studies have characterized immune cell subpopulations in muscle that possess either pro-injury or pro-reparative functions, little is known about the signals regulating these distinct functional programs. To address this lack in understanding our laboratory uses the mdx mouse model of Duchenne muscular dystrophy, which has provided the field an excellent system to investigate the role of immunity in muscular dystrophy and how immune cells contribute to muscle injury and repair.

Two broad aims of the research in the Villalta laboratory are i) to define and characterize the immune cell populations that contribute to muscle regeneration during chronic muscle injury (e.g. regulatory T cells, M2 macrophages and type 2 innate lymphoid cells), and ii) to determine the cellular and molecular basis of immune-mediated regulation of muscle regeneration following acute injury and during muscular dystrophy. Using methods from both the immunology and muscle physiology fields, our research contributes to our understanding of the cellular and molecular basis of immune-mediated muscle damage and repair. Our findings position the field with new information for the development of novel therapies to treat and cure human disease, and have translational implication in a number of clinical settings including immunological tolerance during gene therapy and regenerative medicine.
Publications
For a full list of publications please visit:
Pubmed.gov/Villalta SA
Single-cell and spatial transcriptomics identify a macrophage population associated with skeletal muscle fibrosis.
Coulis G, Jaime D, Guerrero-Juarez C, Kastenschmidt JM, Farahat PK, Nguyen Q, Pervolarakis N, McLinden K, Thurlow L, Movahedi S, Hughes BS, Duarte J, Sorn A, Montoya E, Mozaffar I, Dragan M, Othy S, Joshi T, Hans CP, Kimonis V, MacLean AL, Nie Q, Wallace LM, Harper SQ, Mozaffar T, Hogarth MW, Bhattacharya S, Jaiswal JK, Golann DR, Su Q, Kessenbrock K, Stec M, Spencer MJ, Zamudio JR, Villalta SA.
Sci Adv. 2023 Jul 7;9(27):eadd9984. doi: 10.1126/sciadv.add9984. Epub 2023 Jul 7.
PMID: 37418531
A cellular and molecular spatial atlas of dystrophic muscle.
Stec MJ, Su Q, Adler C, Zhang L, Golann DR, Khan NP, Panagis L, Villalta SA, Ni M, Wei Y, Walls JR, Murphy AJ, Yancopoulos GD, Atwal GS, Kleiner S, Halasz G, Sleeman MW.
Proc Natl Acad Sci U S A. 2023 Jul 18;120(29):e2221249120. doi: 10.1073/pnas.2221249120. Epub 2023 Jul 6.
PMID: 37410813
Immunophenotyping of Inclusion Body Myositis Blood T and NK Cells.
Goyal NA, Coulis G, Duarte J, Farahat PK, Mannaa AH, Cauchii J, Irani T, Araujo N, Wang L, Wencel M, Li V, Zhang L, Greenberg SA, Mozaffar T, Villalta SA.
Neurology. 2022 Mar 29;98(13):e1374-e1383. doi: 10.1212/WNL.0000000000200013. Epub 2022 Feb 7.
PMID: 335131904
Loss of TDP-43 function and rimmed vacuoles persist after T cell depletion in a xenograft model of sporadic inclusion body myositis.
Britson KA, Ling JP, Braunstein KE, Montagne JM, Kastenschmidt JM, Wilson A, Ikenaga C, Tsao W, Pinal-Fernandez I, Russell KA, Reed N, Mozaffar T, Wagner KR, Ostrow LW, Corse AM, Mammen AL, Villalta SA, Larman HB, Wong PC, Lloyd TE.
Sci Transl Med. 2022 Jan 19;14(628):eabi9196. doi: 10.1126/scitranslmed.abi9196. Epub 2022 Jan 19.
PMID: 35044790
QuantiMus: A Machine Learning-Based Approach for High Precision Analysis of Skeletal Muscle Morphology.
Kastenschmidt JM, Ellefsen KL, Mannaa AH, Giebel JJ, Yahia R, Ayer RE, Pham P, Rios R, Vetrone SA, Mozaffar T, Villalta SA.
Front Physiol. 2019 Nov 29;10:1416. doi: 10.3389/fphys.2019.01416. eCollection 2019.
PMID: 31849692
Targeting ABL-IRE1a Signaling Spares ER-Stressed Pancreatic ß Cells to Reverse Autoimmune Diabetes.
Morita S, Villalta SA, Feldman HC, Register AC, Rosenthal W, Hoffmann-Petersen IT, Mehdizadeh M, Ghosh R, Wang L, Colon-Negron K, Meza-Acevedo R, Backes BJ, Maly DJ, Bluestone JA, Papa FR.
Cell Metab. 2017 Apr 4;25(4):883-897.e8. doi: 10.1016/j.cmet.2017.03.018.
PMID: 28380378
Regulatory T cells suppress muscle inflammation and injury in muscular dystrophy.
Villalta SA, Rosenthal W, Martinez L, Kaur A, Sparwasser T, Tidball JG, Margeta M, Spencer MJ, Bluestone JA.
Sci Transl Med. 2014 Oct 15;6(258):258ra142. doi: 10.1126/scitranslmed.3009925.
PMID: 25320234
Research Centers
Institute for Immunology
Muscle Biology and Disease Research Center