Pavan Kadandale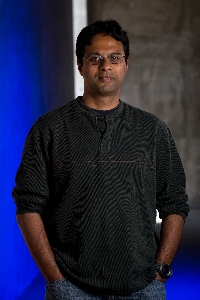 Associate Professor of Teaching, Molecular Biology and Biochemistry
School of Biological Sciences
Ph.D., Rutgers, The State University of New Jersey, 2006, Cell & Developmental Biology
M.S., M.S. University, India, 1999, Biochemistry
B.S., Bangalore University, India, 1997, Microbiology, Chemistry, Zoology

University of California, Irvine
2234 McGaugh Hall
Irvine, CA 92697

Research Interests
Biology education, Assessments, Critical thinking
Research Abstract
I am deeply interested in two major research questions.

1. How can we improve students' critical thinking skills:
---------------------------------------------------------
In today's world, we are inundated with information, much of which is (to put it mildly!) untrue. A skill that is becoming more and more important is the ability to differentiate truth from fiction - a skill that is rarely practice in the classroom, since the underlying assumption in every class is that everything you learn in that class is "true." This means one never really learns to doubt and critically analyze information in a traditional class. So an important question is how to move away from this "traditional" class, and get students to think more critically, and apply those skills in new and meaningful ways. In a large class setting, this becomes an even more difficult goal to achieve, and I am trying to figure out how to do this most effectively.

2. Improving assessments of higher order thinking:
--------------------------------------------------
Related to teaching critical thinking in the classroom is the question of how to improve assessments so that exam and assignments reflect the need to develop critical thinking skills. Once again, the issues with assessment of higher order thinking get multiplied in large classes, and I am trying to figure out ways in which we can practically achieve this.
Publications
Shaffer JF, Dang JV, Lee AK, Dacanay SJ, Alam U, Wong HY, Richards GJ, Kadandale P, Sato BK. A Familiar(ity) Problem: Assessing the Impact of Prerequisites and Content Familiarity on Student Learning. PLoS One. 2016 Jan 29;11(1):e0148051.
Idica A, Thompson J, Pedersen IM, Kadandale P. Using Undergraduate Molecular Biology Labs to Discover Targets of miRNAs in Humans. CourseSource, 2015
Sato BK*, He W, Warschauer M, Kadandale P*. The grass isn't always greener: perceptions of and performance on open-note exams. CBE Life Sciences Education. 2015, 14(2).
Kadandale, P*, Sato, B*, He, W., Warschauer, M. J. Practice Makes Pretty Good: Assessment of Primary Literature Reading Abilities across Multiple Large Enrollment Biology Laboratory Courses. CBE Life Sciences Education. 2014, Winter;13(4):677-86
Kadandale P, Kiger AA. Role of selective autophagy in cellular remodeling: "self-eating" into shape. Autophagy. 2010 Nov;6(8):1194-5.

Velichkova M, Juan J, Kadandale P, Jean S, Ribeiro I, Raman V, Stefan C, Kiger AA. Drosophila Mtm and class II PI3K coregulate a PI(3)P pool with cortical and endolysosomal functions. J Cell Biol. 2010 Aug 9;190(3):407-25. Erratum in: J Cell Biol. 2010 Sep 6;190(5):941.

Kadandale P, Stender JD, Glass CK, Kiger AA. Conserved role for autophagy in Rho1-mediated cortical remodeling and blood cell recruitment. Proc Natl Acad Sci U S A. 2010 Jun 8;107(23):10502-7

Kadandale P, Chatterjee I, Singson A. Germline transformation of Caenorhabditis elegans by injection. Methods Mol Biol. 2009;518:123-33.

Maruyama R, Velarde NV, Klancer R, Gordon S, Kadandale P, Parry JM, Hang JS, Rubin J, Stewart-Michaelis A, Schweinsberg P, Grant BD, Piano F, Sugimoto A, Singson A. EGG-3 regulates cell-surface and cortex rearrangements during egg activation in Caenorhabditis elegans. Curr Biol. 2007 Sep 18;17(18):1555-60.

Chatterjee I, Kadandale P, Singson A. Meiotic diapause: how a sperm signal sets you free. Curr Biol. 2006 Jul 11;16(13):R496-9.

Geldziler B*, Chatterjee I*, Kadandale P*, Putiri E, Patel R, Singson A. A comparative study of sperm morphology, cytology and activation in Caenorhabditis elegans, Caenorhabditis remanei and Caenorhabditis briggsae. Dev Genes Evol. 2006 Apr;216(4):198-208. (*These authors contributed equally)

Kadandale P, Stewart-Michaelis A, Gordon S, Rubin J, Klancer R, Schweinsberg P, Grant BD, Singson A. The egg surface LDL receptor repeat-containing proteins EGG-1 and EGG-2 are required for fertilization in Caenorhabditis elegans. Curr Biol. 2005 Dec 20;15(24):2222-9.

Kadandale P, Geldziler B, Hoffmann M, Singson A. Use of SNPs to determine the breakpoints of complex deficiencies, facilitating gene mapping in Caenorhabditis elegans. BMC Genet. 2005 May 26;6:28. PubMed PMID: 15918911;

Putiri E, Zannoni S, Kadandale P, Singson A. Functional domains and temperature-sensitive mutations in SPE-9, an EGF repeat-containing protein required for fertility in Caenorhabditis elegans. Dev Biol. 2004 Aug 15;272(2):448-59.

Kadandale P, Singson A. Oocyte production and sperm utilization patterns in semi-fertile strains of Caenorhabditis elegans. BMC Dev Biol. 2004 Apr 15;4:3.

Geldziler B, Kadandale P, Singson A. Molecular genetic approaches to studying fertilization in model systems. Reproduction. 2004 Apr;127(4):409-16. Review.

Singson A, Zannoni S, Kadandale P. Molecules that function in the steps of fertilization. Cytokine Growth Factor Rev. 2001 Dec;12(4):299-304. Review.