Allison Perlman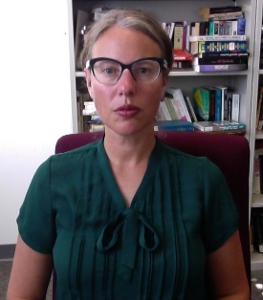 Associate Professor, Film & Media Studies, History
School of Humanities
Ph.D., University of Texas at Austin, 2007, American Studies

Phone: History Department: (949) 824-6521
Fax: (949) 824-2865
Email:
aperlman@uci.edu
University of California, Irvine
200 Krieger Hall
Mail Code: 3275
Irvine, CA 92697

Research Interests
history of broadcasting, American social movements, media law and policy, media activism, popular memory
Academic Distinctions
Chancellor's Award for Fostering Undergraduate Research, 2017
School of Humanities Teaching Award, 2013
Verklin Research Fellow in Media Ethics and Policy, University of Virginia, 2010-2011
Publications
Books
Public Interests: Media Advocacy and Struggles Over US Television (Rutgers UP, 2016)
Winner, Outstanding Book Award, Popular Communication Division, International Communication Association
Flow TV: Television in the Age of Convergent Media, co-editor. (New York: Routledge, 2010).
Exhibits
"On The Right: NET and Modern Conservatism," American Archive of Public Broadcasting, https://americanarchive.org/exhibits/conservatism
"Labor and the NAEB," Unlocking the Airwaves: Revitalizing an Early Public and Educational Radio Collection, https://www.unlockingtheairwaves.org/exhibits/labor-and-the-naeb/
Book Chapters and Journal Articles
"Regulating Documentary: Media Policy, Media Activism, and the Expressive Power of Law," in The Oxford Handbook of American Documentary, edited by Joshua Glick and Patricia Aufderheide (forthcoming 2023).
"The Problems of US Broadcasting Policy: Race, Rights, and Regulation," in Racializing Media Policy, edited by Jason A. Smith and Richard Craig (forthcoming 2023).
"With the Exception of C-SPAN: Television and the Jesse Jackson Campaigns," for The Year in C-SPAN Research Collection, edited by Robert X. Browning, (forthcoming 2023).
"Telecasting an 'Effective Weapon for Peace': Intertel and Global Public Affairs Programming in the 1960s," Radical History Review vol. 141 (2021): 60-82.
"Radio Silence: The RPTF and the Uses of Radio History," New Review of Film and Television Studies 16.4 (2018).
"Watching Television with Ossie and Ruby," in Television, the Peabody Archives, and Cultural Memory, edited by Ethan Thompson, Jeffrey P. Jones, and Lucas Hatlen (Athens: University of Georgia Press): 136-153
"History of Media Advocacy and Activism," in The Blackwell Companion to the History of American Broadcasting, edited by Aniko Bodroghkozy (Malden, MA: Wiley/Blackwell, 2018): 371-388.
"Alabama Public Television: Local Stations and Struggles Over Collective Identity," in The New Television Industries: A Guide to Changing Channels, edited by Derek Johnson, (New York: Routledge, 2018): 67-76.
"The Work of Internet Freedoms: Network Neutrality and the Labors of Policy Advocacy." Special Section of the International Journal of Communication, co-edited with Becky Lentz (November 2016).
"The Politics and Precarity of Media Advocacy Work," in Precarious Creativity: Global Media, Local Labor, edited by Michael Curtin and Kevin Sanson (Berkeley: University of California Press, 2016): 254-266.
"Regulation and Ownership in the United States,"in The Sage Handbook of Television Studies, edited by Manuel Alvarado, Milly Buonanno, Herman Gray and Toby Miller (Thousand Oaks: Sage Publications Inc, 2015): 22-35.
"Owning a Voice: Broadcasting Policy, Spanish Language Media, and Latina/o Speech Rights," co-authored with Hector Amaya. Communication, Culture, and Critique 6.1 (2013): 142-160.
"Whitewashing Diversity: Conservatives and the 'Stealth Fairness Doctrine," Television and New Media 13.4 (2012): 353-373.
"Rush Limbaugh and the Problem of the Color Line," Cinema Journal 51.4 (Summer 2012): 196-204.
"Deadwood, Generic Transformation and Televisual History," Journal of Popular Film and Television 39.2 (2011): 102-112.
"The Strange Career of Mad Men: Race, Paratexts, and Civil Rights Memory," in Mad Men: Dreams Come True TV, edited by Gary Edgerton (London: I.B. Tauris & Col. Ltd., 2011): 209-225.
"Television Up in the Air: The Midwest Program on Airborne Television Instruction, 1959-1971," Critical Studies in Media Communication 27.5 (2010): 477-497.
"Regulating the Airwaves: A 'Toaster with Pictures' or a 'Public Service.'" in Battleground: The Media, edited by Robin Andersen and Jonathan Gray (Westport: Greenwood Publishing Group, inc. 2008): 433-441.
"Feminists in the Wasteland: The National Organization for Women and Television Reform," Feminist Media Studies 7.4 (2007): 413-431.
"The Brief Ride of the Biker Movie," International Journal of Motorcycle Studies 3 (2007).
Book Reviews
Social Media and the Public Interest: Media Regulation in the Disinformation Age by Philip M. Napoli, International Journal of Communication 15 (May 2021): 2592-2596
The Future of Change: How Technology Shapes Social Revolutions by Ray Brescia. Technology & Culture 62, no. 2 (April 2021): 650-651
Rube Tube: CBS and Rural Comedy in the Sixties by Sara K. Eskridge, Journal of American History 106, no. 3 (2019): 814-815.
True South: Henry Hampton and Eyes on the Prize, the Landmark Television Series that Reframed the Civil Rights Movement, by Jon Else, Journal of Southern History 84.2 (2018): 510-511.
Wired TV: Laboring Over an Interactive Future, edited by Denise Mann, Cinema Journal 54.4 (2017): 173-177.
Equal Time: Television and the Civil Rights Movement, by Aniko Bodroghkozy, The Sixties: A Journal of History, Politics, and Culture 6.1 (2013): 113-116.