Andrew C Wong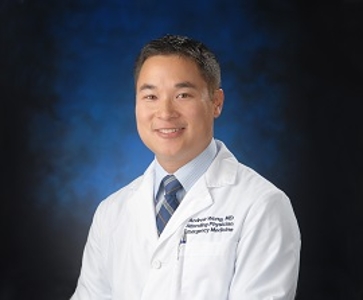 Assistant Clinical Professor, Emergency Medicine
School of Medicine
Medical Director
M.D., University of Michigan, 2007
M.B.A., University of California, Irvine, 2015

University of California, Irvine
Department Emergency Medicine
UC Irvine Health
333 City Boulevard West, Suite #640, Route 128-01
Orange, CA 92868

Research Interests
ED Operations
Websites

Academic Distinctions
Scholar, University of Michigan Graduate Medical Education Health Scholars Program in Healthcare Administration
Publications
Chakravarthy B, Posadas E, Ibrahim D, McArthur K, Osborn M, Hoonpongsimanont W, Wong AC, Lotfipour S. Increasing Off-Service Resident Productivity while on their Emergency Department Rotation Using the Hawthorne Effect. J Emerg Med. 2015 Apr; 48(4): 499-505
Abir M, Davis MM, Sankar P, Wong AC, Wang SC. Design of a model to predict surge capacity bottlenecks for burn mass casualty incidents at a large academic medical center. Pre hospital and Disaster Med. 2013 Feb; 28(1): 23-32.
Wong AC, Kowalenko T, Roahen-Harrison S, Smith B, Maio RF, Stanley RM. A Survey of Emergency Physicians' Fear of Malpractice and Its Association With the Decision to Order Computed Tomography Scans for Children with Minor Head Trauma. Pediatric Emergency Care. 2011 March; 27(3):182-185.
Beavers SF, Blossom DB, Wiemken TL, Kawaoka KY, Wong AC, Goss L, McCormick MI, Thoroughman D, Srinivasan A. Comparison of Risk Factors for Recovery of Acinetobacter baumannii During Outbreaks at Two Kentucky Hospitals, 2006. Public Health Reports. 2009 November-December; 124(6): 868-74.
Ko AC, Hirsh E, Wong AC, Moore T, Taylor AE, Hirschl RB, Younger JG. Segmental hemodynamics during partial liquid ventilation in isolated rat lungs. Resuscitation. 2003 Apr; 57(1): 85-91.
Grants
Expanded HIV Testing in Healthcare Settings. California Department of Public Health Center for Infectious Diseases Office of AIDs. April 1, 2015 to Dec 31, 2017.
Mitigating Legal Risks in the Emergency Department. University of California Office of the President. March 1, 2015 to June 30, 2016.
Graduate Programs
Emergency Medicine