Sonja Entringer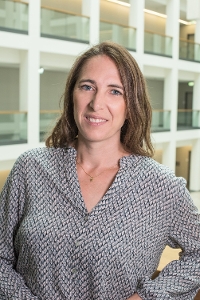 Associate Adjunct Professor, Pediatrics
School of Medicine
Investigator, UC Irvine Development, Health and Disease Research Program
Ph.D., University of Trier, Germany, 2006, Psychobiology

University of California, Irvine
333 The City Drive (West), Suite 1200
Orange, CA 92868

Research Interests
fetal/developmental programming of health and disease risk, behavioral medicine, stress, pregnancy, fetal development, neuroendocrine, immune, genetic, epigenetic, maternal-child health
Research Abstract
The UC Irvine Development, Health and Disease Research Program is a transdisciplinary effort to elucidate the interplay between biological, social, behavioral and environmental determinants of early human development, with an emphasis on outcomes related to fetal growth and maturation, premature birth, and newborn, infant and child health and disease risk, and on maternal-placental-fetal endocrine, immune and genetic mechanisms.

Findings from our studies converge to suggest that after accounting for the effects of other established sociodemographic and obstetric risk factors, maternal stress exposure is significantly and independently associated with increased risk of adverse pregnancy and birth outcomes related to the length of gestation (preterm birth) and fetal growth [low birth weight/small-for-gestational age (SGA) birth]. Our studies further suggest these effects of maternal stress are mediated, in part, by alterations in maternal–placental–fetal (MPF) endocrine and immune processes. A more recent set of our findings suggest that exposure to stress during intrauterine life also may independently confer increased long-term risk (in young adults) of a range of negative physical and mental health outcomes, including glucose-insulin and lipid metabolic dysfunction; immune dysfunction, hypothalamic-pituitary-adrenal endocrine dysregulation, and cognitive (working memory) dysfunction.

Our ongoing work addresses (a) the role of maternal–fetal gene–environment interactions, with a focus on genes and gene networks implicated in the regulation of key enzyme systems, steroid hormones and other peptides that regulate fetal development and birth outcomes, (b) the role of mitochondrial genetic variation on pregnancy, birth and infant health outcomes, (c) the role of maternal-placental-fetal endocrine and immune/inflammatory processes across gestation as key mediators of fetal programming of newborn and infant outcomes, including body composition, energy balance, metabolic function and obesity risk, and brain morphology, white matter maturation and function, and (d) the biobehavioral basis for the well-documented racial/ethnic disparities and the Hispanic acculturation paradox in reproductive and child health outcomes.
Publications
https://www.ncbi.nlm.nih.gov/myncbi/sonja.entringer.1/bibliography/public/
Grants
Maternal Acculturation during Pregnancy and Newborn and Infant Adiposity in Mexican-Americans (Pathik Wadhwa, Co-PI) NIH/National Institute on Minority Health and Health Disparities R01 MD-010738 $ 2,381,478 direct costs 07/2016 – 06/2021
Social Disadvantage and Fetal Programming of Newborn-Infant Telomere Biology (Pathik Wadhwa, Hyagriv Simhan, Elissa Epel MPIs) NIH/National Institute of Aging R01 AG-050455 $ 2,463,696 direct costs 07/01/2016-06/30/2021
Prenatal Stress and Programming of Newborn and Infant Telomere Biology and Cellular Aging European Research Council (ERC) Starting Grant ERC-STG 678073 € 1,101,976 direct costs (€ 1,483,720 total costs) 10/2016 – 09/2021
Intergenerational Transmission of Health Disparities among Turkish-origin Residents in Germany: Role of Maternal Stress and Stress Biology during Pregnancy German Research Foundation (DFG) EN 851/2-1 € 320,000 direct costs 05/2015 – 04/2018 (no cost extension until 03/2020)
Understanding and Mitigating the Impact of Early-Life Stress on Disease Risk: Towards Developmental Programming of Lifelong Health (Kids2Health) (Christine Heim PI of center grant) German Ministry of Education and Research (BMBF) € 4,082,120 (direct costs) 10/01/2017-09/30/2021 PI of two subprojects: Refugee Children in Berlin: War and Migration-related Trauma, Biological Embedding, and Potential Reversibility € 353,400 (direct costs) Methods Core Psychobiology € 676,400 (direct costs)
Early-life Stress and Risk for Allergic Diseases (Co-PI Status with Christine Heim) German Ministry of Education and Research (BMBF) € 392.797 (direct costs) 08/2019-07/2022