Fayez M. Bany-Mohammed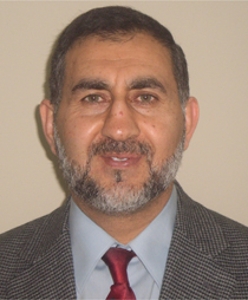 Program Director- Neonatal Perinatal Medicine Fellowship Program, Pediatrics
School of Medicine
HS Clinical Professor, Division of Neonatology, Pediatrics
School of Medicine
Attending Neonatologists, Neonatal ICU, UCI Medical Center, Orange, CA
Attending Neonatologists, Neonatal ICU, CHOC Children's Hospital, Orange, CA
Attending Neonatologists, Neonatal ICU, St. Francis Medical Center, Lynwood, CA
M.D., Faculty of Medicine, University of Jordan, 1988, Medicine

University of California, Irvine
Bldg 56, Suite 600
UCI Medical Center
Mail Code: 4490
Orange, CA 92868

Research Interests
Medical Education, Neonatal-Perinatal Medicine, Neonatal Hematology, Neonatal Infectious Diseases, Clinical Research, Neurodevelopmental Outcome
Academic Distinctions
Outstanding Program Leadership Award, UCI GME, 2016
(This award is given in recognition of a program director who is a model leader, administrator, educator, and compassionate supporter of residents/fellows).
Research Abstract
1. I see myself as a Clinician Educator, in addition to Clinical Researcher. As such, I have a very diverse background in all aspects of clinical neonatology. I have lectured on various Neonatology topics including Lung Development, Surfactant Metabolism, Nasal Continuous Positive Airway Pressure, Thermal Regulation, Erythrocyte Disorders in Neonates, Thyroid Function in Premature Infants, Intraventricular Hemorrhage, Therapeutic hypothermia for Hypoxic Ischemic Encephalopathy, Neonatal Respiratory Disorders, Neonatal Infectious Diseases and Placental Transfusion procedures including Delayed Cord Clamping and Umbilical Cord Milking. With my diverse educational background and experience, I was chosen as an Associate Editor of the widely circulated Gomella's Neonatology Textbook, the 8th edition, released in early 2020.

2. Some other research interest of mine is blood preservations strategies to minimizing blood loss and anemia in the fragile NICU population. These strategies include delayed cord clamping/umbilical cord milking, using fetal umbilical venous blood for admission laboratory studies, written guidelines to minimize phlebotomy losses by standardizing laboratory testing, use of erythropoietic stimulating agents in addition to standardized blood transfusion guidelines. We completed a study in which we compared admission CBC and blood culture collected from paired samples of umbilical venous blood obtained from the umbilical vein at its insertion to the placenta to that obtained directly from the infant. The study resulted in a peer-reviewed publication. Evaluation of the practice is ongoing.

3. I have been collaborating on the clinical/translational research led by Dr. Aslam of mesenchymal stem cells and their role in prediction and treatment of bronchopulmonary dysplasia (BPD) in preterm neonates. Our work has demonstrated that mesenchymal stem cells (MSC) significantly improve lung alveolar and vascular structure, decreases pulmonary hypertension and restores right heart function in rodents with BPD. We have utilized commercial MSC as well as locally grown MSC from human umbilical cord Wharton Jelly (UCT-MSC). We In collaboration with Dr. Weian Zhao at UC Irvine Stem Cell Research Center, we have performed advanced proteomics analysis on the UCT-MSCs and identified several secreted peptides/markers involved in lung/heart development, injury, and repair.

4. Another interest of our group is the impact of post-natal steroids on long-term neurodevelopmental outcome in premature infants. We have done animal laboratory research to understand the molecular aspects of steroid-induced neurologic injury and we are involved in multisite clinical trials evaluating the impact of early neonatal interventions (like delayed cord clamping/cord milking, less invasive surfactant administration) on long-term neurodevelopmental outcome.
Awards and Honors
Chosen among "Castle Connolly Top Doctors" in Neonatal-Perinatal Medicine, 2011 - present

Chosen as "Top Doctor" by Doximity and US News and World Reports Magazine 2012-2021.

Selected as one of "Physicians of Excellence" by Orange County Medical Association and Orange Coast Magazine, 2009, 2013 – 2021

Second Year Resident Research award. Pediatric Research Day, June 1992, Cleveland Clinic Foundation
Publications
1. Editor, Tricia Lacy Gomella ; Associate editors, Fabien G. Eyal, Fayez Bany-Mohammed ; Gomella's Neonatology : Management, Procedures, on-Call Problems, Diseases, and Drugs. 8th edition. New York: McGraw-Hill Medical, 2020.

2. Abrantes MA, Valencia AM, Bany-Mohammed F, Aranda JV, Beharry KD. Intergenerational Influence of Antenatal Betamethasone on Growth, Growth Factors, and Neurological Outcomes in Rats. Reprod Sci. 2020 Jan;27(1):418-431. doi: 10.1007/s43032-019-00073-w. Epub 2020 Jan 1

3. Abrantes MA, Valencia AM, Bany-Mohammed F, Aranda JV, Beharry KD. Combined antenatal and postnatal steroid effects on fetal and postnatal growth, and neurological outcomes in neonatal rats. Am J Transl Res. 2019 Mar 15;11(3):1697-1710. eCollection 2019.

4. Greer R, Safarulla A, Koeppel R, Aslam M, Bany-Mohammed FM. Can Fetal Umbilical Venous Blood Be a Reliable Source for Admission Complete Blood Count and Culture in NICU Patients? Neonatology. 2019;115(1):49-58. doi: 10.1159/000491993. Epub 2018 Oct 9.

5. Abrantes MA, Valencia AM, Bany-Mohammed F, Aranda JV, Beharry KD. Dose response effects of postnatal hydrocortisone on growth and growth factors in the neonatal rat. Steroids. 2018 Dec;140:1-10. doi: 10.1016/j.steroids.2018.08.003. Epub 2018 Aug 22.

6. Nicolau Y, Bany-Mohammed F, Cai CL, Aranda JV, Beharry KD. SiRNA silencing of VEGF, IGFs, and their receptors in human retinal microvascular endothelial cells. Am J Transl Res. 2018 Jul 15;10(7):1990-2003. eCollection 2018.

7. Bany-Mohammed, Fayez M. (2018, May 8). Chorioamnionitis. eMedicine/Medscape. Retrieved 11/25/2019 from https://emedicine.medscape.com/article/973237-overview

8. LaGrandeur RG, Singhal M, Bany-Mohammed F, Uy C, Koeppel R, Zaldivar F, Haddad F, Nalbandian A, Donovan P, Cooper DM, Aslam M. Pilot feasibility study to detect mesenchymal stem cell biomarkers of bronchopulmonary dysplasia in the tracheal aspirate fluid of preterm infants. J Neonatal Perinatal Med. 2018;11(1):1-10. doi: 10.3233/NPM-181722.

9. Haley A, Mishra PK, Bany-Mohammed F. Spontaneous pneumopericardium in a term newborn: a case report. Int J Radiol Radiat Ther. 2018;5(2):129-131. DOI: 10.15406/ijrrt.2018.05.00149

10. Mink R, Schwartz A, Carraccio C, High P, Dammann C, McGann KA, Kesselheim J, Herman B; Steering Committee of the Subspecialty Pediatrics Investigator Network. Creating the Subspecialty Pediatrics Investigator Network.
J Pediatr. 2018 Jan;192:3-4.e2. doi: 10.1016/j.jpeds.2017.09.079

11. Mink RB, Schwartz A, Herman BE, Turner DA, Curran ML, Myers A, Hsu DC, Kesselheim JC, Carraccio CL; and the Steering Committee of the Subspecialty Pediatrics Investigator Network (SPIN).Validity of Level of Supervision Scales for Assessing Pediatric Fellows on the Common Pediatric Subspecialty Entrustable Professional Activities. Acad Med. 2017 Jul 11. doi: 10.1097/ACM.0000000000001820. [Epub ahead of print]

12. Beharry KD, Cai CL, Valencia GB, Valencia AM, Lazzaro DR, Bany-Mohammed F, Aranda JB. Neonatal Intermittent Hypoxia, Reactive Oxygen Species, and Oxygen-Induced Retinopathy. Reactive Oxygen Species, 2017; 3(7):12–25

13. Nicolau Y, Bany-Mohammed F, Carpenter PM, Uy C. Massive pneumatosis without necrosis: A case report of Clostridium perfringens sepsis in an extremely low birth weight infant. J Neonatal Perinatal Med. 2015;8(3):257-61.

14. Inayat M, Bany-Mohammed F, Valencia A, Tay C, Jacinto J, Aranda JV, Beharry KD. Antioxidants and Biomarkers of Oxidative Stress in Preterm Infants with Symptomatic Patent Ductus Arteriosus. Am J Perinatol. 2015; 32(9):895-904.

15. Jivabhai Patel S, Bany-Mohammed F, McNally L, Valencia GB, Lazzaro DR, Aranda JV, Beharry KD. Exogenous Superoxide Dismutase Mimetic Without Scavenging H2O2 Causes Photoreceptor Damage in a Rat Model for Oxygen-Induced Retinopathy. Invest Ophthalmol Vis Sci. 2015;56(3):1665-77

16. Merchant C, Merchant L, Bany-Mohammed F, Aslam M. Surfactant Therapy for Respiratory Distress Syndrome. Respiratory Therapy. 2014; 9(2):35-36.

17. Fathi O, Bany-Mohammed F, Aslam M. Delayed Cord Clamping: A review. Neonatal Intensive Care. 2014; 27(3): 21-24.

18. Chang M, Bany-Mohammed F, Kenney MC, Beharry KD. Effects of a superoxide dismutase mimetic on biomarkers of lung angiogenesis and alveolarization during hyperoxia with intermittent hypoxia. Am J Transl Res. 2013;5(6):594-607.

19. Bany-Mohammed FM, Slivka S, Hallman M. Recombinant Human Erythropoietin: Possible Role as an Antioxidant in Rabbits. Pediatric Research, 1996; 40:381-387.

20. Bany-Mohammed FM, Macknin ML, Van Lente F, and Medendorp SV. The effect of Prolonged Tourniquet Application on Serum Bicarbonate. Cleveland Clinic Journal of Medicine, 1995; 62:68-70.

Book Chapters

21. Editor, Tricia Lacy Gomella ; Associate editors, Fabien G. Eyal, Fayez Bany-Mohammed ; Gomella's Neonatology : Management, Procedures, on-Call Problems, Diseases, and Drugs. 8th edition. New York: McGraw-Hill Medical, 2020.

22. Bany-Mohammed, F. Chlamydial Infection. In: Gomella TL, Eyal FG, Bany-Mohammed F, eds. Gomella's Neonatology : Management, Procedures, on-Call Problems, Diseases, and Drugs. 8th ed. New York: McGraw-Hill Medical, 2020:1115-1117.

23. Bany-Mohammed F. Cytomegalovirus. In: Gomella TL, Eyal FG, Bany-Mohammed F, eds. Gomella's Neonatology : Management, Procedures, on-Call Problems, Diseases, and Drugs. 8th ed. New York: McGraw-Hill Medical, 2020:1117-1121.

24. Bany-Mohammed F. Gonorrhea. In: Gomella TL, Eyal FG, Bany-Mohammed F, eds. Gomella's Neonatology : Management, Procedures, on-Call Problems, Diseases, and Drugs. 8th ed. New York: McGraw-Hill Medical, 2020:1127-1128.

25. Bany-Mohammed F. Hepatitis. In: Gomella TL, Eyal FG, Bany-Mohammed F, eds. Gomella's Neonatology : Management, Procedures, on-Call Problems, Diseases, and Drugs. 8th ed. New York: McGraw-Hill Medical, 2020:1128-1136.

26. Bany-Mohammed F. Herpes Simplex Virus. In: Gomella TL, Eyal FG, Bany-Mohammed F, eds. Gomella's Neonatology : Management, Procedures, on-Call Problems, Diseases, and Drugs. 8th ed. New York: McGraw-Hill Medical, 2020:1136-1143.

27. Bany-Mohammed F. Human Immunodeficiency Virus (HIV). In: Gomella TL, Eyal FG, Bany-Mohammed F, eds. Gomella's Neonatology : Management, Procedures, on-Call Problems, Diseases, and Drugs. 8th ed. New York: McGraw-Hill Medical, 2020:1143-1151.

28. Bany-Mohammed F. Meningitis. In: Gomella TL, Eyal FG, Bany-Mohammed F, eds. Gomella's Neonatology : Management, Procedures, on-Call Problems, Diseases, and Drugs. 8th ed. New York: McGraw-Hill Medical, 2020:1154-1157.

29. Bany-Mohammed F. Methicillin-Resistant Staphylococcus Aureus (MRSA) Infections. . In: Gomella TL, Eyal FG, Bany-Mohammed F, eds. Gomella's Neonatology : Management, Procedures, on-Call Problems, Diseases, and Drugs. 8th ed. New York: McGraw-Hill Medical, 2020:1157-1162.

30. Bany-Mohammed F. Parvovirus B19 Infection. In: Gomella TL, Eyal FG, Bany-Mohammed F, eds. Gomella's Neonatology : Management, Procedures, on-Call Problems, Diseases, and Drugs. 8th ed. New York: McGraw-Hill Medical, 2020:1162-1165.

31. Bany-Mohammed F. Respiratory Syncytial Virus (RSV). In: Gomella TL, Eyal FG, Bany-Mohammed F, eds. Gomella's Neonatology : Management, Procedures, on-Call Problems, Diseases, and Drugs. 8th ed. New York: McGraw-Hill Medical, 2020:1168-1171.

32. Bany-Mohammed F. Rubella Infections. In: Gomella TL, Eyal FG, Bany-Mohammed F, eds. Gomella's Neonatology : Management, Procedures, on-Call Problems, Diseases, and Drugs. 8th ed. New York: McGraw-Hill Medical, 2020:1171-1175.

33. Bany-Mohammed F. Sepsis. In: Gomella TL, Eyal FG, Bany-Mohammed F, eds. Gomella's Neonatology : Management, Procedures, on-Call Problems, Diseases, and Drugs. 8th ed. New York: McGraw-Hill Medical, 2020:1175-1189.

34. Bany-Mohammed F. Syphilis. In: Gomella TL, Eyal FG, Bany-Mohammed F, eds. Gomella's Neonatology : Management, Procedures, on-Call Problems, Diseases, and Drugs. 8th ed. New York: McGraw-Hill Medical, 2020:1189-1196.

35. Bany-Mohammed F. TORCH (TORCHZ) Infections. In: Gomella TL, Eyal FG, Bany-Mohammed F, eds. Gomella's Neonatology : Management, Procedures, on-Call Problems, Diseases, and Drugs. 8th ed. New York: McGraw-Hill Medical, 2020:1196-1197.

36. Bany-Mohammed F. Toxoplasmosis. In: Gomella TL, Eyal FG, Bany-Mohammed F, eds. Gomella's Neonatology : Management, Procedures, on-Call Problems, Diseases, and Drugs. 8th ed. New York: McGraw-Hill Medical, 2020:1197-1202.

37. Bany-Mohammed F. Ureaplasma Urealyticum Infection. In: Gomella TL, Eyal FG, Bany-Mohammed F, eds. Gomella's Neonatology : Management, Procedures, on-Call Problems, Diseases, and Drugs. 8th ed. New York: McGraw-Hill Medical, 2020:1206-1207.

38. Bany-Mohammed F. Varicella – Zoster Infections. In: Gomella TL, Eyal FG, Bany-Mohammed F, eds. Gomella's Neonatology : Management, Procedures, on-Call Problems, Diseases, and Drugs. 8th ed. New York: McGraw-Hill Medical, 2020:1211-1215.

39. Bany-Mohammed F. Hyaline Membrane Disease. In: Gomella TL, Cunningham MD, Eyal FG, Zenk KE, eds. Neonatology: Management, Procedures, On-Call Problems, Diseases and Drugs, 5th Ed. New York: McGraw-Hill Companies, Inc, 2004:539-543
Professional Societies
American Academy of Pediatrics
California Association of Neonatologists
Graduate Programs
Neonatal-Perinatal Medicine (PD)
Pediatrics