Lilith Mahmud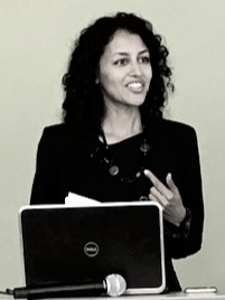 Associate Professor of Anthropology
School of Social Sciences
Ph.D., Harvard University, Anthropology
M.A., Harvard University, Social Anthropology
B.A., Columbia University, Anthropology, Psychology

University of California, Irvine
Department of Anthropology
3312 Social and Behavioral Sciences Gateway
Mail Code: 5100
Irvine, CA 92697

Research Interests
feminist anthropology, Europe, liberalism, race, gender, elites, migration, nationalism, the Right, secrecy, conspiracy, ethnographic writing.
Research Abstract
Prof. Mahmud's research interests include feminist ethnography; gender, race, nationalism, and migration; Blackness in Europe; secrecy, transparency and conspiracy theories; elites, the Right, and neofascism; liberalism, humanism, and Occidentalism.

Her first book, The Brotherhood of Freemason Sisters: Gender, Secrecy, and Fraternity in Italian Masonic Lodges (University of Chicago Press, 2014), was an ethnographic study of white, elite, right-wing women in one of the most mythologized and criminalized secret societies in the world, and it was awarded the William A. Douglass Prize by the Society for the Anthropology of Europe.

Prof. Mahmud's second area of research has been a feminist political anthropology of liberalism and the Right in Europe. In a series of published papers, she has articulated a framework for understanding liberalism as a cultural 'native' category of Europe, rather than a historical fact or analytical category. By recognizing the ideological complicity of liberalism with Occidentalist fictions of whiteness and with far-right politics, Prof. Mahmud's work has aimed to develop a critical theory of Europe to disarm its constitutive antiblackness. But insofar as liberal principles guide the very ethics of anthropological research, Prof. Mahmud's work has also attempted to build methodological and theoretical tools for what she called an illiberal, partisan, and "anti-fascist" anthropology.

Her current book project is a study of Italy's institutional responses to the migration crisis in the Mediterranean, the deadliest border in the world for Black and brown migrants. Combining fieldwork among Italian cooperatives—the main socio-economic organizations handling the business of solidarity at the margins of Europe—with fictionalized travel stories, and personal and family accounts of the journey from her own Eritrean community in Italy, Prof. Mahmud's manuscript is an experiment in feminist ethnographic storytelling to demystify hegemonic fictions of Europe at the margins of anthropology.
-
-
Short Biography
Dr. Lilith Mahmud is Associate Professor of Anthropology at UC Irvine. Before her appointment in the Anthropology department, she was a faculty member in Gender & Sexuality Studies and Director of the Graduate Feminist Emphasis at UCI. She received her PhD in anthropology from Harvard University in 2008, and she specializes in feminist anthropology and critical European studies. She currently serves on the editorial board of American Ethnologist. She was previously the Book Review Editor of American Anthropologist, and an Executive Board member of the Society for the Anthropology of Europe. She has served as a manuscript reviewer for journals and academic presses in the United States and Europe, and as a grant and fellowship evaluator for several public and private academic granting agencies, as well as for the EU Commission Research Directorate General's multi-million-euro award program for Social Sciences Research.

Prof. Mahmud teaches regular undergraduate and graduate courses on feminist anthropology, gender and sexuality studies; nationalism, migration, and the Right; secrecy and conspiracy theorizing; thesis and dissertation writing.
-
-
Publications
2021. "Feminism in the House of Anthropology." Annual Review of Anthropology. 50: 345-361. https://www.annualreviews.org/doi/abs/10.1146/annurev-anthro-101819-110218
2020. "Fascism, A Haunting: Spectral Politics and Antifascist Resistance in Twenty-First-Century Italy." In Maskovsky, Jeff and Sophie Bjork-James (Eds.) Beyond Populism: Angry Politics and the Twilight of Neoliberalism. West Virginia University Press; pp. 141-166.
2018. "#Eurostop: Toward a Feminist Decolonial Critical Theory of Europe." In North Africa and the Making of Europe: Governance, Institutions and Culture. Davis, Muriam H and Thomas Serres, eds. London: Bloomsbury Press; pp. 265-283.
2014. "The Brotherhood of Freemason Sisters: Gender, Secrecy, and Fraternity in Italian Masonic Lodges." Chicago: University of Chicago Press.

http://press.uchicago.edu/ucp/books/book/chicago/B/bo17041333.html

Barnes and Noble: http://www.barnesandnoble.com/w/the-brotherhood-of-freemason-sisters-lilith-mahmud/1117105818?ean=9780226095868

Amazon: http://www.amazon.com/The-Brotherhood-Freemason-Sisters-Fraternity/dp/022609586X
2016. "We Have Never Been Liberal: Occidentalist Myths and the Impending Fascist Apocalypse." Cultural Anthropology Hot Spots.
https://culanth.org/fieldsights/981-we-have-never-been-liberal-occidentalist-myths-and-the-impending-fascist-apocalypse
2013. "The Profane Ethnographer: Fieldwork with A Secretive Organisation." In Organisational Anthropology: doing ethnography in and among complex organisations. Garsten, Christina and A. Nyqvist, eds. London: Pluto Press; 189-207. http://www.plutobooks.com/display.asp?K=9780745332475


2012. "In The Name of Transparency: Gender, Terrorism, and Masonic Conspiracies in Italy." Anthropological Quarterly. 85.4: 1177-1207. http://muse.jhu.edu/login?auth=0&type=summary&url=/journals/anthropological_quarterly/v085/85.4.mahmud.pdf


2012. "'The world is a forest of symbols': Italian Freemasonry and the practice of discretion." American Ethnologist 39.2: 425-438. http://onlinelibrary.wiley.com/doi/10.1111/j.1548-1425.2012.01373.x/abstract


2011. "An Alliance of Women: Immigration and the Politics of Race by Heather Merrill." Book review. American Ethnologist 38.3: 596-597


2009. "Masquerades of Modernity: Power and Secrecy in Casamance, Senegal by Ferdinand de Jong." Book review. American Ethnologist 36.4: 814.


2008. "Inclusionary rhetoric/exclusionary practices : left-wing politics and migrants in Italy by Davide Pero'." Book review. American Ethnologist 35.2: 2086-2088.
INTERVIEWS:
"Exploring the Secrets of Freemasonry" by Laura Rico
http://news.uci.edu/features/exploring-the-secrets-of-freemasonry/

"Doomsday Debunked, But Lessons Learned?" by Pat Brennan (Orange County Register)
http://www.ocregister.com/articles/nasa-381019-doomsday-earth.html

"How Freemasonry United Italy" by Mirella Ionta (Pravda)
http://english.pravda.ru/opinion/columnists/13-12-2012/123153-freemasons_italy-0/

New faculty feature, School of Social Sciences
https://www.socsci.uci.edu/newsevents/news/2018/2018-09-15-mahmud.php
-
-
Professional Societies
American Anthropological Association
Association for Feminist Anthropology
American Ethnological Society
Society for the Anthropology of Europe
National Women's Studies Association
Council for European Studies