Young Jik Kwon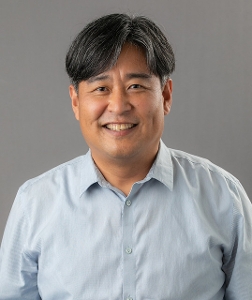 Professor
School of Pharmacy & Pharmaceutical Sciences
Professor (Joint), Chemical Engineering & Materials Science
Professor (Joint), Biomedical Engineering
Professor (Joint), Molecular Biology and Biochemistry
Ph.D., University of Southern California, 2003, Chemical Engineering
M.S., University of Southern California, 2000, Chemical Engineering
B.S., Inha University, South Korea, 1998, Biological Engineering

University of California, Irvine
132 Sprague Hall
Mail Code: 3905
Irvine, CA 92697

Research Interests
Gene therapy, drug delivery, multi-modal therapeutics for cancer, vaccines, extracellular blebs
Academic Distinctions
Faculty Innovation Fellow, Beall Applied Innovation, University of California, Irvine (2021-2022)

Brain Pool scholar and visiting professor, Chemical and Biomolecular Engineering, Korea University, Korea (2015 – 2016)

Special visiting research fellow (Science without Borders Scholar), College of Pharmacy, Federal University of Minas Gerais, Brazil (2015 – 2017)

Top downloaded article award in 2014, Journal of Materials Chemistry, Royal Society of Chemistry Publishing (2015)

Top-cited article award, FEBS Journal, Wiley (2013)

Medical Research Award, Gabrielle's Angel Foundation for Cancer Research (2011)

Faculty Early Career Development (CAREER) Award, National Science Foundation (2010)

Faculty Career Development Award, UC Irvine (2008)

M. Frank and Margaret Domiter Rudy Assistant Professor of Biomedical Engineering in Cancer Research, Case Western Reserve University (2006-2007)
Appointments
Postdoc, Chemistry, UC Berkeley (2003-2005)
Publications
Chang Soo Kim, Dominique Ingato, Petra Wilder-Smith, Zhongping Chen*, Young Jik Kwon. Simtuli-disassembling gold nanoclusters for diagnosis of early state oral cancer by optical coherence tomography. Nano Convergence 5, 3 (2018)

Marina França Dias, Kwangsic Joo, Jessica A. Kemp, Silvia Ligório Fialho, Armandoda Silva Cunha Jr.*, Se Joon Woo*, Young Jik Kwon. Molecular genetics and emerging therapies for retinitis pigmentosa: Basic research and clinical perspectives. Progress in Retinal and Eye Research 63, 107-132 (2018)

Julius A. Edson, Dominique Ingato, Shirley Wu, Bianca Lee, Young Jik Kwon. Aqueous-soluble, acid-transforming chitosan for efficient and stimuli-responsive gene silencing. Biomacromolecules 19, 1508-1516 (2018)

Dominique Ingato, Julius A. Edson, Michael Zakharian, Young Jik Kwon. Cancer cell-derived, drug-loaded nanovesicles induced by sulfhydryl-blocking for effective and safe cancer therapy. ACS Nano 12, 9568-9577 (2018)

Kyuri Lee, Soo Young Kim, Yunmi Seo, Hyokyung Kwon, Young Jik Kwon, Hyukjin Lee. Multicistronic IVT mRNA for simultaneous expression of multiple fluorescent proteins. Journal of Industrial and Engineering Chemistry 80, 770–777 (2019)

Jessica Kemp, Andrew Keebaugh, Julius Edson, David Chow, Michael Kleinman, Yap Ching Chew, Alison McCracken, Aimee Edinger, Young Jik Kwon. Biocompatible chemotherapy for leukemia by acid-cleavable, PEGylated FTY720. Bioconjugate Chemistry 31, 673-684 (2020)

Hyejin Kim, Dajeong Kim, Hyangsu Nam, Sunghyun Moon, Young Jik Kwon, Jong Bum Lee. 2020. Engineered extracellular vesicles and their mimetics for clinical translation.Methods 177, 80–94 (2020)

Melissa N. Thonea, Young Jik Kwon. Extracellular blebs: Artificially-induced extracellular vesicles for facile production and clinical translation. Methods 177, 135–145 (2020)

Shirley Wong, Jessica Kemp, Min Suk Shim, Young Jik Kwon*. Solvent driven, self-assembled acid-responsive poly(ketalized serine)/siRNA polyplexes for RNA interference. Biomaterials Science 8, 6718-6729 (2020)

Margaret Lugin, Rebecca Lee, Young Jik Kwon*. Synthetically engineered adeno-associated virus for efficient, safe, and versatile gene therapy applications. ACS Nano 14, 14262-14283 (2020)

Jee Young Chung, Melissa Thone, Young Jik Kwon*. COVID-19 Vaccines: The status and perspectives in delivery points of view. Advanced Drug Delivery Reviews 170, 1-25 (2021)

Julius Edson, Weiping Chu, Steffan Porwollik, Kaycee Tran, Nathalie Iribe, Michael McClelland, Young Jik Kwon*. 2021. Eradication of intracellular Salmonella Typhimurium by polyplexes of acid-transforming chitosan and fragment DNA. Macromolecular Bioscience 2000408 (2021) (cover article).

Mohammed S. Abdel-Maksoud, Mohammed I. El-Gamal, Bong S. Lee, Mahmoud M. Gamal El-Din, Hong R. Jeon, Dow Kwon, Usama M. Ammar, Karim I. Mersal, Eslam M. H. Ali, Kyung-Tae Lee, Kyung Ho Yoo, Dong Keun Han, Jae Kyun Lee, Garam Kim, Hong Seok Choi, Young Jik Kwon, Kwan Hyi Lee, Chang Hyun Oh.* Discovery of new imidazo[2,1-b]thiazole derivatives as potent pan-RAF inhibitors with promising in vitro and in vivo anti-melanoma activity. Journal of Medicinal Chemistry 64, 6877–6901 (2021)

Ji Hee Kang, Md HasanTurabeea, Doo Sung, Lee, Young Jik Kwon, Young Tag Ko*. Temperature and pH-responsive in situ hydrogels of gelatin derivatives to prevent the reoccurrence of brain tumor. Biomedicine & Pharmacotherapy 143, 112144 (2021).

Jessica A. Kemp, Young Jik Kwon. Cancer nanotechnology: Current status and perspectives. Nano Convergence 8, 34 (2021) (invited review)

Soo Kyung Cho, Rebecca Lee, Yoon-Hwae Hwang, Young Jik Kwon*. Chemically-tuned intracellular gene delivery by core-shell nanoparticles: Effects of proton buffering, acid-degradability, and membrane disruption. ChemMedChem, ASAP (2022) (Invited Contribution)

For a complete list check the lab webpage listed above.
Professional Societies
American Chemical Society
Amecian Institute of Chemical Engineers
American Society for Gene and Cell Therapy
Controlled Release Society
Other Experience
Co-Founder
Jupiter Therapeutics, Inc. 2017

Co-Founder
ChTech, Inc. 2021

Graduate Programs
Biomedical Engineering
Cellular and Molecular Biosciences
Chemical Engineering
Pharmacological Sciences
Research Centers
Biotechnology, Imaging & Drug Development (BIDD) program, The Chao Family Comprehensive Cancer Center
Center for Virus Research
Institute for Immunology