Alka Patel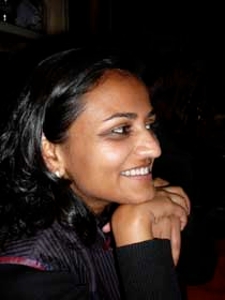 Professor, Art History
School of Humanities
PH.D. Harvard, 2000

University of California, Irvine
Department of Art History
2126 Humanities Gateway
Irvine, CA 92697

Research Interests
Art and Architecture of South Asia, Iran, Central Asia, and Spain (al-Andalus), and the early modern Andalusian/Islamicate diaspora in the New World.
Appointments
Senior Fellowship, American Institute of Indian Studies, 2003-2005
Research Abstract
My research has focused on the visual traditions and material culture of South Asia, primarily the architecture of India and Pakistan dating to the 12th through 16th centuries. My work has benefited from current scholarship rethinking the rigidity of religious categorizations of South Asian material culture such as "Hindu," "Jaina" and "Islamic," inherited from a Colonial-period epistemology. My publications have demonstrated that the 12th-16th-century buildings of South Asia transcend the historically inaccurate identifications imposed on them.

I have the singular opportunity to expand my regional and chronological expertise in a collaborative project with Dr. Karen Leonard (Professor of Anthropology, UCI), titled Building New Identities in the Diaspora: the Banking and Mercantile Communities of Hyderbad, India, 1730-1940. The project will focus on the changing regional, caste, and religious identities of mercantile and banker castes from Gujarat, Rajasthan and other areas of northern India as they migrated to the Deccan. Our work will reveal the specific translations of imported architectural practices in their new context, documenting many buildings in Hyderabad for the first time. Our combined expertise in architectural and social history will elucidate the historical extent of transregional networks throughout India and the mobility and adaptability of architectural and social practices.
Publications
Iran to India: The Shansabanis of Afghanistan, c. 1145-1190 CE Edinburgh: Edinburgh University Press, 2021
BOOKS
The Ghurid Architecture of South Asia and Historiography at the Ends of the Islamic World.
In Progress.
Building Communities in Gujarat: Architecture and Society during the Twelfth through Fourteenth Centuries. Brill's Indological Library (ed. Johannes Bronkhorst) Vol. 22. Leiden: E.J. Brill.
2004.
EDITED VOLUMES
The History and Historiography of Reuse in South Asia. To be published as the annual volume of Archives of Asian Art LIX (2009). Forthcoming.
Communities and Commodities: Western India and the Indian Ocean, 11th-15th Centuries. Alka Patel, guest editor. Proceedings of international conference (see below). Ars Orientalis XXXIV (2004), thematic issue. http://www.asia.si.edu/visitor/arsorientalis.html
2007.


With Abha Narain Lambah. The Architecture of the Indian Sultanates. Mumbai: Marg Publications.
2006.
Grants
National Endowment for the Humanities, 2005
Graduate Programs
Visual Studies