Andrej Luptak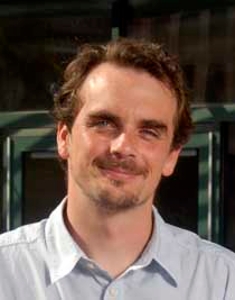 Professor & Chair, Department of Pharmaceutical Sciences
School of Pharmacy & Pharmaceutical Sciences
Professor, Chemistry
School of Physical Sciences
Member, Chao Family Comprehensive Cancer Center
Professor, Molecular Biology and Biochemistry
School of Biological Sciences
Member, Institute for Genomics and Bioinformatics
Ph.D., Yale University, 2002, Biophysical Chemistry
M.S., University of Pennsylvania, 1996, Chemistry
B.A., University of Pennsylvania, 1996, Biochemistry and Biophysics

University of California, Irvine
2141 Natural Sciences 2
Mail Code: 3959
Irvine, CA 92697

Research Interests
RNA biology and chemistry
Websites

Academic Distinctions
1992-1996 Benjamin Franklin Scholar
2010 Pew Scholar
2020 Guggenheim Fellow
2021 W. M. Keck Foundation grantee
Appointments
Research Fellow, Massachusetts General Hospital & Harvard Medical School 2002-2007
Research Abstract
RNAs are remarkable as both information carriers and structured functional macromolecules. Beyond their well-known role in the information transfer between DNA and proteins, RNAs act as catalysts (ribozymes) in many cellular processes such as protein synthesis, splicing, and tRNA maturation. In addition, RNA can fold to form small-molecule recognition elements (riboswitches) that regulate gene expression. It is clear that RNA structure and regulation is critical to a wide variety of cellular events, but the complexity of regulatory mechanisms is only now beginning to be appreciated.
This duality of function makes RNAs and their chemical analogs ideal for in vitro selection and evolution experiments. In vitro selection is a powerful tool for rapid cell-free identification of specific binders or efficient catalysts from very diverse synthetic or genomic libraries, with complexities of up to about 10E16. Aptamers, RNAs with high binding affinity and specificity, are readily isolated and can be evolved further to improve or alter their function. For example, they have been developed to bind a large variety of small molecule targets, to act as drugs that bind proteins and cells in a tissue-specific manner, and to deliver cargoes to those cells. Similarly, ribozymes have been evolved in vitro to accelerate a wide variety of chemical reactions.
We explore the biology and chemistry of RNA by utilizing in vitro selection techniques and structure-based bioinformatics to search for new catalytic RNAs in a variety of genomes. Through these RNAs, we look for novel modes of cell regulation. Another way in which we combine the study of RNA biology and chemistry is to use synthetic libraries to select aptamers and ribozymes with designed characteristics. Of particular interest is the selection of fluorogenic molecules that we will use to study RNA in live cells with hitherto unprecedented spatial and temporal resolution. To facilitate the selection process we are developing novel fluorescence-based methods to display and isolate fluorogenic nucleic acids.
Links to Course Web Pages
Chem/PharmSci 223. Bio Macromolecules
Patent
RIBOZYME WITH tRNA SYNTHETASE ACTIVITY AND METHODS OF MANUFACTURING AND USING THE SAME
Available Technologies

Publications

Grants
NASA Exobiology "High-Energy Phosphate In Early Genome Replication And Maintenance"
NASA ICAR "Bringing RNA to Life – Emergence of Biocatalysis"
W. M. Keck Foundation "Tracing the synaptic transcriptome in live animals with luminescent RNAs"
UC Cancer Research Coordinating Committee "Role of cytoplasmic polyadenylation element binding protein 3 (CPEB3) ribozyme in cancer"
Professional Societies
<A HREF="http://www.rnasociety.org/"> RNA Society
<A HREF='http://www.asbmb.org/'> ASBMB
<A HREF='http://www.aaas.org//'> AAAS
<A HREF ="http://www.acs.org/content/acs/en.html"> American Chemical Society
Graduate Programs
Cellular and Molecular Biosciences
Chemical Biology
Chemistry
Medicinal Chemistry and Pharmacology
Pharmacological Sciences