Bridget R. Cooks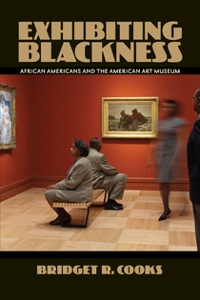 Professor and Chancellor's Fellow
School of Humanities
Department of African American Studies and Department of Art History
Ph.D., University of Rochester, 2002, Art History, Visual and Cultural Studies

University of California, Irvine
3337 Humanities Gateway
Mail Code: 6850
Irvine, CA 92697

Websites

Appointments
Bridget R. Cooks is Professor of Art History and African American Studies at the University of California, Irvine. Her research focuses on African American artists, Black visual culture, and museum criticism. She is author of the book Exhibiting Blackness: African Americans and the American Art Museum (University of Massachusetts Press, 2011). Her writing can be found in dozens of art exhibition catalogues and academic publications such as the journals Afterall, Afterimage, American Studies, Aperture, and American Quarterly.

Cooks has curated several exhibitions including, Grafton Tyler Brown: Exploring California, (2018) at the Pasadena Museum of California Art, Ernie Barnes: A Retrospective at the California African American Museum (2019) (CAAM), The Black Index (four venue national tour), Dissolve (Langson IMCA, University Art Gallery, UC Irvine) and Lava Thomas: Homecoming (2022) at the Montgomery Museum of Fine Arts and Spelman College Museum of Fine Art.

Prior to her appointment at UCI, she taught in the Department of Art and Art History and the Program of Ethnic Studies at Santa Clara University. She also served as museum educator for the National Gallery of Art, Washington D.C. and the Los Angeles County Museum of Art.
Publications
Books:

• Lava Thomas: Homecoming. Saratoga, CA: Sming Sming Books, 2022.

• Mannequins and Museums: Power and Resistance on Display. Co-editor with Jennifer J. Wagelie. London: Routledge Press, 2021.

• Exhibiting Blackness: African Americans and the American Art Museum. University of Massachusetts Press, 2011.

This book was awarded the inaugural James A. Porter & David C. Driskell Book Award in African American Art History (2013)

• A Historical Perspective of African Americans. Anthology Editor. San Diego: Cognella Academic Publishing, 2009.

• The Art of Richard Mayhew. Exhibition Catalogue. Lead author, curator, and project manager. Editor, Melissa Leventon. San Francisco: Museum of the African Diaspora, 2009.
Articles:

• "Dark Figures" in Bob Thompson: This House is Mine. Editor, Diana Tuite. Colby College with Yale University Press, 2022.

• "Black Black Magic" in Supernatural America: The Paranormal in American Art. Exhibition catalogue. Editor, Robert Cozzolino. Minnneapolis Institute of Art with Lucia Marquand, 2021.

• "The Black Index," in A Companion to Contemporary Drawing. Editors, Kate Chorpening and Rebecca Fortnum. Blackwell Companions of Art History Series: Wiley-Blackwell Publishing, 2020.

• "Norman Rockwell's Negro Problem." Cultural Critique. Volume 105 (Fall 2019).

• "Augusta Savage: A Gallery of Their Own" in Augusta Savage: Renaissance Woman (London: D Giles Limited in Conjunction with the Cummer Museum, 2018).

• "The Art World Has Lost its Mind: Lorraine O'Grady and the Birth of Mlle Bourgeise Noire." Afterall (46: Fall 2018).

• "Time After Time: Black and White" and "Time After Time: Blend" in Betye Saar: Black White and Blend (Culver City: Roberts Projects, 2018)

• "Yong Soon Min: AVM: After Venus (Mal)formation," Exhibition Review. Asian Diasporic Visual Cultures and the Americas 4 (2018).

• "Alma Thomas: The Nature of Color," Alma Thomas exhibition catalog, (New York: Studio Museum in Harlem, 2016).

• "Curating the National Museum of African American History and Culture: A Conversation with Tuliza Fleming and Jacquelyn Serwer," Archives of American Art Journal. (Volume 55: Issue 2, 2016).

• "Redux: Bridget R. Cooks on Harlem on My Mind (1968)," "Vision and Justice": Aperture: The Magazine of Photography and Ideas. Volume 223 (Summer 2016).

• "Sound of the Break: Jazz and the Failures of Emancipation," co-authored with Graham Eng-Wilmot. American Quarterly. Volume 68:2 (June 2016).

• "Wildstyle," Malcolm Mobutu Smith (New York: Luise Ross Gallery, 2015).

• "The Gee's Bend Effect," Textile: The Journal of Cloth and Culture. Volume 12: Issue 3 (2014).

• "Permanent Collection: Increasing the Visibility of African American Art in a University Museum," Collections: A Journal for Museum and Archives Professions. Volume 10, Number 2 (Spring 2014): 193-212.

• "Revisiting The De Luxe Show: Black, White, and 'Hard Art' in Houston 1971," Gulf Coast. Volume 26, Issue 1 (Winter/Spring 2013): 240-248.

• "Object, Context & Voice: Theaster Gates' Practice in red black & GREEN: a blues," in red, black & GREEN: a blues, (New York: MAPP Publications, 2012).

• "Intricate Illusion," in Titus Kaphar: Classical Disruption (New York: Friedman Benda Gallery, 2011).

• "Filling the Void: Two Centuries of Black American Art," in The Ladder: A Magazine for and about Future Teachers. Issue Theme: "Diversity: Honoring Differences in the Classroom." Los Angeles: Los Angeles Unified School District (Fall 2011: 14 and 36).

• "Tony Albert: Alien Nation" in Tony Albert: It Always Seems Impossible Until It's Done. (Hong Kong: Conceptio Unlimited, 2011).

• "Feng Bin: The Encounter," in Feng Bin: Dancing Red Shadows (Hong Kong: Conceptio Unlimited, 2011).

• "African American Murals" and "William Edmondson" entries for the Grove Encyclopedia of American Art. (May 2010).

• "Civil Rights Memorials and the Geography of Memory" by Owen J. Dwyer and Derek H. Alderman. Book Review. American Studies (Volume 50: Spring/Summer, 2009).

• "Lynching in the West" book review. Western American Literature. (Volume 43:1, Spring 2008): 89-90.

• "Interview: Sheila Pree Bright" Exposure. (Fall 2008).

• "Pictures of Home: The Work of Sheila Pree Bright" Afterimage (September/October 2008).

• "Black Artists and Activism: Harlem on My Mind (1969)" American Studies. 48:1 (2008).

• "Fixing Race: Visual Representations of African American Fairgoers, World's Columbian Exposition, Chicago 1893," Patterns of Prejudice. Volume 41:5 (2007).

• "Confronting Terrorism: Teaching the History of Lynching through Photography". Pedagogy 7.1: (January 2007).

• Revised version reprinted in Teaching Race in the 21st Century: College Teachers Talk About Their Fears, Risks, and Rewards, Editor, Lisa Guerrero (New York: Palgrave Macmillan, 2008).

• "Confronting Terrorism: Teaching the History of Lynching through Photography," Nka: Journal of Contemporary African Art. Strange Fruit: Lynching, Visuality, Empire. Issue 21 (Fall 2006).

• "Pan-Africanism in African American Visual Arts: Where have we been? Where are we going?" The International Journal of Media and Cultural Politics. Volume 2:2 (July 2006).

• "Adrienne Pao: Beyond the Paradise" Exposure. (Spring 2006).

• "Romare Bearden: On View" Studies in the History of Art: Romare Bearden, American Modernist. Center for the Advanced Study of the Visual Arts, (CASVA) (Volume 71, XLVIII. National Gallery of Art, 2006).

• "Museums" entry for the Encyclopedia of African American Culture and History (EAACH). (December 2005).

• "Lorna Simpson: The Portrait of Refusal" Fotophile Volume 46 (Winter 2004).

• "Snapshots: Brief Takes on Rising Talents" International Review of African American Art. Volume 19:2 (2003).

• "New/Now/Next: A Survey of Rising Talent" International Review of African American Art. Volume 18:1 (2003).

• "The Black Female Body: A Photographic History" book review. African American Review. Volume 37:2 (September/October, 2003).

• "See Me Now" Camera Obscura. Bloomington: Indiana University Press (fall 1997).

• "Complicated Shadows: Challenging Histories of Cultural Representation in Contemporary Art" Focaal. Volume 27: (Amsterdam: The Netherlands, 1997).
Other Experience
Curator
Wavelengths: Abstract Selections from the Paul R. Jones Collection, Paul R. Jones Gallery, Tuscaloosa, Alabama, 2012

Curator
Revising the Future, Sheldon Museum of Art, University of Nebraska, Lincoln 2018

Curator
Grafton Tyler Brown: Exploring California, Pasadena Museum of California Art 2018

Curator
Ernie Barnes: A Retrospective, California African American Museum, Los Angeles, California 2019

Curator
The Black Index, UC Irvine, Palo Alto Art Center, Black Art Galleries at University of Texas, Austin, and Leubsdorf Gallery, Hunter College, New York 2021—2022

Curator
Lava Thomas: Homecoming 2022

Curator
Dissolve 2022