Eyal Amiran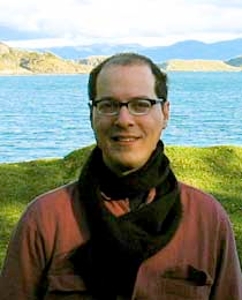 Professor, Comparative Literature
School of Humanities
Ph.D., University of Virginia, 1989, English
B.A., University of Chicago, 1981, Behavioral Sciences

University of California, Irvine
Department of Comparative Literature
275 Humanities Instructional Bldg.
Mail Code: 2561
Irvine, CA 92697

Research Interests
modernism, postmodernism, digital media, psychoanalysis, textual theory
Research Abstract
I'm working on a book-length project on public politics in modern comics, and on Holding, Pointing, Throwing, on psychologies of control in vernacular modernism.
Publications
Selected Publications:

Books:

Modernism and the Materiality of Texts. Cambridge UP, 2016.

Wandering and Home: Beckett's Metaphysical Narrative. Penn State UP, 1993.

Co-editor, with John Unsworth. Essays in Postmodern Culture. Oxford UP, 1993.


Editing:

Editor, Postmodern Culture (Johns Hopkins University Press), 1990-1996, 2004-present. http://muse.jhu.edu/journals/pmc/.

Editor, "Culture After Postmodern Culture 1 Special Issue" and "Culture After Postmodern Culture 2 Special Issue," Postmodern Culture 21.1 (September 2010) and 22.1 (September 2011).

Co-editor, "Jacques Derrida Special Issue." Postmodern Culture 15.3 (May 2005).


Articles:

"Mouth Not Eye: On Jordan's Adaptation of Beckett's Not I." Screening Contemporary Irish Fiction and Drama, edited by Julie Grossman, Barton Palmer, and Marc Conner. Adaptation and Visual Culture series, Palgrave (forthcoming).

"Weaponization of the Body in Goldman's AGON, Blair's WAX, and Almadhoun and Silkeberg's 'The Celebration'." Humanities, Provocateur: Toward a Contemporary Political Aesthetics, edited by Brinda Bose. Bloomsbury, 2020, p.163-179.

"On the Open World of Big Data: A Reading of Alex Rivera and Ghayath Almadhoun." Ex-position, Issue no. 43 (June 2020): 25-44.

"White Noise of the Ecosphere: Ontology in Digital Sound." Parallax 95 vol. 26 no. 2 (2020): 222-234.

"Finster's Finger: The Trans-Generational Art of Howard Finster." Mosaic vol. 53 no. 1 (2020), p.19-38.

"Proprioception of the Hand: Stelarc's Object Oriented Relations." TDR 63:2 (Summer 2019): 102-116.

"The Pornocratic Body in the Age of Networked Paranoia." Cultural Critique 100 (Summer 2018): 134-156.

"Das Marterkapital meiner Herkunft: Economic Narrative in Thomas Bernhard's Korrektur." JAS: Journal of Austrian Studies 50:3-4 (Fall/Winter 2017): 99-119.

"Excuses: The Reception of Modern Comics." ASAP/Journal (April 2017). http://asapjournal.com/excuses-the-reception-of-modern-comics/

"Occupy Publishing: A Postcard to the Peer-Review Imaginary." The Journal of English Language and Literature (Korea) 59:3 (Summer 2013): 456-465.

"The Shadow of the Object in Peter Pan." ESC: English Studies in Canada 38.3-4 (2013): 161-188.

"Beckett's Lucky Chance: Speculation in Waiting for Godot." In Dialogue with Godot: Waiting and Other Thoughts. Ed. Ranjan Ghosh. Lanham, MD: Lexington Books/ Rowman and Littlefield (2013): 131-148.

"The Rhetoric of Digital Utopia after Sade: Utopian Architecture and the Static Subject of Digital Art." Discourse 32.2 (Spring 2010): 186-211.

"The Open Access Debate." Symploke 18.1-2 (2010), 209-218.

"Revolution in Abstraction." The Minnesota Review 65-66 (Fall/Spring 2006): 193-202.

"We, the Future of Jacques Derrida." Editor's Introduction. Postmodern Culture 15.3 (September 2005). http://muse.jhu.edu/journals/pmc.

"Salman Rushdie." Postmodernism: The Key Figures. Ed. Hans Bertens and Joseph Natoli. Oxford, UK: Blackwell Publishers Ltd., 2002, 287-291.

"George Herriman's Black Sentence: The Legibility of Race in Krazy Kat." Mosaic 33.3 (September 2000), 57-79.

"After Dynamic Narratology." Style 34.2 (Summer 2000), 212-26.

"Oedipuscripts." Review article. Studies in the Novel 31.2 (summer 1999), 234-40.

"Signing Woolf: The Textual Body of the Name." Genders 29 (May 1999); http://www.genders.org/.

"The Publishing Imaginary and Electronic Media." The Minnesota Review ns. 48-49 (1998), 91-102.

"Electronic Time and the Serials Revolution." The Yale Journal of Criticism 10.2 (Fall 1997), 445-54. http://muse.jhu.edu/journals/yale_journal_of_criticism/v010/10.2amiran.html.

"Against Narratology: Postmodern Narrative Returns." SubStance 81 (1996), 90-109.

"The Rhetoric of Serials at the Present Time." The Serials Librarian 28.3/4 (1996), 209-21. Rpt. in Serials to the Tenth Power: Tradition, Technology, and Transformation. Ed. Mary Ann Sheble and Beth Holley. New York: Howarth Press, Inc. (1996).

"Apparent Offspring: Joyce's Beckett's Succession in the Wake." The Centennial Review 37.2 (Spring 1993), 401-14.

"Figuring the Mind: Totality and Displacement in Beckett's Fiction." Journal of Beckett Studies 1.1&2 (1992), 39-54.

"Proofs of Origin: Stephen's Intertextual Art in Ulysses." James Joyce Quarterly 29.4 (Summer 1992), 775-89.

"Refereed Electronic Journals and the Future of Scholarly Publishing." With Elaine Orr and John Unsworth. Advances in Library Automation and Networking, v.4. Ed. Joe A. Hewitt. Greenwich, CT: JAI Press, 1991, 25-53.

"Rhetorics of Simulation and the 1984 Ulysses." Studies in the Novel 22.2 (Summer 1990), 142-47.
Other Experience
Editor
Postmodern Culture http://muse.jhu.edu/journals/pmc