Adriana D. Briscoe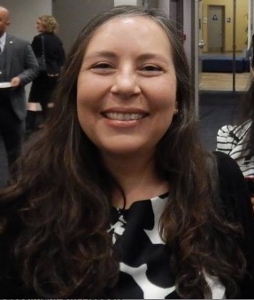 Professor, Ecology & Evolutionary Biology
School of Biological Sciences
Ph.D., Harvard University, 1998, Biology
M.A., Stanford University, 1993, Philosophy
B.S., Stanford University, 1993, Biological Sciences
B.A., Stanford University, 1992, Philosophy

University of California, Irvine
5238 McGaugh Hall
Mail Code: 2525
Irvine, CA 92697

Research Interests
sensory physiology, color vision, coloration, behavior, molecular evolution, genomics
Websites

Academic Distinctions
Fellow, UCI Newkirk Center for Science and Society (2023)
Member, American Academy of Arts and Sciences (elected in 2022)
Fellow, John Simon Guggenheim Foundation (2021)
IDEA Award, American Society of Naturalists/Society for the Study of Evolution/Society of Systematic Biologists (2021)
Annual Drosophila Research Conference, Plenary Lecture (2021)
Scientific Advisory Board, Max Planck Institute (2020)
University Faculty Award, American Association of Hispanics in Higher Education (2020)
Darwin Day, Keynote Speaker, Virginia Commonwealth University (2020)
Distinguished Evolutionary Mechanisms Lecture, University of Kansas (2019)
Distinguished Scientist, Society for the Advancement of Chicanos/Hispanics and Native Americans in Science (2018)
Fellow, California Academy of Sciences (elected in 2018)
Fellow, Royal Entomological Society (elected in 2018)
Fellow, American Association for the Advancement of Science (elected in 2017)
Plenary Speaker, Entomological Society of America (2017)
Editorial Board Member, Physiological and Biochemical Zoology (2015-present )
Overseas Visiting Scholar, St. John's College, University of Cambridge, Cambridge, U.K. (2012)
BEACON Center for the Study of Evolution in Action, Faculty Affiliate (2012-present)
Council Member, American Genetic Association (2011-2014)
Holland Lecture, Indiana University (2011)
Advisory Board Member, National Evolutionary Synthesis Center (NESCENT)(2010-2012 )
Associate Editor, Molecular Biology and Evolution (2005-2012)
Federation of American Societies for Experimental Biology Diversity Award/Burroughs Wellcome Fund Research Award (2008)
Sigma Xi (elected in 2004)
Ford Foundation Postdoctoral Fellowship (2000-2001)
Howard Hughes Medical Institute PreDoctoral Fellowship (1993-1998)
Appointments
2001-2002 Postdoctoral Research Associate, Department of Cellular and Structural Biology, University of Colorado Health Sciences Center

1999-2001 Postdoctoral Research Associate, Department of Molecular and Cellular Biology, University of Arizona, Tucson
Research Abstract
My lab studies gene products underlying physiological and behavioral traits following the processes of gene duplication and functional diversification. We use butterflies as model systems for examining how natural selection shapes the primary amino acid sequence of proteins and leads to changes in physiology and behavior, specifically in the interaction between color vision and wing coloration. We study how changes in the spatial expression of photoreceptors and colored filters in the eye have direct consequences for butterflies in their behavioral interactions with predators, potential mates and the environment. In the most recent work from the lab, we have shown that
Heliconius
butterflies have evolved a second receptor for ultraviolet light around the same time they began displaying UV-yellow colors on their wings. We have also recently discovered that the butterfly proboscis is not simply a passive straw for collecting food, it also produces its own suite of digestive enzymes.
I have mentored fourteen graduate students and postdocs. These include individuals who are now on the faculty at UC Santa Cruz (
Aide Macias-Muñoz
), University of Minnesota (
Kyle McCulloch
), Cal State Long Beach (
Susan Finkbeiner
), UC Santa Cruz (
Marilou Sison-Mangus
), Brigham Young University (
Seth Bybee
), the University of Wuerzberg, Germany (
Johannes Spaethe
), and Queensland University of Technology, Australia (
Francesca Frentiu
). Former and current students have also been recipients of numerous awards and fellowships from the National Science Foundation, the Ford Foundation, National Geographic and other funding agencies.
Grants
NSF IOS-1656260 <p> Total awarded as principal investigator: >$4.1M in grants and fellowships.
Professional Societies
Society for Molecular Biology and Evolution, Society for Integrative and Comparative Biology, American Association for the Advancement of Science, Society for the Advancement of Chicanos/Hispanics and Native Americans in Science