Mitchell C. Brown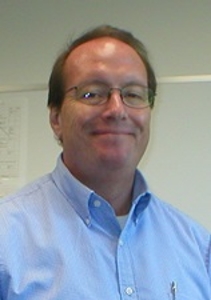 Scholarly Communications Coordinator; Research Librarian for Chemistry, Earth System Sciences, and Russian Studies, UCI Libraries
President, Librarians Association of the University of California (LAUC) 2011-2012
M.L.I.S., University of Texas, Austin, 1994
B.S., Carnegie-Mellon University, 1988, Physics

University of California, Irvine
230 Science Library
P.O. Box 19557
Mail Code: 8200
Irvine, CA 92623

Websites

Research Abstract
orcid.org/0000-0002-3366-1281
Publications
Brown, Mitchell C.; Harris, Bethany R.; & Gelfand, Julia M.(2015). UC Open Access Policy: Not Always the Field of Dreams, But the Field of Hope. UC Irvine: UC Irvine Libraries. Retrieved from:
http://escholarship.org/uc/item/1gn2p4xt
Google Mashups Using Flickr and Google Earth, Presented at: Getting the Gist of GIS: Geographic Information Systems and Related Technologies for the Curious Academic Librarian, CARL Seal-South and ABLE-South Fall Program , Oviatt Library, California State University, Northridge, November 2, 2007
Presentation: "Web Tools for Students and Researchers", 2005 Joint Annual Conference of National Society of Black Physics/National Society of Hispanic Physics, Orlando FL, February 19, 2005.
LETC MOSAICS Presentation: "The Faces of Science: African Americans in the Sciences", Princeton University, October 25, 2002.
Presentation: "The Faces of Science: African Americans in the Sciences", Schomburg Center for the Study of Black Culture, New York City, December 6, 1997; December 11, 2001.
"Serials Redesign Project, Louisiana State University." Presented as part of the session "Serials in the Library: The Boston Tea Party Revisited" Special Libraries Association Annual Conference (Boston, Massachusetts) June 11, 1996.
Special Library Association Chemistry Division Newsletter. "Toxicology Roundtable I and II." 11(4) (November 1995): 14-21.
"The Role of Librarians in Developing Software: Hypertext", a chapter in Library Without Walls: Plug In and Go. ed. Susan B. Ardis, (Washington, D.C.: Special Libraries Association) 1994.
Grants
Classified Staff Honors Award, General Libraries, The University of Texas at Austin, January 1992.
2002 Article Express, Above and Beyond the Call of Duty Award, Princeton University Library ILLiad User Group, March 2002.
Presentation Grant - NCURA Conference, Portland OR, Nov.2017 Librarian Association of the University of California (Oakland, California, United States) 2017-11 to 2017-11 | Award: LAUC-2017-Presentation-Grant | Alternate URL: <a href="https://lauc.ucop.edu/guidelines-for-lauc-grants">https://lauc.ucop.edu/guidelines-for-lauc-grants</a>
Professional Societies
Special Libraries Association 1994-present
American Library Association 1994 - present
California Association of Research Libraries, Science and Engineering Libraries (CARL SEAL-South) 2005-present
American Chemical Society 1994-1999, 2005- present
Librarian Association of the University of California (LAUC)
Other Experience
The Fine Mathematics and Physics Librarian
Princeton University 2000—2005

Plasma Physics Librarian
Princeton University 1999—2001

Head, Chemistry Library
Louisiana State University, Baton Rouge 1994—1999