Catherine Liu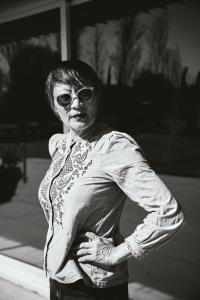 Professor, Film & Media Studies
School of Humanities
Ph.D., Graduate Center, CUNY, 1994, French

University of California, Irvine
2000 Humanities Gateway
Mail Code: 2435
Irvine, CA 92697

Research Interests
Intellectual history of Class vs Identity problem in an Age of Inequality, Political Economy of Populism, New Taiwanese Cinema, IAcademic Conflict, Psychoanalysis, Populism, Critical Theory, Frankfurt School
Websites

Appointments
Mellon-Pew Post-doctoral Fellowship, California Insitute of the Arts, 1993-1994
Research Abstract
Class politics, history of film genre, critique of the meritocracy, history of identity politics, Frankfurt School, populism, workings of the Professional Managerial Class, Sinophone cinema, Sinophobia and anti-Communism
Short Biography
Catherine Liu is the author of Virtue Hoarders: The Case Against the Professional Managerial Class published by the University of Minnesota Press in 2021 and The American Idyll: Academic Anti-Elitism as Cultural Critique was published by the University of Iowa Press in 2011. She works on Critical Theory of the old fashioned kind and is engaged in a long term critique of Professional Managerial Class driven liberal politics. She has written an unpublished memoir called Panda Gifts. She tweets at @bureaucatliu and her views do not reflect those of her employer
Publications
Virtue Hoarders: The Case Against the Professional Managerial Class (University of Minnesota Press, 2021)
"Inequality, Technocracy and National Healthcare: Taiwan and COVID 19" in The Pandemic: Perspectives on Asia, edited by Vinayak Chaturvedi, Columbia University Press
"Taiwan's Cold War: Geopolitics in Edward Yang's the Terrorizers." ed. Karen Fang. Under Eastern Eyes: Surveillance and Asian Cinema. (New York, Routledge, 2017), pp. 113-128.
"Neoliberal Fictions" in False Choices: Hillary Clinton's Faux Feminism. Ed. Liza Featherstone. (New York: Verso, 2016).
"The Humanities and Artisanal Education: Technocrats and Artisans in the Contemporary University." "The Humanities: Crisis, Defense and Beyond" Special Issue of College Literature (2015), ed. Austin Sarat, Adam Sitze and Boris Wolfson, pp. 280-310.
"Questions de choix" for L'imaginaire néolibéral. Edited by Francois Cusset, Thierry Labica and Veronique Rauline (Paris: La Dispute, 2016).
"Psychoanalysis Popular and Unpopular " in the Blackwell Companion to Literary Criticism and Psychoanalysis, edited by Laura Marcus and Ankhi Mukherjee
The American Idyll: Academic Anti-Elitism as Cultural Critique. (University of Iowa Press, 2011)
Hou Hsiao hsien's The Flight of the Red balloon (2007) and D.W. Winnicot, in Pyschoanalytic Pscyhology. June, 2011
"On Lusitania" (January 2009) for a conference on the http://aboutlusitania.blogspot.com/
"American Intellectual Traditions: The Demand for Relevance and the Crisis of the Humanities." Western Humanities Review. Fall 2008: pp. 34-57.
"Creativity at Work" The Baffler. vol. 1 no. 17
"Art Escapes Criticism or Adorno's Museum" Cultural Critique. Volume 60. Spring 2005: 217-244. (II)
co-editor, John Mowitt, Thomas Pepper, Jakki Spicer. Dreams of Interpretation: A Century. The Dreams of Interpretation: A Century Down the Royal Road. (University of Minnesota Press, 2007)
"Afterword" Rrrevolutionnaire. (Slought Foundation, 2007).
Copying Machines: Taking Notes for the Automaton (University of Minnesota Press, 2000)

"Lacan's Afterlives: Jacques Lacan meets Andy Warhol," Cambridge Companion to Lacan (Cambridge University Press, 2003).

"A Brief Genealogy of Privacy: CTRL [Space]: Rhetorics of Surveillance from Bentham to Big Brother," Grey Room 15 (2004), 102-118.

"The Last Picture Show." Aperture, May 2004.

"Something for Nothing: How Cultural Studies Trashed the Enlightenment and Welcomed the New Age." The Common Review, Fall/Winter 2004-5
Grants
McKnight Land Grant Professorship, University of Minnesota, 1997-1999 Queensland University of Technology Teaching Fellowship, Brisbane, Australia, (Summer 2003) Grant in Aid : University of Minnesota Graduate School (2004-2005) Fulbright Teaching Fellowship to Tainan University of the Arts (2004-2005)
Fulbright Teaching Fellowship 2004-2005 at Tainan National University of the Arts
How to Live In Irvine: Engaging Humanities Grant from UCHRI with Lev Anderson
Other Experience
Associate Professor
University of Minnesota 1994—2004

Visiting Associate Professor
Bard College 2003—2004

Visiting Professor
Queensland University of Technology, Creative Industries, Brisbane Australia 2003

Visiting Professor
Tainan National University of the Arts

Graduate Programs
Visual Studies
Research Centers
States of Wellness Research Cluster, UC Irvine