Jayne Elizabeth Lewis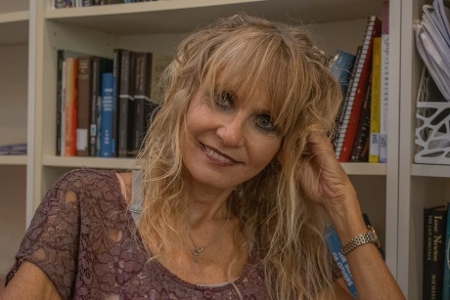 Professor, English
School of Humanities
Ph.D., Princeton University, 1988, English literature

University of California, Irvine
18 Joyce Court
Mail Code: 2650
Irvine, CA 92617

Research Interests
literature and religion; literature and medicine, restoration and 18th-century british literature; literature of the supernatural and gothic fiction; history and/of fiction;
Academic Distinctions
SOH Teaching Excellence Award (2016)
ACLS Fellowship
UC President's Fellowship
NEH Summer Stipend
NEH Fellowship
UCLA Distinguished Teaching Award
Appointments
UCLA (1988-2004)
UC Irvine (2004-present)
Research Abstract
My research interests include the literature and culture of the British Enlightenment, gothic fiction, and medical aesthetics. I also have a strong interest in modern mysticism, which some of my work approaches as an unmediated encounter with metaphor that occurs within linguistic form. My previous books have taken up topics as varied as the animal fable and the figure of Aesop in 18th-century England's consolidating print culture, representations of Mary Queen of Scots and the problem of the non-historical, and the emergence of "atmosphere" as an aesthetic category in 18th-century literature. Most recently, I edited the anthology RELIGION IN ENLIGHTENMENT ENGLAND(Baylor 2017).
My current research explores an intimate and living textual relationship between the deafblind memoirist Helen Keller (1880-1968) and the eighteenth-century mystic and scientist Emanuel Swedenborg (1688-1772). Keller, as is seldom appreciated, was a major literary voice of the Swedenborgian Church throughout the twentieth century; she first encountered Swedenborg's work as a young woman when her friend John Hitz, director of Alexander Graham Bell's Volta Bureau, literally pressed some of Swedenborg's writing into her hand. Keller's spiritual autobiography MY RELIGION (1927) remains a major Swedenborgian text; especially in conjunction with its photographic "illustrations," it also played a significant role in the popular reception of Keller as a populist mystic. Supplemented with auratic photography indebted to Enlightenment science and technology, as well as with visual externalizations of her dream life in film and psychoanalytic theory, Keller's spiritual experience was distinctively embodied through textual praxis, insofar as she was inevitably dependent on Braille and so-called finger-spelling to both perceive and communicate her identity and experience. A major figure in Enlightenment science, Swedenborg too was a compulsive (actually automatic) writer, and the thousands of pages of mystical literature that he published in the last decades of his life writing is best understood as an extension of the sensory experiments with angels and spirits that he conducted on his bed, under deliberate conditions of sensory deprivation that eerily anticipate the unchosen ones that defined Keller's life and work. Unfolding at a strange crossroads where mysticism's distinctively literary history as a reading and writing praxis meets modern disability studies and the theory and history of photography, my work aims to speak with two angels of their respective epochs, and thereby to offer a case study of the history of religious time.

I also have a strong secondary interest, by way of gothic literature, in so-called oneirocriticism: the study of dreams, especially as autonomous and transpersonal aesthetic practice and in light of their ambivalent history as admissible legal evidence in Anglo-American law. Yet I am not interested in dreams as objects of knowledge so much as in the point of view that they themselves might provide. As somatic experiences that do not count as 'real,' as figures against the bodily ground of sleep, and as bridges between life and death, the collective and the individual, the future and the past, dreams have always seemed to hold the key to a fuller apprehension of the human—one that is ultimately as transpersonal and communicative as it is individual and subjective. Drawing on the insights of modern anthropology as well as on the dream-incubation practices central to ancient medicine (and still persistent in modern anesthetic and sleep lab scenarios), my writing and teaching begins in the dream world but takes social healing as its goal.
Publications
" 'Strange Imagination': Valentine Greatrakes's Healing Aura and the Autobiographical
Impulse." Biography 40 (2017), 425-59.
" 'Hairs Less in Sight': Some Vibrant Ideas of Gender, 1714-1790." In A Cultural History of Hair, ed. Jospeh Roach and Margaret Powell (Bloomsbury, 2018), 112-133.
"Dialectic of Bewilderment." Eighteenth-Century Fiction 31.3 (2019), 575-95.
"Speaking with Frankenstein." With Johanna Shapiro. Journal of Medical Humanities (August 2020), 1-16.
"Milton's Hair." Organic Supplements, ed. Miriam Jacobson and Julie Park. University of Virginia Press: 2021. 220-246.
"Mourning Atmosphere: Mary Webb's Alternative to Elegy." Venti, 1.1. Fall 2020. 112-23.
"Dryden." Oxford History of Poetry in English (Seventeenth Century), ed. Laura
Knoppers. Oxford University Press: Forthcoming, 2022.
"'The Endless Space of Air: Helen Keller's Auratic Worldbuilding." In IMAGINING AIR, ed. Tatiana Konrad (forthcoming, Exeter: 2023)
RELIGION IN ENLIGHTENMENT ENGLAND (Baylor, 2016)
AIR'S APPEARANCE: LITERARY ATMOSPHERE IN BRITISH FICTION, 1660-1794 (Chicago, 2012)
MARY QUEEN OF SCOTS: ROMANCE AND NATION Routledge, 2000)
THE ENGLISH FABLE: AESOP AND LITERARY CULTURE, 1650-1740 (Cambridge, 1995)
(with Lisa Zunshine) APPROACHES TO TEACHING THE WORKS OF JOHN DRYDEN_ (MLA, 2013)
(with M.E. Novak) ENCHANTED GROUND: REIMAGINING JOHN DRYDEN (Toronto, 2005)
THE TRIAL OF MARY QUEEN OF SCOTS: A DOCUMENTARY HISTORY(Bedford, 2000)