Adriana Michele Campos Johnson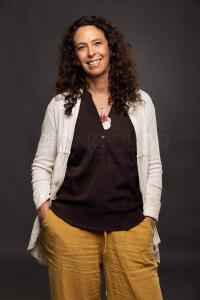 Associate Professor, Comparative Literature
School of Humanities
Ph.D., Duke University
B.A., Duke University

University of California, Irvine
276 HIB
Comparative Literature
Mail Code: 2651
Irvine, CA 92697

Research Interests
Latin American literature and film, cultural studies, subaltern studies, infrastructure studies, media and power, coloniality, Blue Humanities, ecocriticism
Academic Distinctions
Participating in a Multi-campus Research Group (MRG) in Subaltern Studies and Popular Culture 2005-2010.
Research Abstract
After publishing my book on the subalternization of the late nineteenth-century community of Canudos in Brazil I began working on contemporary Latin American film and visual culture. I am currently finishing a book on visual infrastructures in Latin America and looking forward to my next project on thinking with water.

Undergraduate classes taught at Irvine include: Piracy, Water Wars, Latin American Science Fiction, Narratives of Environmental Crisis, Reading with Theory, Globalization from Below, Popular Culture, Genre & Medium: Technologies of the Self, Aesthetics & Politics in Latin American Film, Cannibalism, 20th Century Latin American Literature, Literature and the State in Latin America

Graduate classes at Irvine include: Thinking with Infrastructure, Latin America in Theory, Practices & Theory of Translation; Politics, Representation and After; Subalternity/Community/Multitude; Coloniality & Postcoloniality in the Americas; Brazilian Genealogies, Latin American Film, Cultural Studies: Genealogies & Practices
Publications
Sentencing Canudos: Everydayness and Subalternity in the Backlands of Brazil. University of Pittsburgh Press. 2010.
"Reading Roberto Schwarz: Outside Out-of-Place Ideas," Journal of Latin American Cultural Studies (London) Vol 8, No 1, June 1999: 21-33.
"Black God, White Devil: Wishing, Speaking, Lying," Lucero: A Journal of Iberian and Latin American Studies Vol 10, Spring 1999: 44-56.
"An Excess of Visibility, a Scarcity of Water" Discourse, Volume 43, Number 2, Spring 2021, pp. 189-215
"Containment, Carrying, Supply" Diacritics Johns Hopkins University Press Volume 49, Number 2, 2021 pp. 109-117.
"An expanse of water" Liquid Ecologies in the Arts. Ed., Lisa Blackmore and Liliana Gomez. Routledge, 2020.
"Art and our Surrounds: Emergent and Residual Languages" Art Margins 9:1 (2020)
"In-São-Paulo-Visible." Revista Hispanica Moderna. Volume 73:1, Spring 2020.
"Paraguayan Counterlives" Authoritarianism, Cultural History and Political Resistance in Latin America: Exposing Paraguay (2017). Palgrave Macmillan Press, 2017.
"Pueblo, Política, Policía." In G. Coopertari, C. Sitnisky (Eds.), El estado de las cosas: cine latinoamericano en el nuevo milenio. Buenos Aires, Argentina. Iberoamericana/Vervuert. 2015.
"Land" In H. Schwarz, S. Ray (Eds.), Encyclopedia of Postcolonial Studies, Wiley-Blackwell. 2016.
"Idle Chatter". Revista Hispánica Moderna, Volume 64(1), pp. 49-60.
"On Latinamericanism after 9/11". Politica Comun, 4, 2007-5337. (electronic journal ).
"Narratives and Deep Histories: Freyre, Arguedas, Roa Bastos, Rulfo" Blackwell Companion to Latin American Culture and Literature (forthcoming)
"Cara Feia al Enemigo: The Paraguayan Press and the War of the Triple Alliance." Colorado Review of Hispanic Studies (forthcoming 2007)
"Everydayness and Subalternity" South Atlantic Quarterly Vol 106, No. 1 (December 2006): 21-38.
"Two Proposals for an Aesthetic Intervention in Politics: Reveiw of Nelly Richard's The Insubordination of Signs and Masculine/Feminine and Doris Sommer's Bilingual Aesthetics: A New Sentimental Education" in New Centennial Review Vol 5 No 30, 2005: 207-232
Subalternizing Canudos," Modern Language Notes. Vol. 120 No. 2 (March 2005):355-382.
"The War of the End of the World or the end of ideology," Journal of Latin American Cultural Studies (London) Vol 13, No 2, 2004: 221-241.
"La peregrinación de Bayoán: writing (and failing) in the house of pilgrims," Chasqui: Revista de Literatura Latinoamericana. Vol 30, No 1, May 2001: 64-80.
Professional Societies
American Comparative Literature Association (ACLA)<br> Brazilian Studies Association (BRASA)<br> Latin American Studies Associations (LASA)<br> Modern Language Association (MLA)