Sergey Nizkorodov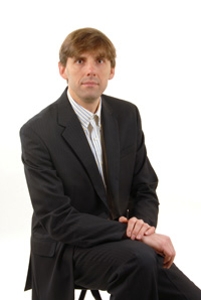 Professor, Chemistry
School of Physical Sciences
Ph.D., University of Basel, Switzerland, 1997, Physical Chemistry
Diploma of Higher Education, Novosibirsk State University, Novosibirsk, Russia, 1993, Biochemistry

University of California, Irvine
377 Rowland Hall
Mail Code: 2025
Irvine, CA 92697

Research Interests
Chemistry and Photochemistry of Atmospheric Organic Aerosols
Websites

Appointments
2000-2002 California Institute of Technology
1997-2000 University of Colorado at Boulder

Research Abstract
The Earth's atmosphere can be viewed as an enormous reaction vessel where thousands of different physicochemical processes take place in a highly inhomogeneous and dynamic environment. Some of these processes are beautifully simple, such as splitting of oxygen molecules into individual atoms by ultraviolet photons. Others are rather involved chains of reactions, such as formation of photochemical smog in oxidation of volatile organics emitted by traffic and industrial sources. As life on our planet hinges on the stability of the delicate atmospheric environment, our group, together with other atmospheric scientists around the world, strives to understand both the fundamental mechanisms of atmospheric reactions and the adverse impacts of anthropogenic activities on the atmosphere.
We are especially interested in the mechanisms of photochemical interactions between the solar radiation and atmospheric aerosol particles. Can aerosol particles serve as efficient catalysts of photochemical processes? What sort of chemistry happens inside these particles as they drift through the atmosphere exposed to solar radiation? Can photochemical reactions on particle surfaces make the particles more toxic? How do these reactions affect cloud condensation properties of aerosol particles? In our laboratory, we try to find answers to these and to many other intriguing problems using modern analytical techniques based on laser spectroscopy, chromatography, and mass-spectrometry.
For more details please visit
Aerosol Photochemistry Group website
Awards and Honors
2022 Elected Fellow of the American Association for Aerosol Research
2022 Dr. De Gallow Professor of the Year
2021-2022 Daniel G. Aldrich, Jr. Distinguished University Service Award
2021 UCI School of Physical Sciences Award for Outstanding Contributions to Undergraduate Education
2016 Fulbright Scholarship, University of Eastern Finland, supported by the Fulbright-Saastamoinen Foundation Grant in Health and Environmental Sciences
2015 Elected Fellow of AAAS
2013 Ascent Award from the American Geophysical Union
2012 UCI Chancellor's Award for Excellence in Fostering Undergraduate Research
2007 Camille Dreyfus Teacher-Scholar Award
2006 UCI School of Physical Sciences Award for Outstanding Contributions to Undergraduate Education
2005 Coblentz Award
2004 Research Innovation Award from Research Corporation
2000 Camille and Henry Dreyfus Postdoctoral Scholarship

Short Biography
Sergey Nizkorodov was born in 1971 in Almaty, Kazakhstan. He received his undergraduate degree in biochemistry from Novosibirsk State University, Russia, in 1993 and graduate degree in physical chemistry from Basel University, Switzerland, in 1997. After doing his postdoctoral research in chemical kinetics and reaction dynamics at the University of Colorado at Boulder, and in atmospheric chemistry at the California Institute of Technology, he joined the faculty of the Department of Chemistry, University of California, Irvine (UCI) in 2002. He teaches general, analytical, and atmospheric chemistry courses at UCI, and does research on chemistry of particulate matter in the ambient atmosphere and in indoor environments using state-of-the-art spectroscopic and mass-spectrometric techniques. He has been a research mentor to over 100 graduate, undergraduate, high-school, and postdoctoral students with female researchers accounting for about 60% of this group. He has co-authored over 180 publications in peer-reviewed journals. He served as the President of the American Association for Aerosol Research (AAAR) in 2020-21, a professional organization of about 1000 scientists and engineers working to advance the field of aerosol research and technology, and been active in various service roles at UCI and in the research community.
Professional Societies
American Association for Aerosol Research
American Geophysical Union
American Association for the Advancement of Science
American Chemical Society
Royal Society of Chemistry
European Association of Geochemistry
European Geosciences Union