Vasan Venugopalan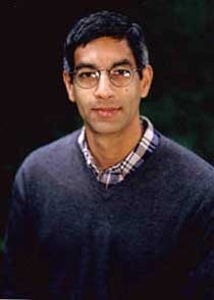 Professor & Chair, Chemical Engineering & Materials Science
The Henry Samueli School of Engineering
Professor, Biomedical Engineering
The Henry Samueli School of Engineering
Professor, Beckman Laser Institute and Medical Clinic
School of Medicine
B.S., University of California, Berkeley, 1988, Mechanical Engineering
Sc.D., Massachusetts Institute of Technology, 1994, Mechanical Engineering

University of California, Irvine
Chemical Engineering and Materials Science
916 Engineering Tower
Irvine, CA 92697-2575

Research Interests
Biomedical laser applications
Appointments
1994-1995, Wellman Laboratories of Photomedicine, Harvard Medical School
1995-1996, Departments of Molecular Biology and Physics, Princeton University
Research Abstract
Applications of laser radiation for medical diagnostics, therapeutics and biotechnology. Laser-induced thermal, mechanical and radiative transport processes. Integration of biomedical laser technologies with micro-electro-mechanical systems (MEMS).
Publications
JL Compton, JC Luo, H Ma, E Botvinick, V Venugopalan. High-throughput optical screening of cellular mechanotransduction. Nature Photonics, 8(9):710-715, (2014).
JL Compton, AN Hellman, V Venugopalan. Hydrodynamic Determinants of Cell Necrosis and Molecular Delivery Produced by Pulsed Laser Microbeam Irradiation of Adherent Cells. Biophysical Journal, 105(9):2221-2231, 2013.
AR Gardner, AD Kim, V Venugopalan. Radiative transport produced by oblique illumination of turbid media with collimated beams. Physical Review E 87(6),063308, 2013.
Vogel, A., and V. Venugopalan. Mechanisms of pulsed laser ablation of tissue. Chem Rev., 103(2):577-644, (2003).
Venugopalan, V., A. Guerra III, K. Nahen, and A. Vogel. On the role of laser-induced plasma formation in pulsed laser microsurgery and micromanipulation. Phys. Rev. Lett., 88(7):078103, (2002).
Research Centers
Laser Microbeam and Medical Program (LAMMP)