Joyce H Keyak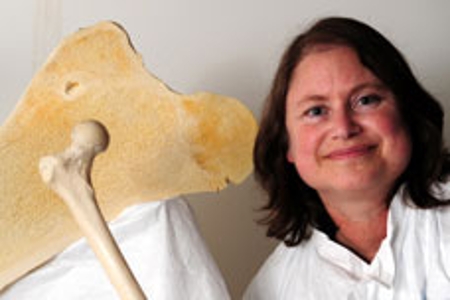 Professor, Radiological Sciences
School of Medicine
Professor, Mechanical & Aerospace Engineering
The Henry Samueli School of Engineering
Professor, Biomedical Engineering
The Henry Samueli School of Engineering
BS: University of California, Berkeley, Mechanical Engineering (1989)
PhD: University of California, San Francisco/Berkeley, Bioengineering (1996)

University of California, Irvine
Dept. of Radiological Sciences
Medical Sciences 1, Bldg. 811, Rm. B135
University of California
Mail Code: 5000
Irvine, CA 92697

Research Interests
bone mechanics, finite element modeling, quantitative computed tomography, prosthetic implants, osteoporosis, metastatic tumors in bone, brachytherapy, radiation therapy
Websites

Academic Distinctions
Nominated, Orange Country Business Journal 2022 Excellence in Entrepreneurship Award

Fellow, Orthopaedic Research Society, Class of 2022

Nominated, 2021 UCI Innovator of the Year Award

2017 Distinguished Investigator Award, Academy for Radiology and Biomedical Imaging Research

Winner, School of Medicine Award, 2017 New Venture Competition, UCI Paul Merage School of Business; Purist – Providing distributed on-demand manufacturing of radioactive ingredients to treat cancer

Winner, Tech Surge Award, 2017 New Venture Competition, UCI Paul Merage School of Business and UCI Applied Innovation; Purist – Providing distributed on-demand manufacturing of radioactive ingredients to treat cancer

Elected to College of Fellows (top 2% of medical and biological engineers), American Institute for Medical and Biological Engineering (AIMBE), Jan. 2015

Team Award, 2nd Annual International Space Station Research and Development Conference – Discoveries, Applications and Opportunities, July 16–18, 2013, for extensive work on bones, exercise, nutrition and countermeasures
Publications
Sibonga JD, Spector ER, Keyak JH, Zwart SR, Smith SM, Lang TF: Use of quantitative computed tomography to assess for clinically-relevant effects of prolonged spaceflight on astronaut hips. J Clin Densitom 23(2):155-64, 2020. [https://doi.org/10.1016/j.jocd.2019.08.005 Epub Aug 26, 2019]

Warden SJ, Carballido-Gamio J, Weatherholt AM, Keyak JH, Yan C, Kersh ME, Lang TF, Fuchs RK: Heterogenous spatial and strength adaptation of the proximal femur to physical activity: a within-subject controlled cross-sectional study. J Bone Miner Res 35(4):681-90, 2020. [http://dx.doi.org/10.1002/jbmr.3939 Epub Dec 30, 2019]

Ascenzi MG, Zonca A, Keyak JH: Effect of cortical bone micro-structure in fragility fracture patients on lamellar stress. J Biomech 100:109596, 2020. [https://doi.org/10.1016/j.jbiomech.2019.109596 Epub Dec 24, 2019]

Keyak JH, Kaneko TS, Khosla S, Amin S, Atkinson EJ, Lang TF, Sibonga JD: Hip load capacity and yield load in men and women of all ages. Bone 137:115321, 2020. [https://doi.org/10.1016/j.bone.2020.115321 Epub Mar 14, 2020]

Fuchs RK, Carballido-Gamio J, Keyak JH, Kersh ME, Warden SJ: Physical activity induced adaptation can increase proximal femur strength under loading from a fall onto the greater trochanter. Bone 152:116090, 2021. [https://doi.org/10.1016/j.bone.2021.116090 Epub June 25, 2021]

Keyak JH, Eijansantos ML, Rosecrance KG, Wong D, Feizi S, Meldosian AL, Peddinti P, Les CM, Skinner HB, Sehgal V: A preliminary safety assessment of vertebral augmentation with 32P brachytherapy bone cement. Phys Med Biol 67:075007, 2022. [https://doi.org/10.1088/1361-6560/ac5e5d]

For full list of publications, please click on the link above.
Professional Societies
Orthopaedic Research Society
American Society for Bone and Mineral Research
American Institute for Medical and Biological Engineering