Gail K. Hart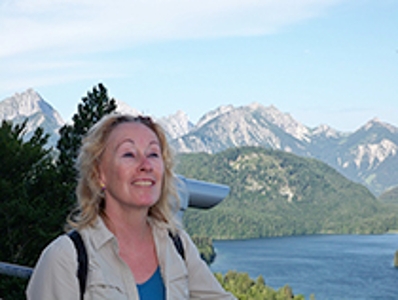 Professor, German
School of Humanities
PH.D., University of Virginia
OTH

University of California, Irvine
243 Humanities Instructional Bldg.
Mail Code: 3150
Irvine, CA 92697

Research Interests
eighteenth- and nineteenth-century German literature, drama, fictional prose, history of punishment
Research Abstract
Gail K. Hart received her B.A. in English and German from SUNY Brockport, an M.A. in Comparative Literature from the University of Rochester, and M.A. and Ph.D. degrees in German from the University of Virginia. Since receiving her doctorate she has held positions at Yale University, Reed College, and the University of California, Irvine. She is currently Professor of German and recently served as Chair of the Department of European Languages and Studies, Director of the Campuswide Honors Program (2009-2012) and as Director of
Humanities Core Course
from 2000-2007. She had also served as Associate Dean of Humanities (1994-98), Director of the University of California's Education Abroad Programs in Germany (1998-2000), Director of
International Education
(2000-03), and President of the Pacific Ancient and Modern Language Society (2000). In Winter 2008 she was the UCI faculty member in Washington DC on the UC-DC program.
She is the author of three books and numerous articles.She is currently working on a project on the meaning of "freedom" in German culture and history 1785-1871.
Publications
The Nanking Massacre on Gum Cards: The Blony Horrors of War Series The Journal of American Culture 12 June 2018
Existential Muck: Romantic Borderlessness and Dissolving Dualisms in Schillers Raeuber European Romantic Review 2017
The Humanity of Children from Sandmann to Struwwelpeter: A Tale of Two Hoffmanns Konturen 2014
The Monolingual International: Study Abroad ADFL Bulletin 2015
Alle Menschen werden Schwestern: Sisterhood and Sorority in the German Cultural Tradition. Ed. and Introduction. Special issue of Colloquia Germania 49.1;
BOOKS

Readers and their Fictions in the Novels and Novellas of Gottfried Keller (Chapel Hill: University of North Carolina Studies in the Germanic Languages and Literatures, 1989)

Tragedy in Paradise: Family and Gender Politics in German Bourgeois Tragedy 1750-1850 (Columbia, SC: Camden House, 1996)

Friedrich Schiller: Crime, Aesthetic and the Poetics of Punishment (U of Delaware Press, 2005)
SELECTED ARTICLES

• "Goethe's Tasso: Reading the Directions," in Goethe Yearbook 3 (1986) 125-38.
• "The Functions of Fictions: Imagination and Socialization in Both Versions of Keller's Der Grüne Heinrich," in The German Quarterly, Fall 1986, 595-610.
• "The Facts of Fiction: C.F. Meyer's Dismantling of Facticity," Seminar 26 (1990) 222-36.
• "Gottfried Keller" (comprehensive biographical-bibliographical-critical article), in Dictionary of Literary Biography: German Writers of the Nineteenth Century, ed. James Hardin/Siegfried Mews (Detroit: Bruccoli Clark, 1993) 159-73.
• "Pankraz in Amerika/Irvine: Ein Bericht," Jahrbuch Deutsch als Fremdsprache 18 (1992) 484-89.
• "Das Ewig-Weibliche nasführet dich: Feminine Leadership in Goethe's Faust and Sacher-Masoch's Venus," in Interpreting Goethe's Faust Today, ed. Jane K. Brown, Meredith Lee, Thomas P. Saine (Columbia, SC: Camden House) 112-22.
• "The Conqueror and His Land-ladies in Keller's Don Correa: Geo-Galatea or the Wrath of Nzinga," in Burkhardt Krause and Ulrich Scheck, eds., Verleiblichungen: Literatur- und kulturgeschichtliche Studien über Strategien, Formen und Funktionen der Verleiblichung in Texten von der Frühzeit bis zum Cyberspace (St. Ingbert: Röhrig Universitätsverlag, 1996) 133-48.
• "Re-Dressing History: Mother Nature, Mother Isabeau, the Virgin Mary, and Schiller's Jungfrau," Women in German Yearbook 14 (1998) 91-107.
• "The Stage and the State: The Execution of Schiller's Maria Stuart," in Seminar 35:2 (May 1999) 95-106.
• "The Correspondents' Noncorrespondence: Goethe, Schiller, and the Briefwechsel" Camden House History of German Literature, ed. Simon Richter (Rochester: Camden House, 2005) 91-112.
• "Errant Strivings: Goethe, Faust, and the Feminist Reader," From Goethe to Gide, eds. Lesley Sharpe, Mary Orr (University of Exeter Press, 2005) 7-21.
• "Michael Haneke's Funny Games and Schiller's Coercive Classicism," Modern Austrian Literature, 39.2 (2006) 63-75.
"Robbers and Readers: Christian August Vulpius and the Art of Mass Appeal," Seminar 44.3 (2008) 318-33.
"Good Bad Men: Familiarity, Security, and the Robber Novels of Zsokke and Vulpius," Colloquia Germanica (2008)
"True Crime and Criminal Truth: Schiller's 'Criminal of Lost Honor'", in Schiller's Literary Prose Works, ed. Jeffrey High, Camden House (2009)
"Schiller's 'An die Freude' and the Question of Freedom," German Studies Review 32.3 (2009) 479-94.
"Some Day My Prince Will Come: Fürstenspiegel and the Bourgeois Writer," in The Self as Muse, ed Alexander Mathaes, Bucknell (2010).
"Whose Schiller is This? A Tale of Two Reviewers," in Who is this Schiller-Now?, ed. Jeffrey High, Camden House (2011)
"Save the Prinz: Schiller's Geisterseher and the Paths of Imagination," Goethe Yearbook (2011) 245-58.
"Gotthelf's Business Models: 'Der Besenbinder von Rychiswyl'", Seminar (2012).