Martin C. McGuire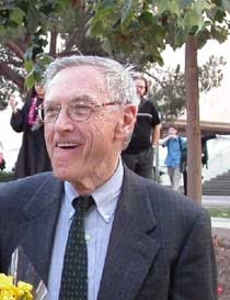 Professor, Economics
School of Social Sciences
Ph.D., Harvard University
B.A., Oxford University, Economics
B.S., U.S. Military Academy, West Point, Engineering

University of California, Irvine
SSPA 4143
Mail Code: 5100
Irvine, CA 92697

Research Interests
Political Economy of Redistribution, Social Investment, and Conflict Resolution. International Conflict, Economic Development and Strategic Competition. International Trade and Security.
Academic Distinctions
Fulbright Fellowship, Japan-US Education Commission, 1996-97. "Economics of International Security."

Rhodes Scholar. Elected 1955. University College, Oxford, 1955-58.

Fellow: US Agency for International Development "IRIS Project", University of Maryland, 1991-1992. "Political Economy of Economic Development."

Fulbright Research Scholar 1988-89. "International Security in ASEAN."

PEW Memorial Trust, 1987-1990, "Integrating Economics and National Security" (with C. M. Kelleher).

Japan-U.S. Educational Commission Fulbright Grant (with H. Shibata, University of Osaka), 1984-1987, "International Security and U.S.-Japan Economic Partnership."

NATO Senior Research Fellowship, 1986-1987, "Alliance Resource Allocation Study"

Institute for Defense Analyses Research, 1985, "Resource Allocation Behavior Among Nations in Alliances."

Institute for Defense Analyses, 1985-1986, "Pacific Basin Economics and Security"

Kansai Economic Research Center, Osaka, Japan, 1985, "Japanese Economic Security"

Asia Foundation, 1985, "Economics and International Security in the Pacific."
Social Science Research Council, New York, NY, 1985-1986, "Economics of Japanese U.S. Security"

Sloan Foundation Grants (with six others in Economics Department, University of Maryland), 1981-1984, 1984-1986, "Economics of Urban Public Finance."

National Science Foundation Research Grants: 1972-1975, "Economics of Government Behavior." 1980-1983, "Economics of Clubs and Jurisdiction Formation."

Richard D. Irwin Fellow, Department of Economics, Harvard University, 1963-1964

Administration Fellow, Kennedy School of Government, Harvard University, 1961-1964.


Distinguished Cadet, U.S. Military Academy, 1951-1955.
Appointments
Fulbright Scholar, Ritsumeikan University, Kyoto, Japan, April-October 1997 (Redistribution, Social Investment and Forms of Governance) and Aoyama Gakuin University, Tokyo, Japan, January-April 1997 (Public Choice and International Security).

Visiting Emeritus Professor, University of Maryland, September-December 1996

Visiting Scholar, International Monetary Fund, July- November 1996 (Incentive Structures and Resource Allocations within International Institutions).

Academic Visitor, Osaka University, Osaka, Japan, March 1993. (Risk Sharing and Strategic Alliances)

Professor of Economics, (1971- 1992) University of Maryland, College Park, MD 20742.

Fulbright Research Scholar, Institute of South East Asian Studies, National University of Singapore, April-Aug 1989. (Economic and Strategic Security in S.E. Asia)

Visiting Professor of Economics (July 1988- April 1989) UCLA, Los Angeles, California 90024 (Self-protection, Self-insurance and Risks of Trade Disruptions).

Research Analyst, 1983-86 (part-time), Institute for Defense Analyses, Alexandria, VA 22311. (Economics of international security, arms races, alliance allocation problems, and Japanese trade policy).

Visiting Professor of Economics, Osaka University, Osaka, Japan, April-Sept 1985. Research, lectures, and speaking to university and business groups regarding US-Japan security and economic partnerships.

Academic Visitor, Hoover Institution, Stanford University, Stanford, CA, January 1984. (intergovernmental economics)

Ford Foundation Visiting Research Professor, University of CA, Berkeley, Spring 1975. (intergovernmental fiscal relations)

Visiting Professor of Economics, University of York, England, 1969-1970.(Studies in Fiscal Federalism and Group Formation)

Academic Visitor, London School of Economics, 1970.(Intergovernmental Fiscal Relations)

Academic Visitor, Johns Hopkins University Bologna Center, Bologna, Italy, summer 1970.

Associate Professor of Economics and Director of Program Planning and Budgeting System Educational Program, University of Maryland, July 1967-1971.

Teaching Fellow, Instructor, Harvard University, Cambridge, Mass., 1962-1964. (Economic Theory, International Trade)

Consultant, Project Advisor (various time periods); Harbridge House, Boston. Mass.; Planning Research Corp; Booze Allen Hamilton; National Science Foundation; Georgetown Center for Strategic and International Studies; George Washington University.
Research Abstract
"Redistribution Political Power, and Public Goods." (How governance regime influences choice between social investment and wealth redistribution).

"Implicit Mercantilism, Oligopoly, and Trade." with Hiroshi Ohta (How analysis of trade between two systems, competitive and ligopolistic).

"Alliance Protection Against National Emergency." (Risk sharing as the basis for alliances).

"Strategic Calculus, Economic Logic, and Missile Defense." (How to gain the benefits of defense against attack without giving up the strategic stability of mutual assured destruction).
Publications
"Economics of Strategic Defense and the global Public Good," Defence and Peace Economics, Feb 2004, pp1-38.
"The Economics of Autocracy and Majority Rule: The Invisible Hand and the Use of Force" with Mancur Olson Jr., Journal of Economic Literature, March 1996; republished in Silvio Borner and Martin Paldam eds. The Political Dimension of Economic Growth, International Econ. Assn. Conference 1998, St Martin's: London. Reprinted in The International Library of Critical Writings in Economics: The Economics of Conflict, edited by K. Hartley and T. Sandler.2003, Edward Elgar: Northampton, MA.
"A New Approach to Group Structure, Burden Sharing And the Equilibrium Provision of Public Goods" International Tax and Public Finance, 2003, (with Ratna K. Shrestha).
Encyclopedia Entry, "Collective Goods," Oxford Encyclopedia of Economic History, Oxford University Press: New York, June 2003.
"Failures in Governance," 2002, in Market Augmenting Government, Omar Azfar and Charles Cadwell Eds. Univ. of Michigan Press; Ann Arbor.
"The Natural Economic Advantage of Dictatorship over Democracy: A Gresham's Law of Governance," International Tax and Public Finance, 2002, pp.451-64. (with Omar Azfar).
"Property Distribution and Configurations of Sovereign States: A Rational Economic Model,"Defence and Peace Economics, 2002, pp. 1-19.
Concepts of Defense Economics for the 21st Century Defense and Peace Economics, 2001.
Encyclopedia Entry, "Mancur L Olson 1932-98," in Eds. N. Smelser and P. Baltes, International Encyclopedia of the Social and Behavioral Sciences, 2001 (Pergamon Press, London)
"Provision for Adversity: Managing Supply Uncertainty in an Era of Globalization," December 2000, Journal of Conflict Resolution. pp. 730-52.
Other Experience
Consultant
U. S. Department of Defense, Office of the Secretary of Defense (1967-1969, 1980-1982): Division of responsibilities within OSD, Uses of U. S. foreign military/ economic assistance; models of Israeli economy, and military capabilities.

Executive Committee, Board of Directors
Western Economic Association International 1996—1999

Consultant, Fiscal Affairs Deptartment
International Monetary Fund 1996—1996

Advisory Board/Steering Committee
Institute for Global Conflict and Cooperation, U of CA 1993—1996

Consultant
U.S. Nuclear Regulatory Commission :): Nuclear safety 1975—1976

Consultant
U.S. Federal Energy Administration : Energy conservation 1975—1976

Consultant
U.S. Agency for International Development: Economic development in wartime Cambodia 1974

Consultant
U.S. Department of Commerce: Economic development and project analyses 1967—1969

Consultant
U.S. Department of State, Arms Control and Disarmament Agency : Technical arms control studies evaluating information/intelligence. 1968—1969

Research Associate
Georgetown University Law Center, Washington, D.C. : Economic-legal analyses of regulation of nuclear power. 1971—1973

Consultant
Institute for Defense Analyses, Alexandria, Virginia : Strategic studies of nuclear arms race, value of information, utilization of U.S military assistance. 1962—1995

Consultant
Institute of Naval Studies, Cambridge Mass. : Value and uses of strategic information 1961—1964

Consultant
Research Analysis Corporation/Operations Research Office, Johns Hopkins University : U.S Army strategy and posture studies 1962—1964

Director
Office of Program Plans and Analysis, U.S. Dept. of Commerce, Economic Development Administration, 1965—1967

Team Leader for Strategic Offensive Force Programs
Office Secretary of Defense (Systems Analysis), 1964—1965

US Army Officer: 2d Lt - Capt
Corps of Engineers 1955—1961