Sudhir Gupta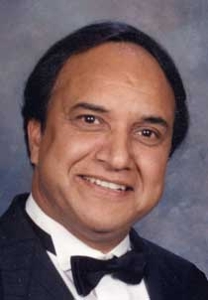 Professor of Medicine, Pathology & Laboratory Medicine, and Microbiology & Molecular Genetics, Medicine
School of Medicine
Chief, Basic and Clinical Immunology
School of Medicine
Director, Jeffrey Modell Diagnostic Center for Primary Immunodeficiencies
PH.D., Lucknow University, India
M.D., Lucknow University, India

Phone: (9) 824-5818, (7)456-5145
Fax: (949) 824-4362
Email:
sgupta@uci.edu
University of California, Irvine
C249 Medical Sciences 1
Mail Code: 4069
Irvine, CA 92697

Research Interests
Molecular signaling of apoptosis, Dendritic cell biology, B cell biology, Genetic basis of primary immunodeficiency diseases
Academic Distinctions
Arthur Manzel Research Award, College of Physicians & Surgeons, Columbia University, New York (1974); Member, Allergy and Clinical Immunology Committee, NIH,(1985-89); Scientific Advisor, Institute of Immunopathology, Köln, West Germany (1990-2000); Lifetime Achievement Award from the Jeffery Modell Foundation, New York (1990); Member, Cellular Mechanisms of Aging and Development Study Section, NIA, NIH (2003-2008). Member, Aging Systems Gerontology Study Section, NIA, NIH (2008-present); Master, American College of Physicians (1997)
Research Abstract
APOPTOSIS IN THE IMMUNE SYSTEM: Apoptosis is one of the most fundamental biological mechanisms for the selection of T cell repertoire,maintenance of cellular homeostasis, and deletion of self-reactive lymphocytes. A number of genes and their products are known to regulate the process of Apoptosis. Our current research focuses on the molecular mechanisms of apoptosis in naive and various memory subsets, including central and effector memory CD4+ and CD8+ human T cells in aging, and primary immunodeficiency.
GENETIC BASES OF PRIMARY IMMUNODEFICIENCY DISEASES: There are more than 120 primary immunodeficiency diseases, which represent a paradox of failure to respond to non-self, and response to self antigens resulting in increased susceptibility to microbes and increased incidence of autoimmunity. We are interested in defining genetic bases in some of these patients with primary immunodeficiency diseases that are regularly seen in our Jeffery Modell Center for Primary Immunodeficiencies. We have defined several novel mutations including novel mutations in Rag2 gene in a patient with Ommen's syndrome (a subtype of Severe Combined Deficiency), novel mutation in AICD gene in Hyeper IgM syndrome patient.
B CELL BIOLOGY: Our research on B cells is focused on understanding theeir role in innate immune response (i.e. signaling via TLR in the production of cytokines and growth factors), and functions in both primary immunodeficiency diseases, and human aging.
DENDRITIC CELL BIOLOGY: We are interested in defining impact of aging and alterations in primary immunodeficiencies to understand cellular and molecular mechanisms of paradox of inflammation, autoimmunity, and immunodeficiency.
Publications
Cao JN, Gollapudi S, Sharman EH, Jia Z, Gupta S. Age-related alterations of gene expression patterns in human CD8+ T cells. Aging Cell. 2010; 9:19-31.
Agrawal A, Tay J, Yang GE, Agrawal S, Gupta S. Age-associated epigenetic modifications in human DNA increase its immunogenicity.
Aging. 2010;2: 93-100.
Hong R, Agrawal S, Gollapudi S, Gupta S. Impaired pneumovax-23-induced monocyte-derived cytokine production in patients with common variable immunodeficiency. J Clin Immunol. 2010; 30:435-41.
Gupta S, Agrawal S, Gollapudi S. Differential effect of human herpesvirus 6A on cell division and apoptosis among naive and central and effector memory CD4+ and CD8+ T-cell subsets. J. Virol. 2009 ; 83: 5442-5450.
Agrawal A, Tay J, Ton S, Agrawal S, Gupta S. Increased reactivity of dendritic cells from aged subjects to self-antigen, the human DNA. J Immunol. 2009;182:1138-45.
Gruber TA, Shah AJ, Hernandez M, Crooks GM, Abdel-Azim H, Gupta S, McKnight S, White D, Kapoor N, Kohn DB. Clinical and genetic heterogeneity in Omenn syndrome and severe combined immune deficiency. Pediatr Transplant. 2009;13: 244-50.
Other Experience
Assistant Professor of Medicine
Cornell University Medical College, New York 1976—1978

Assistant Member
Memorial Sloan-Kettering Cancer Center, New York 1976—1978

Associate Member
Memorial Sloan-Kettering Cancer Center, New York 1978—1982

Associate Professor of Medicine
Cornell University Medical College, New York 1978—1982

Research Centers
Member, Cancer Research Institute
Member, UCI Institute for Immunology